All Black Everything 2k22 à Jin Fei
---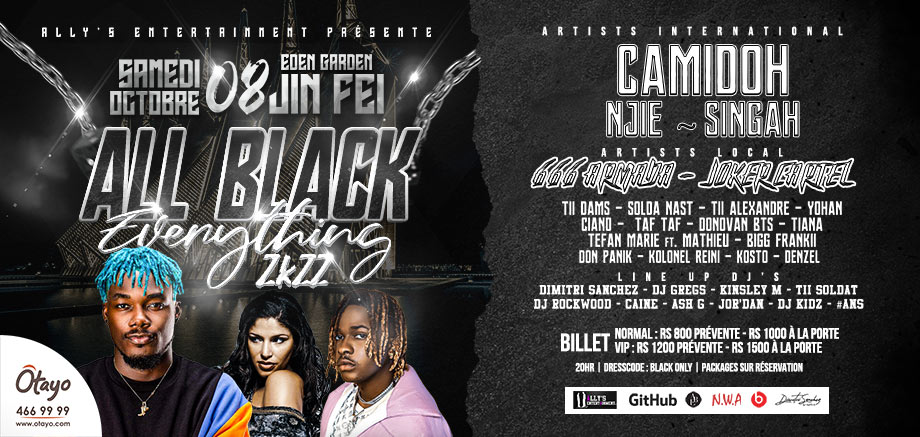 Eden Garden, Jin Fei
Saturday 08 October 2022
20h00 - 06h00
Concert
Selected tickets have been added to cart
View Cart
---
About the event: All Black Everything 2k22 at Jin Fei
Mega party on October 08, 2022 at Jin Fei (Baie du Tombeau)! All Black Everything is coming back for a new edition that promises to be absolutely incredible. On the agenda, 16 local artists of the moment and 3 international artists. 10 Mauritian DJs will also be present. The All Black Everything 2k22 event is going to be hot! hot! hot!
After the resounding success of the 2018, 2019 and 2020 editions, the organiser, Ally's Entertainment, is back with a bang this year. And the 2022 edition of All Black Everything is sure to be even crazier with a plethora of artists!
As international artists: Singah, Camidoh and Njie. From Mauritius: 666 Armada, Joker Cartel, Bigg Frankii, Costo Solda Nast, Tii Alexandre, among others! And the DJs who will set the Eden Garden on fire are: Dimitri Sanchez, Dj Jor Dan, Dj Rockwood & DJ Caine, to name a few. A great line-up to set the atmosphere ablaze!
Afro beat, ragga, dancehall, shatta, RnB with a Mauritian twist! Some of the tunes are certainly already running through your head. We leave you on this note!
See you on October 08 at Eden Garden, Jin Fei, Baie du Tombeau for the long awaited ALL BLACK EVERYTHING 2k22! An evening not to be missed!
Dress code: All Black Everything!
Table packages available upon reservation.
Here is the list of artists who will light up the night:
International Artists:
Local Artists:
Joker Kartel
666 Armada
Big frankii
Taf Taf
Tefan Marie & Matheu
Kolonel Reini
Costo Soldat Nass
Donovan Bts
Yohan
Tii Alexandre
Don Panik
Ti Dams
Tiana
Ciano
Denzel
Guest DJs:
Dimitri Sanchez
Dj Jor Dan
Dj RockWood
Dj Caine
Dj Kinsley ems
Dj Ans
Dj Ti Soldat
Dj Ash G
Dj Kidz
About the Artists
Singah
Fabian Okike (Singah), known for his songs "Teyamo" and Paloma among others, is a Nigerian singer and songwriter. In fact, you must have been swaying to his songs! He is one of the most talented new African artists who continues to rise to the top. Singah is sure to set Jin Fei alight.
Njie
Muriel Ako dite Njie (formerly N'Jie), is a French singer from Guadeloupe. Njie began her singing career in orchestras and piano bars in 1990, performing in addition to the Caribbean repertoire, French and international variety, jazz, etc. "Bich Bich", "Chayé" and "Chui Chui Chui" are among her best-known songs.
Camidoh
Raphael Camidoh Kofi Attachie, known by his stage name Camidoh, is a Ghanaian songwriter and musician. He rose to prominence with his single "Sugercane" in 2021. The song was number 5 on Shazam's 200 most searched Afro pop songs. On 8 April 2022, he released a remix of the song featuring King Promise, Nigerian artist Mayorkun and British rapper Darkoo. In the first week of May, barely a month after its release, the collaboration peaked at number 1 on the Nigerian Music Top 100 on Apple Music.
Additional Info
The management reserves the right of admission.
By attending this event, you consent to being photographed and/or filmed as well as having your photos published on social networks.