Psychological Health in the Workplace
---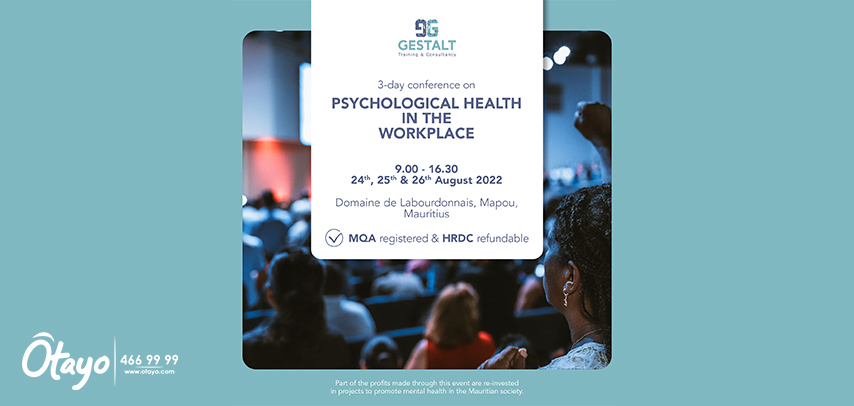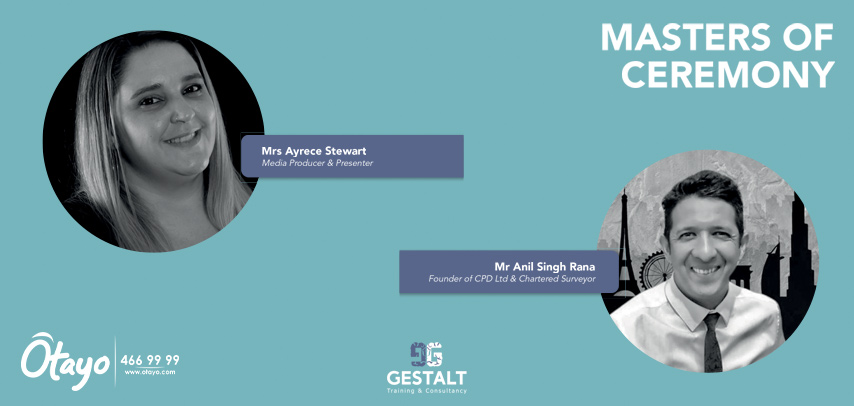 Ernest Wiehe Conference Room, Domaine de Labourdonnais, Mapou
Wednesday 24 August 2022
09h00 - 16h30
Conference
---
À propos de l'événement : Psychological Health in the Workplace
MQA Approved & HRDC Refund up to 75%BOOK NOW
Registration Deadline: 18 August 2022 at 16h00
Gestalt Training & Consultancy invites you at the heart of Domaine de Labourdonnais (Mapou) to a 3-day conference on Psychological Health in the Workplace from 24 to 26 August.
Gestalt is bringing together mental health innovators, thought leaders and disruptors to unite, find solutions and take action to improve mental wellbeing for all.For 3 days, gain confidence in new approaches and techniques to take care of your human capital with practical, case-based sessions led by experts from diverse sectors.
Every participant will be equipped to design and implement the right mental health solutions for themselves, their organisations and the individuals that make them extraordinary.
The 3-day programme will see a panel of local and international experts from diverse fields sharing their knowledge and expertise on how to enhance mental wellbeing in the workplace and will focus on the best approaches, measures and policies to adopt in promoting a healthy & flourishing work culture.
Breakfast, lunch and a tea-break at "La Table du Chateau'' restaurant are also included on each day of the programme.
What is waiting for you during these 3 days?
Learn from local and international experts
Get equipped with tools and skills
Connect with resources and network with like-minded individuals
MQA Approved certificate & HRDC Refund
You will be guided to:
Create happy and healthy workforces
Boost productivity
Attract & retain the best talent
Create flourishing workplaces
This conference is for who?
Workplace Leaders
Business Owners
CEOs & Directors
Managers and Supervisors
Human Resource Professionals
Health & Safety Professionals
Entrepreneurs & Mental Health Advocates
Anyone with an interest in workplace wellbeing & psychological health!
"A healthy human capital is the foundation for productivity and prosperity" - Dr Margaret Chan, former Director General of the WHO.
Do not miss the 3-day conference on psychological health in the workplace at Domaine de Labourdonnais on 24, 25 & 26 August!
Check out the 3-day programme & speakers here: https://bit.ly/3BpaD8P
Additional 5% discount for group bookings of 3 or more seats BOOK NOW
Additional 5% discount for students and graduates in Psychology and related fields.
Additional Info
Terms & Conditions of the Event:
Gestalt Training & Consultancy reserves the right:
(1) of admission
(2) to modify the programme, and/or dates, and
(3) to not run the conference in case of insufficient number of participants
About GESTALT Training & Consultancy
GESTALT Training & Consultancy was founded in 2021 to provide a 360° mental health solution to the pandemic-induced challenges faced by employees and employers. Their vision is to transform workplaces and the workforce in Mauritius to be mentally healthy and flourishing.
Specialised in Corporate Mental Well Being, their solution is tailored to the workplace and the workforce's needs, identified through a comprehensive organisational assessment. They innovate and adapt to bring solutions to mental health issues, strive to increase accessibility to resources, and empower each individual to develop their potential.