MAMA JAZ 2021 | We Will Shine!
---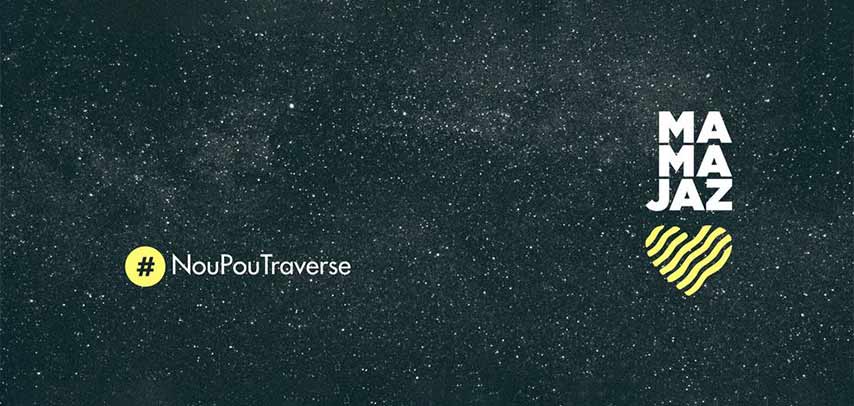 Online Event
Vendredi 02 Avril 2021
20h20 - 23h45
Online Concert
À propos de l'événement: MAMA JAZ 2021 | We Will Shine!
MAMA JAZ is back again with its 6th edition from 02 to 30 April 2021. Given the overwhelming popularity of this campaign in 2020, MAMA JAZ called again upon graceful artists to emit energy sparks in April a little bit differently; Multiple sub-events under 3 categories - Retrospective, Open Music Theory Space and Conversations - will be published on Facebook, Youtube and shared.
We will Shine! Albeit with a week's delay, as an artistic demonstration spanning over the whole month of April, MAMA JAZ, true to its character, has resolved to adapt its 6th edition to surf further the waves of extraordinary circumstances we are still living.
# We Will Shine # Nou Pou Traverse # Nous Rayonnerons # MamaJaz 2021
We are calling out to all humans (no age limit) willing to come together for a performance on their own and share energy through music or dance with us on Facebook. Very simple: Just audio-video record your performance and publish on your facebook page tagging MAMA JAZ.
# Ti Mama Fami # Mama Jaz 2021
Relive the previous editions and concerts with Retrospective. Since live concerts cannot be held yet, previous installments will be highlighted through a dense programme across National Television, Radio and MAMA JAZ's official Facebook page.
If you've always wanted to make your own music but didn't know where to start, here's a golden opportunity. Catch Open Music Theory Space where Jerry Léonide will conduct a series of masterclasses around themes relevant to professional and amateur practice. These will be live streamed on MAMA JAZ's official Facebook page & Youtube channel.
Be sure not to miss Conversations, for in depth discussions on every aspect of music as a career featuring numerous successful and experienced panelists. As we focus on human strengths, resilience and capacity to think for a better world, a series of conversations now comes to life within the festival programme. These will be live streamed on MAMA JAZ's official Facebook page & Youtube channel.
And of course, International Jazz Day on 30th April 2021 needs to be celebrated grandly even though during lockdown! This year is the tenth edition of this global initiative and the present historical context makes the celebration extra special. Get ready for Nepetalakton Series and Samuel Laval Quartet which will be available on several social media.
Info Additionnelle
Historic Human Reach in 2020
Through the Music Will Shine campaign, MAMA JAZ's 5th edition, albeit dematerialised, produced, and made available for free, over 27 hours of original creative music.
Combining the exposure to and engagement of audiences, the festival was humbled by how phenomenal the experience was celebrated as it reached: +500,000 Inland Territory Mauritians (Internet, National Tv, Radio) and +70 Foreign Countries (Internet).