Kreation K.N's String Art: Philography Art Masterpieces by Mauritian Talents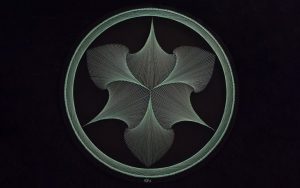 Discover Kreation K.N, a story of local artists – Cédric Jean Pierre & Béatrice Leriche – who dare to dream, who transform simple threads into living art, and who invite you to embark on a journey of soul-stirring creativity deeply rooted in the heart of Mauritius.
Originally founded by three visionary Mauritian artists during lockdown in 2020, String Art Kreation K.N is now led by the talented Cédric & Béatrice – carrying forward the legacy of contemporary art and their unwavering passion for the intricate craft of Philography Art.
United by their shared love for Philography Art, the duo embarked on a journey to transform strings and nails into stunning works of art. Specialising in this remarkable field, Kreation K.N unveiled the boundless potential of string art, channelling their passion to craft both personalised and geometric artworks.
With every stroke of thread and placement of nail, String Art Kreation K.N unleashes a symphony of colours and patterns, creating pieces inspired "by the precision of the order of Nature and the Cosmos […] using Sacred Geometry", as affirmed by Béatrice. The Africa Map, the enigmatic Nefertiti from Ancient Egypt's rich history – these are just glimpses of the wonders that Kreation K.N can create through their hands and hearts.
Their philography art is more than just visuals; it's a heartfelt expression of love, dedication, and a pursuit of creativity. As Béatrice confided, "Philography is a vast world, we're learning every day and there's still a lot to discover"
The founders of Kreation K.N hope to set up a gallery to showcase their vibrant artworks and plan to offer workshops next year.
What is Philography Art?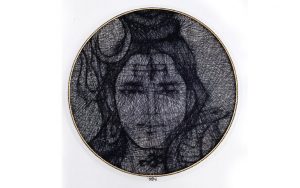 Philography Art, also known as Thread Art, is a revelation in itself – a unique blend of creativity, precision, and inspiration. The process involves intricately arranging steel nails onto a wooden surface, creating a framework for the artwork. These nails serve as anchor points for the vibrant and colourful strings that are woven, wrapped, and intertwined around them.
Exhibition at 42 Market Street, Bagatelle Mall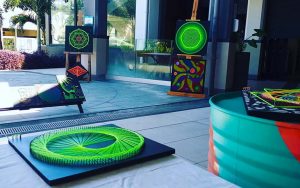 In August 2023, the magic of Kreation K.N's string art came to life at Bagatelle's 42 Market Street, captivating art enthusiasts and passersby alike. Their creations bring life to any setting, adding a touch of sophistication and uniqueness that only true craftsmanship can deliver.
From the very beginning, Kreation K.N set out with a mission to remind us that even in the smallest of things, greatness resides – echoing the sentiment that every thread, every nail, is placed with love and care, manifesting into an intricate masterpiece.
String Art Kreations – as from Rs 1000!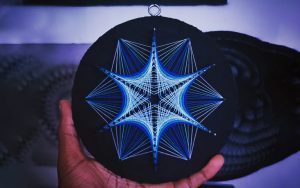 With a price range of Rs 1000 to Rs 10,000, Kreation K.N offers you an opportunity to not just own art, but to own a piece of their passion, creativity, and the magic that only string art can create, proudly showcasing the immense talent of local Mauritian artists.
We recently had the opportunity to conduct a brief interview with Béatrice Leriche, one of the founders of Kreation K.N, and here's a glimpse into our conversation: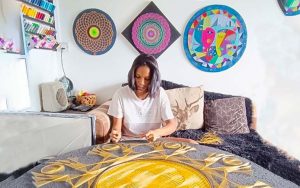 1. What led you to pursue your career as artists?
"The 2 of us have always loved art. I must say that lockdown also contributed to this, as it gave us plenty of free time, which enabled us to embark on this adventure."
2. How did you get started in philography?
"Our adventure in philography began with a painting that we'd had for years. We took the canvas off the frame, put our imaginations to work and, with some nails and wool to hand, we ended up with our first frame."
3. Did you undertake any formal training for philography or was it a self-guided learning process?
"No, no courses, no training whatsoever, we all learnt on our own. […] One thing led to another and we tried again and again, getting better and better every day…"
4. What themes or concepts do you often explore in your work?
"Fascinated by the precision of the order of Nature and the Cosmos, we are inspired by it and represent it in our works using Sacred Geometry. Besides geometry, we also do abstract."
5. How long does it take to create the string art pieces?
"2 days to 2 months, depending on the size of the painting and the motif."
6. What are the materials used?
"Wood, nails, paint, wires, LEDs and other accessories."
7. What are the challenges or complexities of String Art?
"The world of philography isn't easy at first, because it requires a lot of patience, concentration and, above all, courage. It's no mean feat to put 1,000 – 1,500 nails at the same height and at specific distances, and it's exactly this precision with the nails that adds a special touch to our work."
8. What is your favourite/ the most memorable artwork that you have crafted and how long did it take?
"One of our favourite pieces is the « Alter Ego », one of the abstract artworks we made. It's a unique piece that shows you several faces representing the different facets a person can have. It contains over 900 nails and took us 1 full month to design."
9. Do you offer any lessons on Philography Art?
"No, there is also a possibility that we might start giving classes next year."
10. What are your future plans for Kreation K.N?
"We plan to have our own gallery, where we will be able to display each of our works in all their glory, allowing people to experience the vividness of our artworks. »
11. Any advice for aspiring artists?
"At the start it will be wonderful… but you always have to rise above each setback and never give up. The artistic world is magnificent, but above all you have to believe in yourself!"
About the artists:
Béatrice Leriche
Speciality: Geometry & Management
After finishing secondary school, Béatrice worked in real estate, followed by debt collection. Her attention to detail and precision is what allows her to add that touch of finesse to the string art masterpieces.
Cédric Jean Pierre
Speciality: Geometry & Abstract
Cédric has always had a passion for art, geometry and mathematics. As a craftsman in several fields, he has been able to apply his knowledge to String Art Kreations.
Get in touch with them!