Festivals don't necessarily mean getting washed out in mud to groove to your favourite artists. It also depicts parties on sandy beaches, or having a ball while basking in the sun, or swimming in pristine pools!
Have you been hopelessly researching the best parties to attend in Mauritius, yet still unsure where to go?
Well, you have come to the right place, because we have articulated a quintessential list to make sure you have the craziest summer ever.
Burning Monkey Festival 2
All the Party animals out there, the second edition of the Burning Monkey Festival is impatiently awaiting you at Tamassa Resort from the 29th till 31st of January 2021.
Get ready for an unforgettable weekend at the luxurious family- friendly hotel, located on the picturesque south coast of Mauritius. You can book a Bed & Breakfast or Half Board stay to ensure you don't miss a single minute of the 48-hour non-stop Music Festival.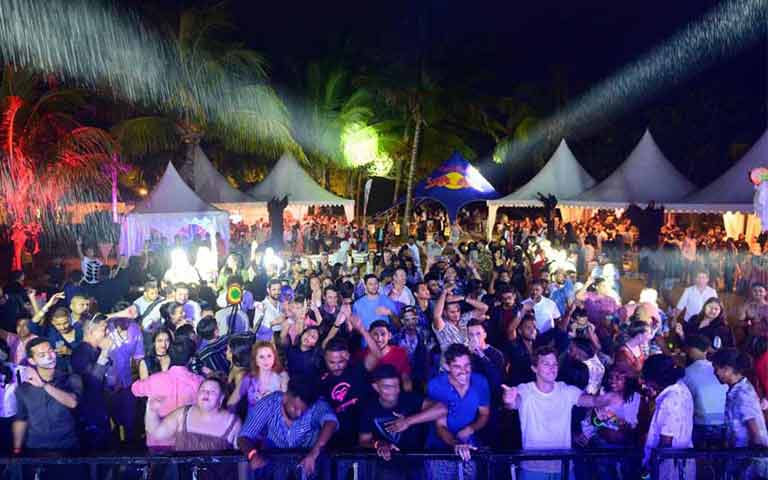 What to expect?
Burning Monkey Festival 2 welcomes you with a massive Entertainment Village along with a star-studded lineup of DJs and other artists.
Lineup: Natty Gong, Madii Madii & Jason Le Boucher, Big Frankii, Stephan Gebert and Groove Avenue, and other famous DJs such as Jimmy Gassel, Emmanuel Savannah and David Jay.
And don't forget to bring the whole family! To keep your kids entertained, there'll be games and competitions, temporary tattoo workshops, alcohol-free cocktails, to name a few. Teens aren't forgotten with the exclusive Teenager Festival on Saturday – with a distinctive set up and local teenager headliners.
Also on the agenda is a stunning firework show, a massive food truck, private lounges, chillout areas to recharge, and much more.
The end of the party will be highlighted by the illustrious burn down of the gigantic 6- metre Monkey structure on the beach.
Tickets to Burning Monkey Festival 2
At Burning Monkey Festival 2 , everyone is a VIP! You can choose to attend the festivals during the day or why not enjoy the entire experience with the 3-day pass?
Otherwise, if you don't want to miss a single moment of the fun, stay the night at the 4-star Tamassa hotel.
Day Pass VIP Tickets
Fri 29 Jan Rs. 800
Sat 30 Jan Rs. 1100
Sun 31 Jan Rs. 900
3 DAY PASS (Fri, Sat & Sun) Rs. 1500
Book your tickets here
Book your Overnight Stay at Tamassa Resort here
Maritim Crystals Beach All-Inclusive Summerfest
Dive into your dream weekend at the Maritim Crystals Beach ALL-INCLUSIVE Summerfest for an entertaining escapade from January 29 to February 01, 2021.
Whether you're in the mood to enjoy, dance or chill out with friends or family in an ambient setting, you have to be part of the Maritim Crystals Beach ALL-INCLUSIVE Summerfest.
This summer party offers unlimited, All- Inclusive food, beverages and amusement, along with complimentary activities and access to the swimming pool!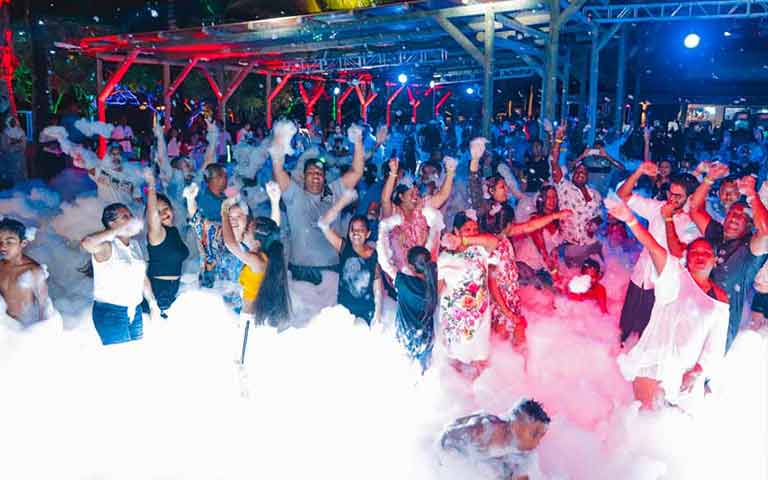 What to expect?
On Friday Jan 29 , step into the Orient with The Thousand and One Nights theme especially dedicated to an Arabic evening. Start with Arabic Afternoon Tea & Coffee Arabic mint tea, followed by an Arabic Buffet for dinner. Afterwards, get ready to shimmy your hips to the Arabic Fusion Night music and Belly Dancing Show.
The next day, Saturday Jan 30 , you'll be transported to the other side to witness an Indian Fusion Night with a special Indian & Continental Buffet for dinner and the Great Bollywood Night show on the main stage.
You get to end the weekend beautifully by being part of the Tropical Foam Party on Sunday Jan 31, and relishing superb food from the buffet. The party just keep going on, animated by Live Sega and the Bollywood Masti Java Night Club.
And finally on Monday Feb 1, expect a Pool Barbecue Beer Festival (day only) that will help you kickstart the month, and the week with a blast!
Tickets to Maritim Crystals Beach All-Inclusive Summerfest
Choose between a Day Pass from 10:00 am to 5:00 pm or an Evening Pass from 6:00 pm to 2:00 am to have a crazy dream-long weekend full of fun!! But hey, you can always buy both for endless entertainment.
Adults (Early Bird) Rs. 2000
Kids (Early Bird) Rs. 1000
Book your tickets here
Book your Overnight Stay at Maritim Crystals Beach here
Mystik Beach II
Get ready for a Bigger, Better, Livelier, Second Edition of Mystik Beach Festival at Radisson Blu Azuri Resort & Spa on 06 February 2021- Mystik Beach II.
Were you astounded by the last Secret Models' event of 2020 MYSTIK BEACH & MYSTIK GARDEN parties, with a whopping 6000+ attendees at Ruins of Balaclava?
If not, then Mystik Beach II promises to be much bigger and full of surprises during the week leading up to the show!! Be alert.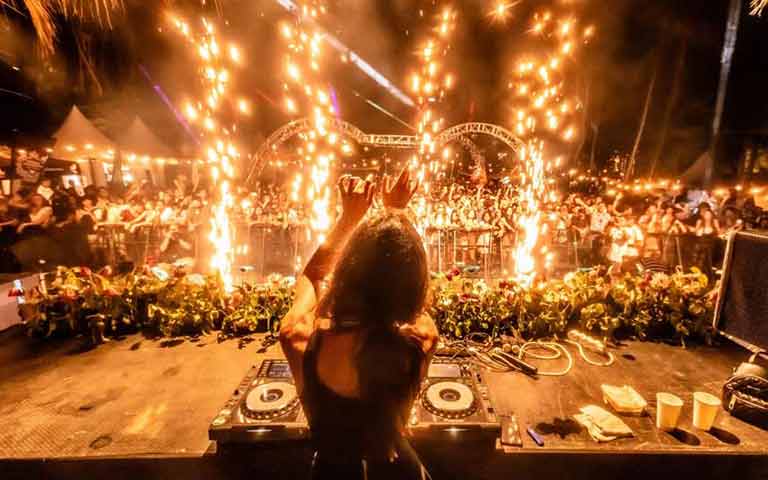 What to expect?
More than 20 local and international artists have gathered to entertain YOU at a massive open-air beach location with organic decoration, Multiple food & bar corners and an Infinity Pool VIP Afterparty.
Having flown all the way from Italy to Mauritius, the great DJ Deborah De Luca is here to transfix the crowd with her mix of minimal grooves and hard techno, amplified by melodic soundscapes for an absorbing effect.
You can't mention electronic music without mentioning Deborah De Luca, so you better not miss this golden opportunity to move along to the catchy beats at her live set.
But wait, it gets even better!
You get a FREE shuttle from parking to the venue in order to take delight in the shows performed by Stage acrobats, Fire Breathers, Zombies, Robot LED Dancers, Giant Avatars and much, much more.
Tickets to Mystik Beach II
To avoid overcrowding, tickets are limited and subject to availability. So hurry up and book yours NOW.
VIP ticket holders will also get FREE access to the private pool party on Sunday 7 Feb (11am – 7pm) along with other perks such as an exclusive VIP area and premium bottle deals.
Early Bird Standard Rs. 1200
Early Bird VIP Rs. 2000
Book your tickets here
Book your Overnight Stay at Radisson Blu Azuri Resort & Spa – Mystik Beach II here
TomorrowISLAND – The Last Call | After Party
Following the huge success of TomorrowISLAND The Last Call in December 2020, TomorrowISLAND is back for THE After Party at L'Embrasure on the 6th of February, 2021.
This After Party invites all music lovers to whoop it up at the outstanding music festival this summer.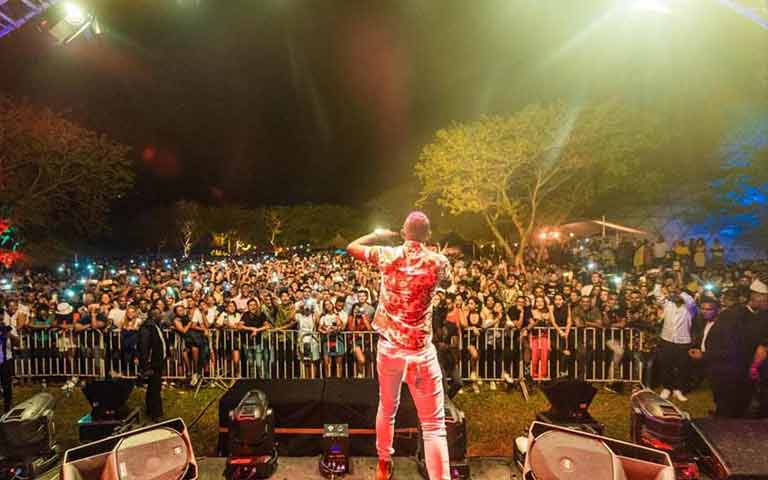 What to expect?
There will be 2 stages, 6 showcase artists, 5 Techno DJs (1 international act from Iceland), 10 commercial DJs; and the After Party will bring to you top-notch afro, techno and commercial music.
Being Mauritius' biggest music festival, TomorrowISLAND caters for all the tastes- EDM, house, techno, dancehall, or a mix of all of them!
Lineup: Sky To Be, Blakkayo, Bigg Frankii, Justice Lecoq, Lyon Squad, Madii Madii & Jason Le Boucher and more.
Tickets to TomorrowISLAND – The Last Call | After Party
Have you grabbed your tickets yet? You surely don't wanna miss out on this highly awaited comeback of TomorrowISLAND – The Last Call | After Party so be quick to book yours!
Standard Rs. 700
VIP Rs. 1200
Book your tickets here
Jungle Glow Party
If the above ones were still not convincing enough, then you're sure to love the JUNGLE GLOW PARTY at L'Aventure du Sucre, taking place 06 February 2021.
H2O Events plans to have you at the astounding repository in Mauritius for the first edition of Jungle Glow Party.
This adventurous party into the wildwood world awaits you with a magical touch of the museum, and not to mention, the best artists.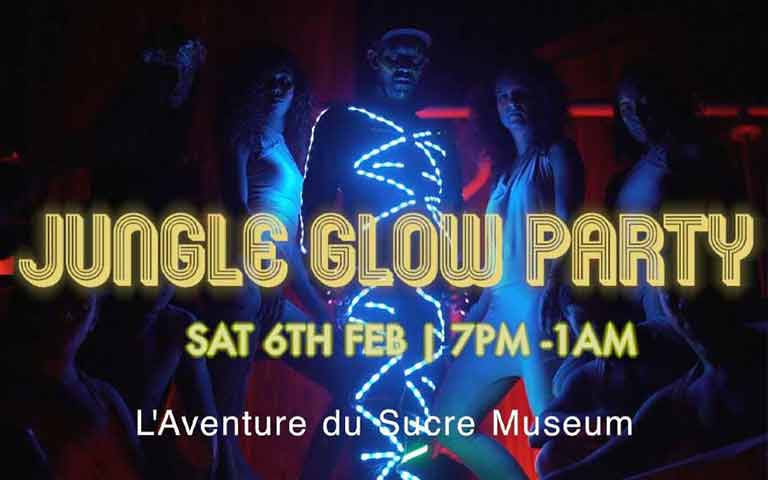 What to expect?
The intrepid journey begins with the outrageous illusionist show to get you pumped up for the night, entertained by acrobats who will surely captivate you.
The curious, and charming setting of the museum plus the aerial performances might as well take your breath away! Along with that, you'll find yourself moving along to Mainstream, Tribal House, Latin & Afro Music on stage.
The JUNGLE GLOW PARTY is certainly the place to be.
Lineup: DJ GYO, DJ LP, WILLIAM WATT (Magician / Illusionist), MYSTRAL AERIAL ART (Acrobats) and MANU (Percussionist).
In case you get hungry, you can relish delicious food from the snack kiosk & bar at affordable prices.
Tickets to Jungle Glow Party
Tickets are selling quickly so don't waste any time to book yours!
VIP holders get to mix in the arena, added to having access to an exclusive snack kiosk & bar with dedicated hostesses & bar managers as well as premium bottle deals.
Standard Rs. 500
VIP Rs. 900
Book your tickets here