The Best Ticketing Service in Mauritius
Otayo is your one-stop shop for finding tickets to the hottest shows and the events that everyone's talking about.
Whether you're a sports fanatic, concert aficionado, or theatre enthusiast, Otayo makes it as easy as possible to find and buy tickets to the hottest live events including – concerts, music festivals, theatre, sports and business conferences.
About Otayo
Founded in 2004, Otayo celebrates 19 successful years in Mauritius, catering for over 1000 events.
For tickets to festivals, concerts, sport events, trade shows, conferences, fashion shows, workshops, entertainment events among others, look no further than Otayo.com. Primarily specialised in the marketing of events and selling of tickets, Otayo has quickly become the exclusive point of reference for culture in Mauritius, where one is sure to find all the best events on the island.
With Otayo's advanced ticket booking platform, you have the option to buy tickets through:

Otayo.com
The state of the art online ticketing platform, available 24/7 for all your ticketing needs, giving you access to early bird tickets and discounts

Phone Service
A dedicated hotline which allows you to book tickets over the phone with our professional customer service agents

Points of Sale
Located nationwide, in all corners of the island, Otayo offers you easy access to get the tickets you need no matter where you are located
Rézo Otayo
With a total of 12 points of sale across the island, Otayo makes buying tickets even easier. Just visit any of the points of sale where you can book all the biggest events on offer with the kind assistance of the friendly and helpful staff. For your convenience, payment in all locations can be done in cash, credit card or even MCB Juice.
Otayo's points of sale can be found in Grand Baie, Flacq, Phoenix, Port Louis, Rose Hill, Curepipe, Tamarin, Riche Terre, Ebene and Bambous.
For more information about Otayo Points of Sale check out: Rézo Otayo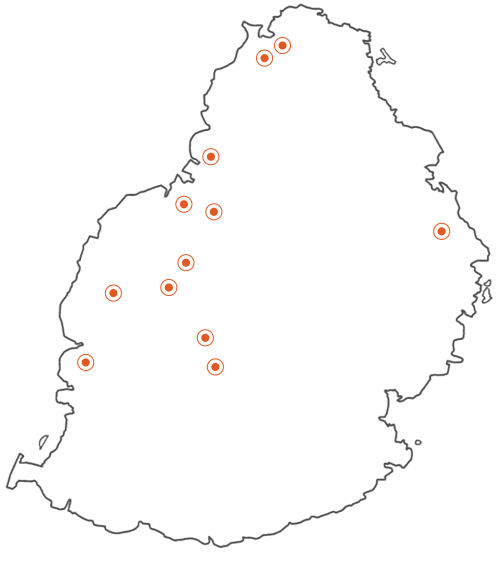 Otayo - A Success Story
Otayo is the first and largest online events and ticketing platform in Mauritius
The #1 Event Ticketing Company in Mauritius
12 Points of Sale across the island
24/7 Online Booking Platform
19 Years of Event Management & Event Marketing
Over 1 Million Tickets sold since 2004
The largest social media for ticketing and events
Huge website traffic of 500 000 locals annually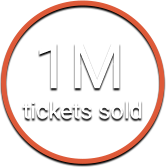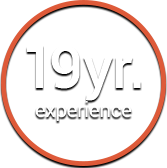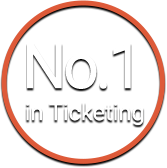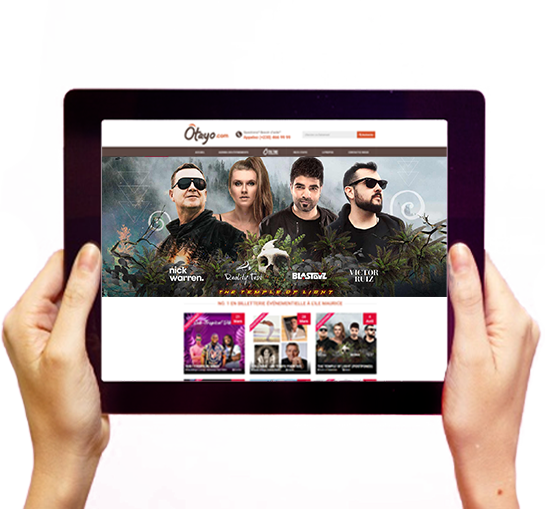 Our services
With Otayo's vast market knowledge and experience in the event and ticketing field, Otayo brings its services to you to make your event a huge success.
Our personalised service and passion for event management and ticketing service is unrivalled - every call is answered by one of Otayo's fully trained agents and we have a designated customer service team to help you with any queries pre-event or onsite.
Otayo Services Include:
Ticket Selling
Advertising, Communication and Marketing of Events
Event Management and Coordination
Technical Support Services
Complete Solution for Event Producers
With more than 19 years of experience in Event promoting, producing, ticket selling and consulting, we offer you the complete solution to making your event a success. Otayo will offer assistance and expertise from start to finish to ensure that all aspects of your event are covered.
Event management services include:

Otayo Partners Network
An extensive network covering advertising, marketing, F&B and additional support services

Consultation and support
Professional advice on booking management, equipment, staffing requirements and anything else your event needs

Event Financial Planning
Cost-effective budgeting and planning to minimise financial risk and well as help boost profitability

Venue allocations and management
Liaise and coordinate the most suitable location and venue for your event on the island

Event Sponsor recruitment
Assist in finding the best sponsors for your event with key companies and connections

On-site host service
Highly trained and capable hosts to ensure that your event runs smoothly on the date
Otayo Testimonials

Otayo delivered the highest professional level from the start to finish helping me in all steps of the way to reach new goals in promoting our last concert


All 13 000 tickets to our biggest events were sold exclusively on Otayo and so quickly - thank you for the amazing work and support


Otayo exceeded all my expectations through their dedication and professionalism. They handle the entire online marketing for our event, managed all ticket sales as well as the on-site operation at the venue

Otayo Testimonials