Necker Mauritius Open presented by Beachcomber – VIP Package
---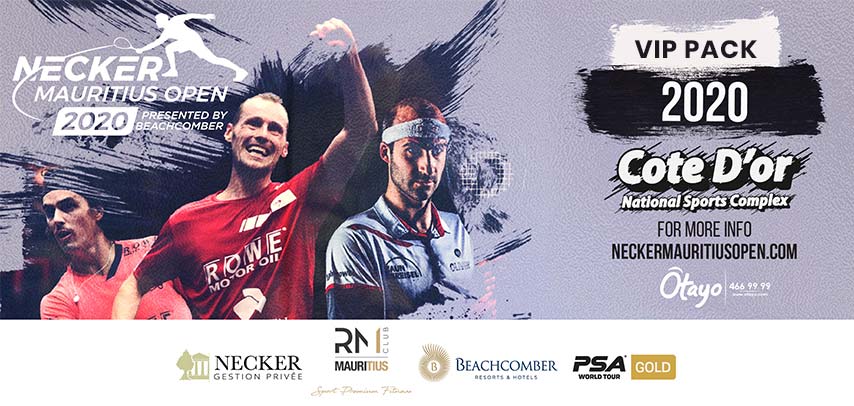 Côte d'Or Multisports Complex
Tuesday 18 August 2020
13h00 - 22h00
Sports
About the Necker Mauritius Open presented by Beachcomber - VIP Package
Dates: 18th to 22nd August 2020
Venue: Côte D'Or Multisports Complex
Prize: PSA Gold Tournament - $100,000
Since 2017, the Mauritius Necker Pro Squash has grown into a reference in the international Squash world, hosting some of the best players in the world. From a mixed exhibition format, it has become the Necker Mauritius Open presented by Beachcomber, a men's PSA Gold tournament with a $100,000 endowment, which makes it one of the largest in the world squash tournament.
This year, the tournament will take place from August 18th to 22nd 2020 at the Cote d'Or Multisports Complex, located at Motorway M3, Cote D'Or, St Pierre. The sports complex was inaugurated during the summer of 2019 to host the Indian Ocean Island Games.
In line with the tournament, the RM Club Squash Open, a free leisure tournament open to all, will take place as from Saturday, August 15th. Players from Reunion Island, Madagascar, France and of course Mauritius have already expressed their interest in participating.
There will also be a Women's Squash Challenge with 4 players from the international circuit who will compete against each other to raise money for charity. The Mauritian culture will also be highlighted during this squash week.
We are very proud to collaborate with the Beachcomber Resorts & Hotels group, our Major Partner, who will welcome all the players and support teams at the Mauricia Beachcomber Resort & Spa, its Resort in Grand Bay. The hotel is located 30 minutes by car from the Sports Complex.
The Beachcomber Resorts & Hotels group offers special prices to accommodate those who would like to watch the tournament, enjoy the beach, visit the island and live a unique experience with the players by being in the same hotel. An opening dinner cocktail, tournament souvenir gifts, hotel/tournament shuttles are planned as well in order to enjoy the tournament in the best conditions.
Squash TV will be present with a team of technicians and commentators in order to live broadcast all matches. Local and regional media and international journalists will also be present.
As you will have understood, this major event, which we hope will be very sporting, includes a wide variety of convivial moments with all those who will attend the tournament.
VIP Pack includes:
Welcome evening
Dinner cocktail and presentation to players
Personalized tournament gifts
VIP privileged seats
Access to the VIP/players' loung
Transfer hotel/court *
*Note: transfers from the hotel to the venue are only available for guests staying at the Mauricia Beachcomber Resort & Spa
SCHEDULE
Saturday 15th August
RM Club Mauritius Squash Open - Day 1 (free)
Sunday 16th August
RM Club Mauritius Squash Open - Day 2 (free)
Monday 17th August
RM Club Mauritius Squash Open - Day 3 (free)
Tuesday 18th August
Necker Mauritius Open - Day 1 - 8 matches
Wednesday 19th August
Necker Mauritius Open - Day 2 - 8 matches
Thursday 20th August
Necker Mauritius Open - Day 3 - 4 matches: 1/4 finals
RM Club Mauritius Squash Open - Final
Friday 21st August
Necker Mauritius Open - Day 4 - 2 matches: 1/2 finals
Women's Challenge - 2 matches: 1 & 2
Saturday 22nd August
Necker Mauritius Open - Day 5 - 1 match: Final
Women's Challenge - Final + 3rd & 4th place
Conditions et modalités
Toute nourriture provenant de l'extérieur, ainsi que les boissons, ne sont pas autorisées à l'intérieur. Des stands de restauration seront disponibles sur place.
Carte d'identité mauricienne ou permis de séjour en cours de validité exigé à l'entrée. La non présentation de ces documents permet Otayo de facturer le tarif international à la porte.
Chaque client peut réserver un maximum de 20 billets via Otayo.com. Pour l'achat de plus de 20 billets, veuillez nous contacter par téléphone ou par e-mail.
Pour toute erreur, problème technique ou autre survenant lors du processus de réservation, veuillez nous contacter.
Si la réservation et le paiement ne sont pas effectués dans les 10 minutes suivantes, la réservation sera annulée et les places seront libérées.
En continuant, j'accepte les termes et conditions d'Otayo.com.