REWIND 80's | 90's – 11th Edition
---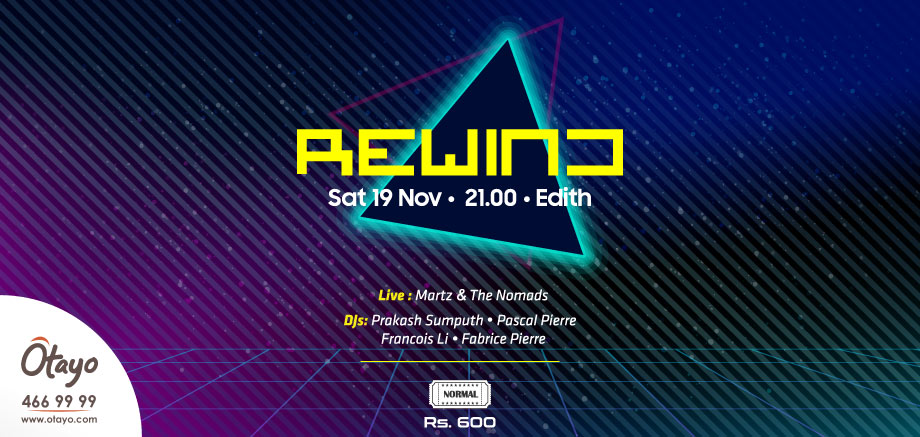 EDITH - Port Louis
Saturday 19 November 2022
21h00
Dance Party
---
About the Event : REWIND 80's | 90's - 11th Edition
Wish to rediscover the retro parties of the 80s and 90s? And party like the old days in disco mode? This event is for you! The REWIND 80's | 90's - 11th edition will be a flashback to the most influential decade in terms of music, on Saturday, 19 November 2022 at Edith, Port Louis.
Immerse yourself in the madness of the 80s and 90s for a night filled with the cult songs that have left their mark on music culture - those catchy refrains that made you learn by heart the slightly amusing choreographies and sing your heart out.
With this unique theme, REWIND promises you an unforgettable evening. Martz & The Nomads will be performing live, giving you the Saturday night fever all night long.
At the turntables, a lineup of DJs such as Prakash Sumputh, Pascal Pierre, François Li and Fabrice Pierre will be present and will take you back in time with an eclectic mix worthy of the name.
The 80s and 90s are back for one night! So, no matter which generation you belong to, the REWIND 80's | 90's - 11th edition is an event not to be missed!
Come and dust off your leg warmers with your family or friends and enjoy some good old music. The appointment is on Saturday, November 19, 2022 in the heart of Port Louis, at Edith
Dress Code : come as you are !
About the Artist
Prakash Sumputh
Prakash Sumputh is a DJ from Mauritius. He has been in the business for years and has made a name for himself in the local music world. He performs in the field of commercial dance music. Prakash Sumputh is also the manager of the DJ Shop in an alley in Quatre- Bornes. For those who are not familiar with the music world, the DJ Shop is a revelation of an unsuspected world; it is a store dedicated to DJ equipment.