The Annual Agri Festival Mauritius 2021 – Day 2
---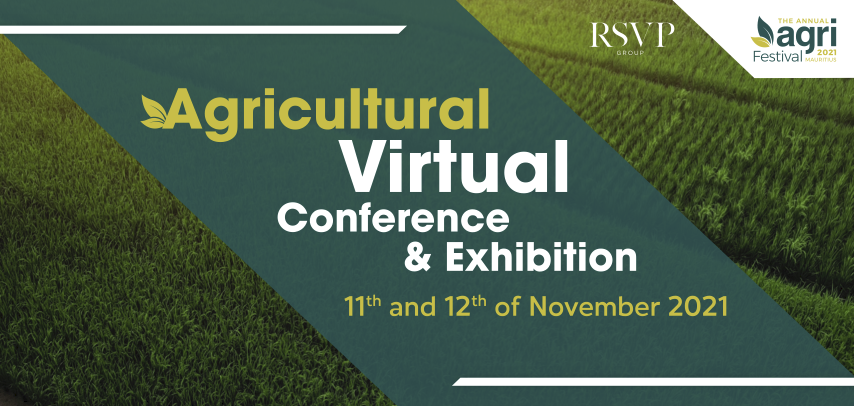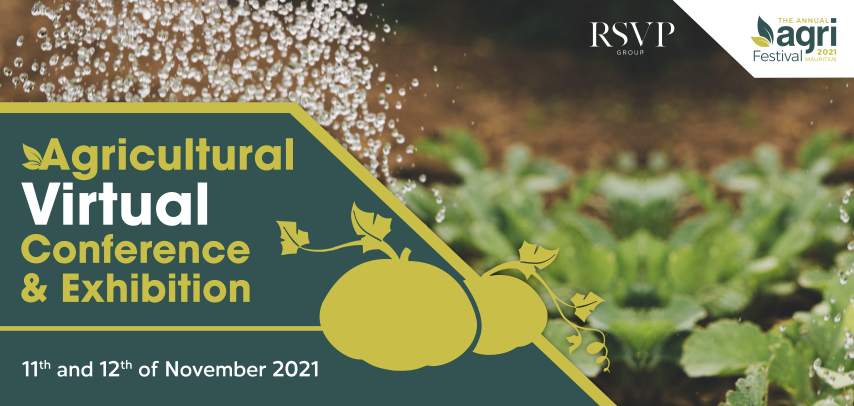 Online Event
Thursday 12 November 2020
09h00 - 17h45
Conference
The Annual Agri Festival Mauritius 2021 – Day 2
Date:
Thursday 12 November 2020
---
About the Event: The Annual Agri Festival Mauritius 2021
Early Bird tickets end on 05 September 2021!
Does the agricultural world fascinate you? Want to launch yourself in the industry but do not know where to start? Or maybe you've been in the farming industry for a while but are looking to step up your game? Don't worry, this 2-day virtual agricultural conference and exhibition has got you covered!
The Annual Agri Festival Mauritius 2021 is here! Join us on the 11th and 12th of November 2021 for a 2-day fully virtual agricultural conference and exhibition.
The Annual Agri Festival Mauritius 2021 brings you a space where Mauritian and international innovative farmers, corporate businesses, and any field stakeholders can come and expose their different expertise in the industry. With innovation, new products, services, and more, the aim is to move the farming system towards one that is more sustainable for the environment, economy, and society as a whole.
So what are you waiting for? 10 conferences hosted by some of the greatest minds in their field, 4 virtual workshops to participate in, networking lounges where you will be able to chat with all attendees, and exhibitor booths to learn more about their business….All 1 click away!
The platform will be open for registrations soon, where you will have access to the timetable of the conferences sessions, workshops, look up the discussion topics and read a bit more about each speaker.
Do not miss this chance to expand your knowledge in the industry, learn new strategies and tools, grow your brand awareness, showcase your products, your methods and yourself, and so much more!
What to expect?
2-day Virtual Agricultural Event
All-day access passes to workshops & conferences throughout the 2 days
Conference sessions and stakeholder exhibitions
Networking opportunities
Open virtual spaces for anyone interested in Mauritians and International Agriculture
Agri specialists and entrepreneurs will share their know-how
For more information visit:
Additional Info on The Annual Agri Festival Mauritius 2021
SPEAKERS AND TOPICS:
Denis Madeleine will be presenting a workshop on Harnessing Humus-The Ultimate Win/Win
About the speaker:
Denis Madeleine is an experienced & professionally accredited practising permaculturist with a passion for sustainability practices.
About the topic:
Humus is the substance produced by micro-organisms that serves as their home base and support system. If you can build humus and address mineral requirements in your garden, then you can produce chemical-free, nutrient dense food with forgotten flavours and enhanced medicinal qualities.
Charles Dowding will bring us 2 topics / sessions, one in each day of the event:
1. No Dig Theory – how and why it works
2. Tools and techniques for no dig and making compost by hand.
About the speaker:
Charles has created and cropped several no dig market gardens on different soils, from stone to silt to clay. His methods are easy to understand and work on small areas as well as large ones.
About the topic:
In these 2 conference sessions, Charles develops and explains time and labour saving methods of gardening, high yielding and nature friendly:
no dig for less work, strong growth and fewer weeds
quick ways of growing and picking salad leaves,
multi-sowing vegetables to grow in clumps
making and using compost.
James Dalais will be talking about his insight on vertical farming within Urban settings
About the speakers:
James Dalais and Chris Harel, founders of Jacfruit. James's combined skills make him now a leader to a farming solution that Mauritius has needed.
About the topic:
The indoor vertical farming scene is still relatively new in the farming sector, with a lot of room for development, expansion investment and promotion. The Jacfruit team will try to break it down and explain set up, challenges, costs, and benefits of vertical farming for the individual as well as society at large.
Prof Daya Goburdhun will bring us a session on Reimagining what we produce and what we eat.
About the speaker:
Assoc Professor Daya Goburdhun has been lecturing and carrying out research in the area of Food Science and Technology for over 30 years at the Faculty of Agriculture, University of Mauritius. Her research interests are in food safety, food waste and postharvest loss management, food composition, healthy eating and future foods.
About the topic:
Globally and locally, the agricultural and food system is at the threshold of a paradigm shift.
In this talk, we share our reflection and give an insight on what our future foods will look like. The change on the production of these 'future foods' which will mould the way our food systems operate.
Eric Le Vieux will bring his professional knowledge on new opportunities in Mauritius for sustainable food growth with eco-green credentials.
About the speaker:
Eric Le Vieux, is a promoter and CEO of Esprit Vert Ltd with a focus in high quality local produce for local and export markets, and to drive the convergence between commercial food production systems, (food security), and food safety, climate adaptation, resource efficiency and sound environmental practices.
About the topic:
Presentation highlights opportunities for profitable food production systems that bind five key elements:
conservation of scarce natural resources,
improve environmental integrity,
resilience or adaptation to climate change,
advance gender equality, and
demonstrate sustainable, commercial, innovative and high-quality capacities.
Cedric Fayolle will bring to the Agri Festival 1 conference session and 1 workshop where you can learn about Aquaponic Agriculture.
About the speaker:
Cedric is an entrepreneur, a pioneer in the online education market in Mauritius, a business consultant and an Aquaponics designer / consultant.
About the topic:
Aquaponics is today known for being a key solution for sustainable farming. Through a natural symbiosis, its fertility levels generate a growth rate of 2.4x faster than any other culture system. It is an automated irrigated system and offers advantages without match, whether it's for home use or commercial farming.
Discover the amazing science of Aquaponics in this short presentation
About the workshop:
Discover the advantages of Aquaponics in this 4 hour workshop. This class will teach you the different approaches possible to compose an Aquaponic system, and teach you the basics to operate it successfully.
Nawsheen Hosenally will present Digital Agriculture – with a focus on storytelling with what we're doing with Agribusiness TV.
About the speaker:
Nawsheen HOSENALLY, holds a degree in Agricultural Extension and a Master's in Management and Information Systems, she has over 9 years of experience in digital communications, with a focus on agriculture.
About the topic:
The emergence of digital solutions has changed the face of agriculture in Africa. From accessing market prices through mobile apps to spraying agricultural fields with drones, the use and application of ICTs are making agriculture smarter and more efficient, although agriculture still suffers from an image problem – Youth in Africa still have a negative perception of the sector. This session will highlight the experience of Agribusiness TV on digital storytelling and how it is contributing to rebrand African agriculture and bring youth back to the sector.
Vyas Ram will be presenting Organic Agriculture Practices and the Agripreneurs' Hub.
About the speaker:
Vyas is a fervent supporter of organic agriculture and pledges to encourage youngsters to engage in the agricultural sector using sustainable methods.
About the topic:
He is the Farm Manager of Farmcity. This is a social enterprise founded on an unwavering commitment to teach, accompany and empower communities to grow their own food. One of their major projects is the Agripreneurs Hub, which acts mainly as an incubator for entrepreneurs engaged in innovative agricultural projects.
Additional Info on The Annual Agri Festival Mauritius 2021