The 'madame Eugene' singer is the last of the sega legends of Mauritius.
At 90 years old, Serge Lebrasse is a happy and accomplished local artist whose work remains undisputedly one of the most remarkable over the island. For 55 years Serge has had people dancing to his folklore melodies before retiring at the age of 86. Since the last five years, the singer of 'Moris mo Pays' has chosen to step away from the stage to spend more time with his family.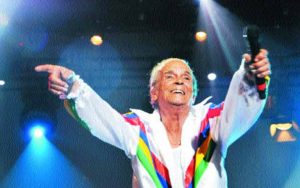 A missed scholarship, a teacher and Sonia
Serge Lebrasse, a brilliant student back in his time, was awarded a scholarship to attend the Royal College of Curepipe. However, a medical diagnosis at that time revealed that he had a problem with the heart and he had to be hospitalized. He gave up on the scholarship as he was bed ridden for three months.
Back in the day Serge Lebrasse worked as a teacher in several schools including St Enfant Jesus, Père Laval and Glen-Park schools. This stage of his life corresponded to the period when his love for singing was beginning to take hold. He was 29 years old and making sega music was not well perceived. However he felt it was right for him and got inspired to write his first piece, Madame Eugene.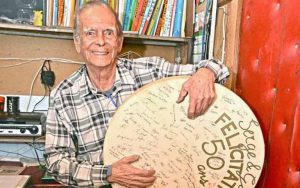 Serge wrote Madame Eugene in one shot. He had just bought his first car, a black Austin for Rs500 and he had just baptized his eldest daughter, Sonia. Sonia has been his lucky charm and following her birth, the singer's career started off.
"Madam Ezen" made him successful
Philippe Ohsan, conductor of the Police Band brought Serge Lebrasse to the general public.
The big breakthrough
Serge Lebrasse was at the time the official singer of the police orchestra, performing popular songs, notably by Paul Anka. Philippe Ohsan heard him singing "Madame Ezen" and decided to make Serge sing on stage in front of a bigger audience.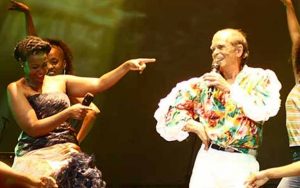 Philippe Ohsan made him perform in front of a very select audience at the Champ-de-Mars which was a success. Everyone was captivated by the story told in music of this lady Eugene who wants to marry her three young daughters under any pretext. His song went viral and allowed him to tour internationally.
A history of bands
He fed his passion for music in the heart of the choir Les cœurs vaillants, his first band. They used to play at the Golden. They changed the name of the group because the parish priest of Notre-Dame-de-Lourdes felt that the orchestra could not use the name of the choir.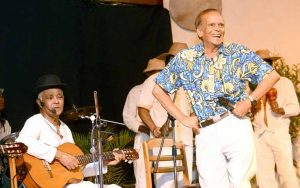 This was when he created his group 'Serge Lebrasse group et ses creoles' which was not well seen and hence they took the name of 'Kanasucs', a nod to the motherland. His band would be seen performing in hotels.
A successful career of the typical sega singer
Some press articles described him as « the king of the Mauritian sega ». Serge Lebrasse, while he was still under the spotlight, has never allowed his music to dim, whether in Mauritius, the Seychelles, Reunion or Canada. Like his colleagues whom he often quotes – Roger Austin, Françis Solomon, Ti Frer, friends who, like him, have never ceased to make the crowds dance to the rhythms of the sega.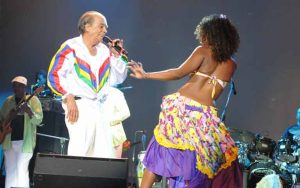 Crowned with numerous distinctions, namely, Honorary Citizen of the town of Rose-Hill and Member of the British Empire in 1976, amongst others – Serge Lebrasse was also greeted by Queen Elizabeth II and Queen Margareth. This legend has made Mauritius proud across the globe, a true free spirit of Mauritianism.