When was the last time you attended a live South Indian musical event in Mauritius? Featuring a prestigious singer nonetheless? We bet it's been a while. If you've been looking for an opportunity to indulge yourself with the best of Carnatic music infused with a modern twist, this is it!
Get ready to witness the magic of the golden voice of Chennai and the winner of the Filmfare Awards South Best Playback Singer 2019 LIVE in Mauritius for the first time ever on Saturday 15th February 2020.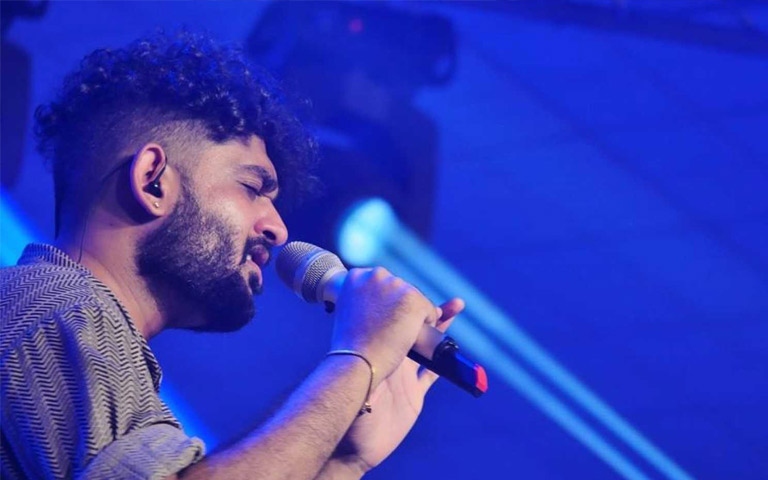 The Oscar and Grammy Award winning composer AR Rahman gave Sid Sriram his first break in Indian films in late 2012, with the groundbreaking song, "Adiye". The talented singer went on to become one of the most popular voices in South Indian cinema in recent years, by continuously churning out hit songs like 'Ennodu Nee Irundhaal' (Filmfare Award for Best Playback Singer 2015), 'Maruvaarthai', 'Thalli Pogathey', 'Pularaadha', 'Inkem Inkem Kavale' (Filmfare Award for Best Playback Singer 2019), 'Kannaana Kanney'and many more.
Along with his chartbusting Tamil and Telugu songs, Sid Sriram will be also performing his original compositions from his debut album, Entropy. His self-produced debut is a culmination of years of rigorous training and experimenting. It creates a bold cross-section where Pop, his Indian Classical roots and alternative music blend harmoniously. To experience this ground-breaking cultural and artistic convergence live at the Swami Vivekananda International Convention Center, get your tickets on Otayo now!
Sriram's music is built on a foundation of South Indian Classical (Carnatic) music, with various influences. Born in Chennai, but raised in the United States, singer, songwriter and music producer Siddharth Sriram represents an intersection of very different worlds. This duality of cultural roots was integral in forming Sriram's personal and artistic identity. He graduated from Berklee College of Music with a degree in Music Production and Engineering.
And he gives credit to his family, mentors and many artistes for shaping his musical journey. Known for his profound observations on music, Sid mentions P.S. Narayanaswamy, Semmangudi Srinivasa Iyer, G.N. Balasubramamaniam and Madurai Mani among others as among his inspirations.
Popular for his unique vocal timbre and impressive live performances, he is arguably the most sought-after singer in the South, despite stellar peers like Sooraj Santhosh and Vijay Yesudas. The variety of composers he has collaborated with just over the last year is wholly impressive – Govind Vasantha, Ghibran, Anirudh Ravichander, Gopi Sunder, and most notably, the maestro himself, Ilaiyaraaja.
Sriram also took the Telugu film industry by storm, first with 'Inkem Inkem', followed by 'Samajavaragamana'. The latter went viral within an hour of its launch. Following a novel concept, the YouTube music video featured Sid Sriram and composer Thaman S., performing the song on a flashy stage, interspersed with clips of actors, Pooja Hegde and Allu Arjun. It became the first Telugu song to reach 100 million views on YouTube in record time, along with being the first Telugu song to hit 1 million likes on the streaming platform.