The St. Louis Cathedral (referred to as 'Katedral Sin Lwi' by locals') is located in Port Louis not far from Champ de Mars.
It is one of the oldest churches on the island. The religious building is the seat of the bishop of the diocese of Port Louis. It has been brought down and rebuilt over the years – first built in between 1752 and 1756 but it fell apart. The building was hit by various cyclones during its early years and was restored by Sir Robert Farquhar, the first British Governor in 1814, though it had recurring structural problems.
After other restoration works, it was promoted to Cathedral in 1847. The last restoration was held in 2007.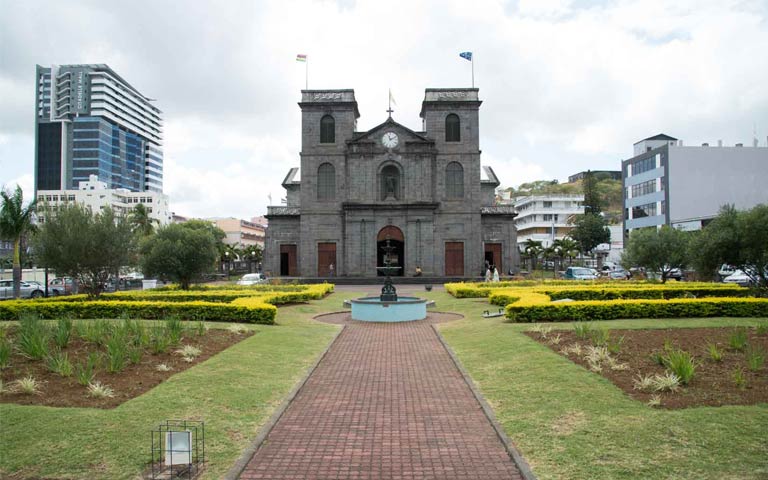 Early Years
It is hard to believe but when St. Louis Cathedral was first built, it was only a temporary chapel made of wood where the Bank of Mauritius is now located. The actual location of the Cathedral was the work on Mahe de Labourdonnais who wanted to build a beautiful church for the capital. Labourdonnais completed the church in 1756 but when the war broke out, the building was used as a warehouse and armory. The church was repaired after the war but was later destroyed by a cyclone in April 1773, which brought the building completely to the ground.
In 1782, a new church was built and it was opened to worshippers, but due to the fragility of the construction, the church was closed again. It was Robert Farquhar who rebuilt the church in 1814. Due to the ongoing damage to the building and the cost of maintenance, the church was demolished once more in 1928 to be rebuilt in 1933 under Mgr James Leen.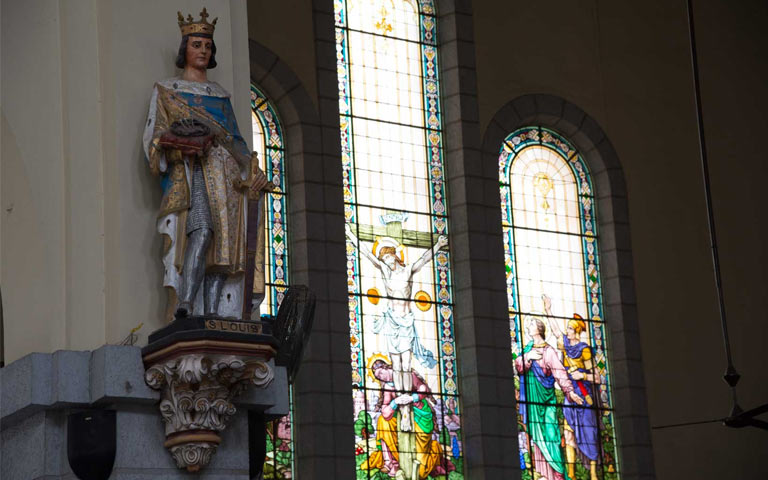 The Present
The building that we know today is significantly larger than the previous one but kept its traits of the past, like the facade with the two stone towers. The interior also kept the relics of the past, like the statues, paintings and furniture. The altar, also from its earlier years, is the same one where Father Laval rested from 1868 to 1870.
In 2007, it was entirely renovated to mark the 160th anniversary of its accession to the status of Cathedral. The renovation work required a huge investment that was necessary to bring the building back to its status in the centre of Port Louis.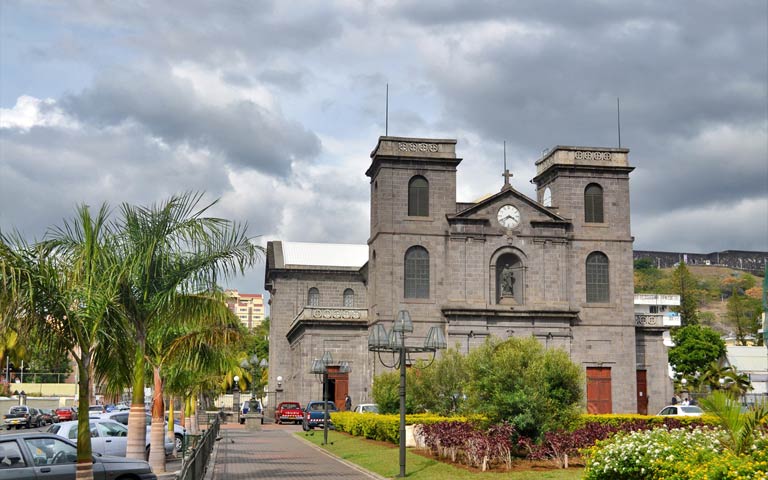 The Bishops
The Cathedral is the burial place of its bishops. According to customs of the Catholic church, the bishops are to be buried inside the Cathedral. To date there are six of them buried under the choir tiling, they are Mgrs Hankinson, Meurin, O'Neil, Bilsborrow, Leen and the latest Cardinal Margéot was buried in July 2009. The current Bishop is Mgr Maurice Piat.