Afro Love by Tayc
---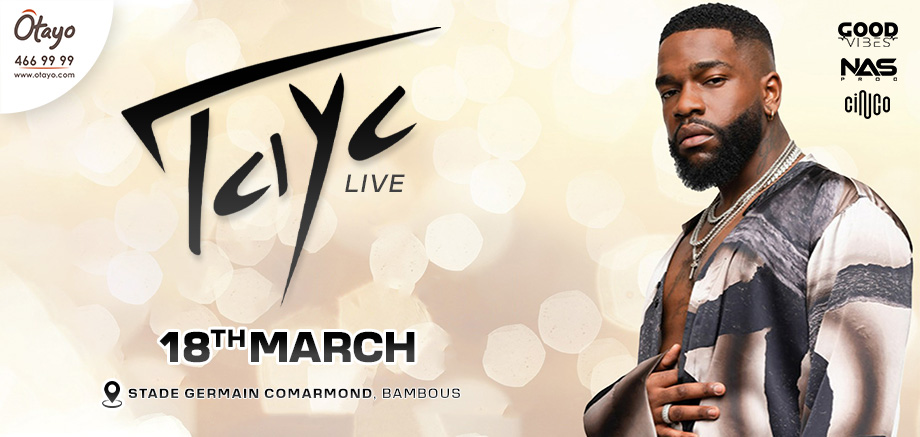 Stade Germain Comarmond
Saturday 18 March 2023
19h00 - 04h00
Concert
Selected tickets have been added to cart
View Cart
---
About the Event: Afro Love by Tayc
"Ne pense plus à lui [...] imi imi imi..."
This is not just the lyrics of one of Tayc's best songs but it is also the announcement of his arrival, after his trip to Mauritius in 2019. And yes, the wait is over! Accompanied by his famous dance crew, Tayc is back to thrill the Stade Germain Comarmond Bambous - a concert not to be missed, on 18 March 2023.
There is a huge difference between listening to an artist and seeing an artist perform live before your eyes. So on 18 March, you can watch Tayc perform live at the Stade Germain Comarmond Bambous. Organised by Good Vibes Ltd and CINCO, the Afro Love by Tayc event promises to be epic.
Known for his blend of Afro trap and Caribbean sounds, Tayc is set to seduce the Mauritian audience at Afro Love by Tayc, with his melodious vocals and his mix of different musical genres, all with a charming touch.
Whether you are a long-time fan of Tayc, excited about his arrival in Mauritius, or just want to enjoy some live music and dancing, the Afro Love by Tayc concert is for you.
So come and enjoy a night full of good vibes and Afro Love with your friends or your significant other, and let Tayc's seductive voice and songs captivate you on Saturday 18 March 2023 - one of the highlights of 2023.
Ticket prices may vary depending on the quota available for the respective ticket category.
Note: The lineup of artists will be announced weekly.
About the artist :
Tayc
Tayc is known as the initiator of Afro love. Being passionate about music, he has made a career out of it. He has a style that blends different musical genres – zouk, soul, R'n'B, kizomba and afropop.
As of 2019, he has been collaborating with some of the biggest names in the French music world such as Dadju, Barack Adama, Sneazzy, among others. All of them have contributed to make him known to the public.
He is an artist who dabbles in everything – winner of Danse avec les stars in 2021 and actor in a Netflix series. He has a string of hits and his album Fleur Froide went double platinum, not to mention his award-winning singles.
Additional Info :
The administration reserves the right of admission.
By participating in this event, you accept to be photographed/filmed.