BE-4 at DEJAVU Nightclub
---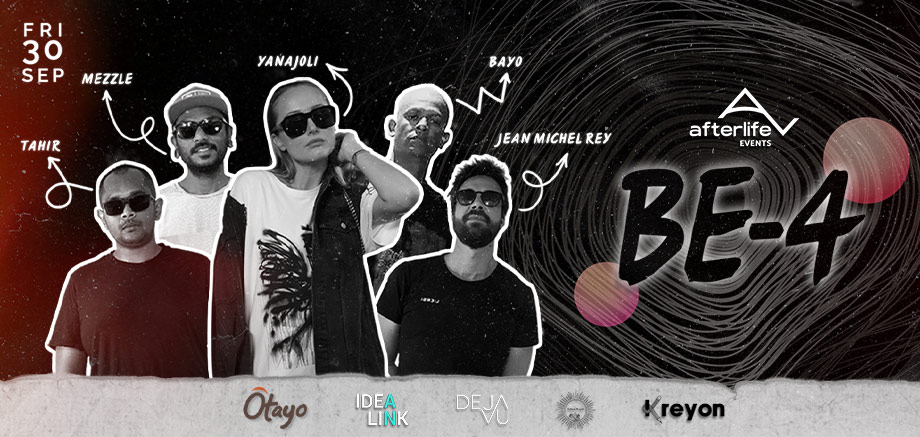 DEJAVU Nightclub
Friday 30 September 2022
23h00 - 06h00
Clubbing
Last Tickets Left

Location:
DEJAVU Nightclub
---
À propos de l'événement : BE-4
Electronic music lovers, you are served! AfterLife Events is pleased to invite you to the BE-4 party at DEJAVU Nightclub in Grand-Baie on 30 September 2022. On the menu, only the BEST electronic music!
Techno, house, minimal, electro or dark electro, that's what awaits you at the BE-4 party. A high decibel evening with light show. The event is scheduled for 30 September 2022 at DEJAVU Nightclub in Grand Baie and will bring together the top DJs of electronic music.
On the turntables will be Yanajoli from Ukraine, as well as B.A.Y.O, Tahir, Mezzle and Jean Michel Rey, who are all talented Mauritian electronic music DJs. They are regulars on the scene. Electronic music is already part of their DNA. They are sure to get you dancing or perhaps even put you in a trance.
Most electronic musicians learn by experience, often self-taught, by listening to records and bringing in their own creative flair. They are driven to spend long hours with their heads bent over their equipment, manipulating it and creating the maximum sound possibilities.
B.A.Y.O, Tahir, Mezzle, Jean Michel Rey as well as Yanajoli will give you a glimpse of their talent on September 30th at the DEJA VU Nightclub, during the BE-4 event.
Organised by AfterLife Events, BE-4 is a concept inspired by the unity, strength and synergy of the organisers! And they are proud to be teaming up with artists who have immense talent in electronic music!
Held at one of Grand Baie's most popular nightlife destinations, DejaVu Nightclub, BE-4 is a not-to-be-missed event for electronic music enthusiasts.
Artists Lineup
Yanajoli
B.A.Y.O
Tahir
Mezzle
Jean Michel Rey
About the Artists
Yanajoli
You've probably seen her already! Highly active on social networks, especially on TikTok, Yanajoli never goes unnoticed. Influencer, DJ, Yanajoli is a heavy hitter, especially in electronic music. Originally from Ukraine, the talented DJ has been making a name for herself in Mauritius for some time now and has been throwing a series of parties. The BE-4 event will be an opportunity to see her in action.
B.A.Y.O
Jean Denis Ridoynauth a.k.a B.A.Y.O (Because. Am. Your. Operator) is a DJ who has been part of the local Mauritian electronic music scene for ages. He is what we call a house music lover. B.A.Y.O's captivating style is heavily influenced by the sounds of the 90s. He found his way into house music, experimenting with RnB, hip-hop, commercial pop and finally found his own style: funky house music.
Mez Mezzle
Mez Mezzle has been influenced by Deep & Dark Techno & Progressive music since 2006-2007. He learnt in the daytime in 2009. In 2010, he began to mix in clubs and private parties in 2010 and entered the field of solfeggio and electronic music production.
Tahir
The dynamic Tahir, currently in residence at Big Willy's 'Le Deck', is a master of electronic music. His playlist, his technique and his ability to heat up the dance floor have made him one of the island's leading young talents in electronic music.
Jean Michel Rey
Jean Michel Rey needs no introduction! He is well known for his music, a mix of Progressive Psytrance and Psychedelic Techno that radiates high energy.
His passion for music started at a young age and he began his career in music at the tender age of 13 with percussion, jazz and fusion sounds and also followed tabla sessions at the Conservatory. At the age of 15, he started recording in a home studio and eventually enrolled in the world's largest audio-visual and sound engineering institution, SAE (Paris).
The purpose of his music is to spread the idea of peace, love and the energy of flowers.