Black Paradise
---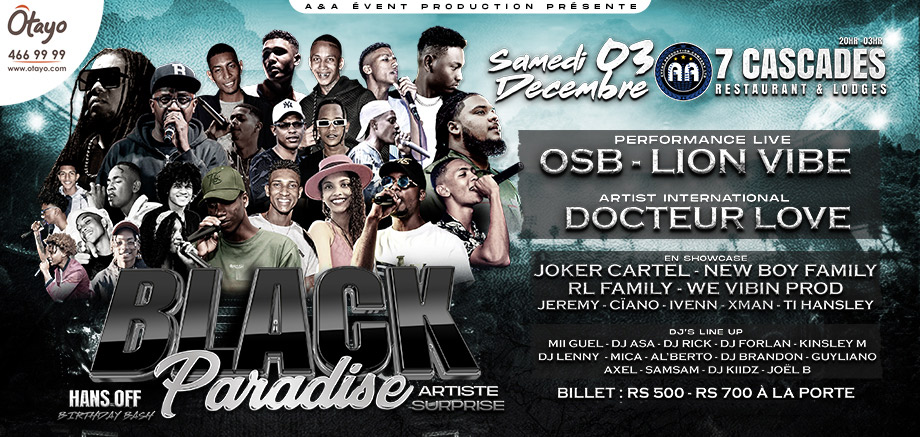 7 Cascades Restaurant & Lodges
Saturday 03 December 2022
20h00 - 05h00
Concert
---
About the event : Black Paradise
Are you ready for the Black Paradise? A&A Events Production is organising an event that will leave a mark on you and even better, in a unique setting! Head to 7 Cascades Restaurant & Lodges, in Henrietta, on December 3rd, 2022 for an evening that promises to be memorable with the presence of numerous artists.
December means party time! And that's perfect, as the Black Paradise party will have you dancing until dawn.
The artists will thrill you. And exclusively for you, Docteur Love! If you don't know him, you'll get to discover this international talent during his live performance in Black river. On the local level, the
Otentik Street Brothers (OSB)
will be present and there will be
"Panik Dans Baz"
!
Indeed, the emblematic OSB Crew with Bruno Raya and Blakkayo at the helm, will swing good vibes. You will be treated to good old school ragga that you enjoy so much: Marizann, Revey Twa or Zilwa leve lebra! The group will also perform their new compositions.
And to the greatest pleasure of fans, OSB will be live alongside Lion Vibe, an artist whose voice and seggae give off a strong groove. Get ready to discover a surprise artist at Black Paradise!
And that's not all. In showcase, you'll find Joker Cartel, New Boy Family, RL Family, We Vibin Prod and much more. DJs will also be at the turntable during the show. Among them: Mii Guel, DJ Asa, Kinsley M, DJ Lenny, Samsam to name a few. It is an evening that promises to be grandiose. In short, a beautiful world to set the atmosphere of fire!
See you at the 7 Cascades Restaurant & Lodges on December 3rd 2022 for a remarkable concert!
List of artists
International Artist:
Live Performance:
In Showcase:
Joker Cartel
New Boy Family
RL Family
We Vibin Prod
Jeremy
Cïano
Ivenn
Xman
Ti Hansley
DJs Lineup:
Mii Guel
DJ Asa
DJ Rick
DJ Forlan
Kinsley M
DJ Lenny
Mica
Al'berto
DJ Brandon
Guyliano
Axel
Samsam
DJ Kiidz
Joël B
About the Artists
Docteur Love
The talented Docteur Love is a singer from Madagascar. He is an artist who is not only a real phenomenon on the music scene, but has also seen real success on his youtube channel. During his career, he has collaborated with other singers, including the artist Tinah. Since then, his songs such as Rikarika and Nankatia have been playing over and over again and have gained thousands of views on YouTube.
Joker Cartel
Récemment élu par le public lors des Mauritius Music Awards 2022, ce groupe connaît un énorme succès auprès des jeunes et des moins jeunes. C'est l'un des groupes du moment à l'île Maurice.
OSB
C'est un groupe qui est apprécié par les jeunes et représente un exemple pour beaucoup. Non seulement ils chantent mais ils participent aussi à des débats et des causeries. Au fil de leur carrière, leurs chansons ont touchées plus d'un avec leurs paroles poignantes.