Bombardé à Jin Fei
---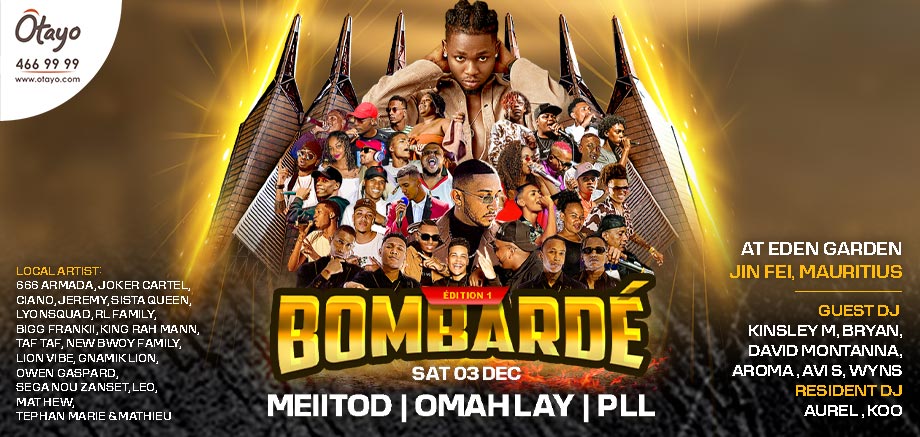 Eden garden, Jin Fei
Saturday 03 December 2022
18h00 - 05h00
Concert
---
About the Event: Bombardé à Jin Fei
Suenio Fiesta Event, presents BOMBARDÉ, a festive evening at the Eden Garden, Jin Fei (Baie du Tombeau) on December 3, 2022. The singer with Mahoran origins, Meiitod, and the PLL group from Reunion Island will be in Mauritius for an exclusive concert.
Meiitod and PLL live in concert for the first time in Mauritius, on 3 December. The rendez-vous is at 6 pm in the beautiful Eden Garden of Jin Fei.
Meiitod is one of the most articulate and influential artists. Lyrically, he sends a heavy message with a style close to rap Rap, soul and RnB. He blends the depth of the text and the sweetness of the melody with an outstanding vocal technique.
974 represented by the masters of 'gommance', PLL. This is a renowned group in the Reunionese musical world. PLL is one of the pioneers of "la gommance", a musical movement that shakes up the dancefloors in Reunion as well as in Mauritius. It's ragga, mixed with Reunionese dancehall, supported by great instruments and killer beats.
But that's not all! Several Mauritian artists will also be present. Among them, Joker Cartel, New Bwoy Family, Lyon Squad, Bigg Frankii, Tephan Marie and Mathieu, Owen Gaspard, Sista Queen, Gigi Tout Puissant and many other artists. The Bombardé party is sure to be a fiery one!
This event just got better with the announcement of a Surprise Artist, who's no other than the Nigerian music star Omah Lay! Renowned for his singles "Understand" and "Bad Influence", this singer and songwriter will perform live in Mauritius for the first time ever!
International Artists:
Omah Lay (Nigeria)
Meiitod
PLL
So hurry up! Book your tickets on Otayo and head to the Eden Garden, Jin Fei on December 3rd 2022!
Note: Free access to the event for children under 12 years.
Local Artists:
Sista Queen
Gnamik Lion
Leo
Tephan Marie
Mathieu
Matthew Matt
King Rah Mann
Lyonsquad
RL family
Sega Nou Zanset
New Bwoy Family
Joker Cartel
Ciano
Jeremy
666 Armada
Bigg Frankii
Lion vibe
Taf Taf
Bigg Frankii
About the Artists
Omah Lay
Stanley Omah Didia, better known as Omah Lay, is a Nigerian singer and songwriter. He rose in popularity in early 2020 following his self-produced single, "Bad Influence," went viral on social media. He is also known for his collaboration with Alpha P on Masterkraft's official remix of Justin Bieber's 2021 single, "Peaches," as well as another one on "Attention" in 2022. At the 2020 Headies Awards, this talented artist won the Next Rated award.
Meiitod
Meiitod is a Franco-Mahorean artist who has several strings to his bow. He does Rap, RnB and Soul. With Meiitod, it's good vibe guaranteed and his style is bound to please the crowd. He describes himself as someone who likes to transmit emotions through touching lyrics that are inspired by reality. Through his sweet melody, Meiitod will take you on a surreal journey. His song "Tes Yeux" (Your Eyes) has won the hearts of many and he's to be discovered live in concert!
PLL
The PLL group consists of three musicians from Reunion Island- Lil King, SG and Luidgi. They are the hottest group in Reunion Island, and their hits are playing all over the Indian Ocean. Their tracks always set the dance floor on fire in Mauritius. Besides, PLL has signed numerous hits, including "Dansé" as well as having several collaborations, notably with DJ Sebb on "Roulman" and "L'intéressant". They also worked with Mauritian DJ Avi S on the hit "DELBOR".