Fam Ocean Indien Live Music Festival
---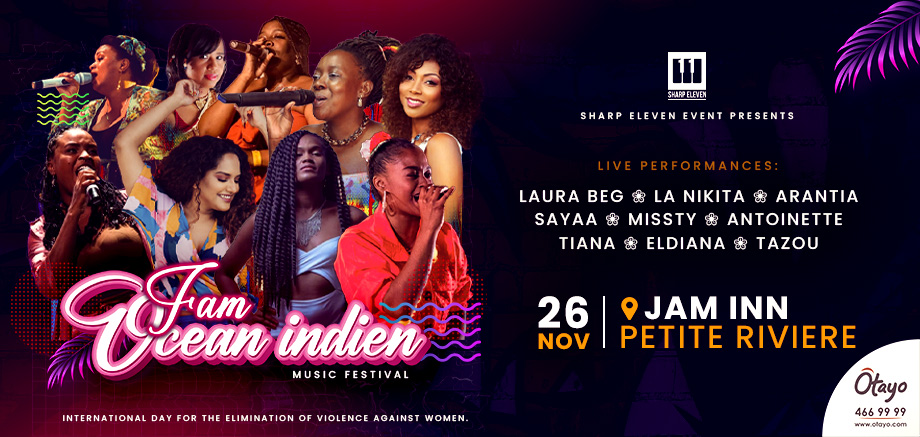 JAM INN, Petite Rivière
Saturday 26 November 2022
20h00 - 05h00
Festival
---
About the Event: Fam Océan Indien Live Music Festival
Women will be in the spotlight on 26 November 2022, at the Jam Inn, Petite Rivière, for the Fam Océan Indien Live Music Festival. Sharp Eleven is organising this event as part of the international day for the elimination of violence against women and is giving full support to the SOS women association.
Fam Océan Indien Live Music Festival, is a concert led by women, scheduled for 26 November at the Jam Inn in Petite-Rivière. Several female artists will set the stage on fire: Laura Beg, La Nikita, Sayaa and Arantia from Mauritius, Missty from Reunion, Sandra and Antoinette from the Seychelles, and Tiana from Madagascar. A wonderful line-up!
And to accompany the eight singers on stage, the girl band: Les Amazones! You have certainly already seen this group of girls in action on YouTube, in the Bonnto Session alongside Laura Beg. Well, this is your chance to see them live, at the Fam Océan Indien Live Music Festival, on 26 November, at the Jam Inn in Petite Rivière.
The girls band SIBS, another all-girls group, will also be performing in the first half of the concert. A must-see! And to close the show, the DJs Mari Hope and Nina Hellis will be on the turntables to make you dance until the end of the night. Girl power!
Organised by Sharp Eleven Event, Fam Océan Indien is a musical exchange between Reunion Island, the Seychelles, Madagascar and Mauritius. Fam Océan Indien Live Music Festival aims to be, above all, a symbolic concert as a tribute to women. This approach stems from Sharp Eleven Event's love of music and its desire to organise events that are out of the ordinary.
Want to experience something groundbreaking? Head to the Jam Inn in Petite Rivière on 26 November and enjoy the Fam Océan Indien Live Music Festival.
Artists Lineup
SIBS
Arantia
Sayaa
La Nikita
Tiana (Madagascar)
Antoinette (Seychelles)
Sandra (Seychelles)
Misty (Réunion)
Laura Beg
Djanes - Mary Hope and Nina Hellis
About the Artist
SANDRA
Sandra started her career in the Seychelles band Dezil, with whom she released the hit single, "San ou (La Rivière )" in 2005.
Sandra has released three albums to date. Throughout her career, she has won several national and international awards.
Her album, Sandra Fanm Inik, won the title of Best Female Artist of the Year at the Seychelles Airtel Music Awards 2012. An award she won again in 2014 with her album "Mon Santiman".
Sandra also has 2 million views on youtube with her song "Dibwa Kwaze".
ANTOINETTE
Antoinette is a Seychellois singer and musician. At the tender age of 5, she triumphed in "The Zecchino D'oro" in Italy, her first singing competition.
Antoinette has performed in many hotels and music festivals in Seychelles island as well as abroad. In 2008, Antoinette released the album of the year in Seychelles, entitled "Lamentation".
The Seychellois artist also works as a music coach. Three of her famous songs, "Ede Maler", "Anzela" and "Leve Debourye", have amassed thousands of views on YouTube and other platforms. In 2010, his hit "Anzela" spent six weeks at the top of the Tropic FM Top 100.
MISSTY
Missty has a 10-year career in music. She sings everything from sega, to jazz and blues. But it is Sega that shaped her, ever since she was 14 years old. Moreover, thanks to the group Multiforce, she won the "Palmarès Découvertes de Saint-Paul" competition in 2001.
Missty's voice has been featured on a dozen of singer's albums in Reunion Island. The people of Reunion consider her as the princess of sega. She has several hit songs such as "Meddley péî" and "Si un jour". She has received over 6.2 million views on youtube with her song 'Vilain manièr'.
TIANA
TIANA is the musical pearl of Madagascar. Her voice, her songs and her charisma leave no one indifferent. Being a gifted author, composer and singer, Tiana has won several awards.
She has already released five albums, performed at the Olympia in Paris and represented Madagascar at the Babel Med Music in Marseille in 2008. She was awarded the Gatsisara prize in 1996 (the Malagasy Victory Awards for Music) and was elected Woman of the Year on her island in 1998: she is undoubtedly a very talented singer but also a beautiful personality.
LAURA BEG
"Tik Tiker", "Inna dancehall time", "L'immensité l'amour" or "enn lot kuma mwa", Laura Beg's songs have made many people dance, in Mauritius and abroad.
Passionate about music, Laura Beg started her career at a very young age as a chorus singer in the group Cassiya before joining Alain Ramanisum's group Ravana.
With Ravana, she released three albums and worked on numerous projects with other musicians, such as Jason Heerah. She is one of the most popular artists in Mauritius, Reunion and even worldwide.
She has performed in Australia, France and other European countries.
Laura Beg has performed on zouk, reggae and dancehall. She also masters variety songs. She has several hit songs and has a great energy on stage. And with her voice and her groove, she will rock Jam Inn on 26 November.
LA NIKITA
La Nikita is a bubbly artist. She sings, she presents TV and radio shows-in short, music is omnipresent in La Nikita's life.
She was attracted to music from a very young age and made a name for herself in the Mauritian artistic community by winning the Star 2012 TV competition (sega category).
She has collaborated on several successful albums by several artists, such as Jason Heerah, Lin and many more. Her duet with the late Lin on the song 'San Ou' was a big hit. Her song 'Mo Birthday Song' with Stelio has received over 3 million views on YouTube.
Nikita has been making her way in the music world for a while and has several successful songs and covers to her credit. She is an artist who knows how to "mettre la faya "".
ARANTIA
Arantia Eléonore is the female voice of Otentik Groove. She has been singing since she was 6 years old and is now a well-known singer.
She has just released her first single, "Lakle Mo Leker", with over 330,000 views in 3 months. If all goes well, she plans to release a solo album within the next year. Arantia, with her voice and ukulele, is an artist worth checking out.
SAYAA
Sarah Leboeuf a.k.a Sayaa, is a singer who started out in music at a very young age. She sang in a number of hotels. Besides, she has had the chance to perform in a music festival held in China.
As a singer, songwriter and musician, she made her debut in 2020 with the song "Ask Dem." Since then, Sayaa's voice has resonated from stage to stage. Her song "sant pou la mizer" is currently a big hit on YouTube.