FESTIVAL LAMIZIK
---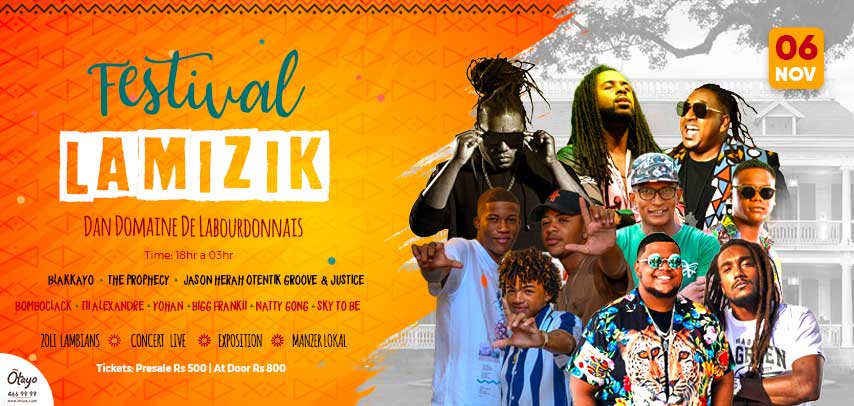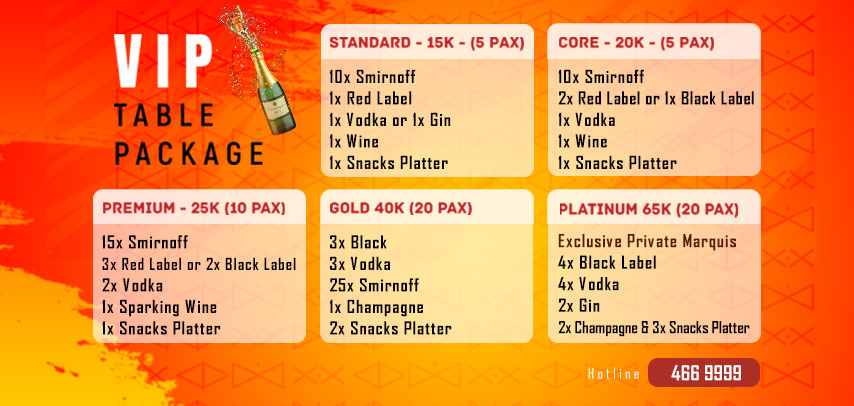 Domaine De Labourdonnais, Mapou
Saturday 06 November 2021
19h00 - 03h00
Festival
About the Event: FESTIVAL LAMIZIK
FESTIVAL LAMIZIK invites you to a star-studded festival featuring a line-up of top local artists to bring you one of the biggest live concerts on the island in the exceptional setting of the Domaine de Labourdonnais on Saturday 6 November 2021.
Expect an original concept with a Live Concert/Exhibition etc.. in one of the most beautiful estates of Mauritius: the Domaine de Labourdonnais. The layout will be designed to obtain the best musical and festive experience while respecting all international standards and sanitary measures.
Get ready for 9 hours of concerts from 7pm to 3am! The program mixes discovery, diversity and quality. A crazy musical menu from the opening of the doors at 6pm, which allows you to discover and rediscover talented Mauritian artists. There will also be a craft market and food & drink stands. And that's not all! Children under 12 years old enter for free, so seize this opportunity to bring the whole family!
VIP Table Packages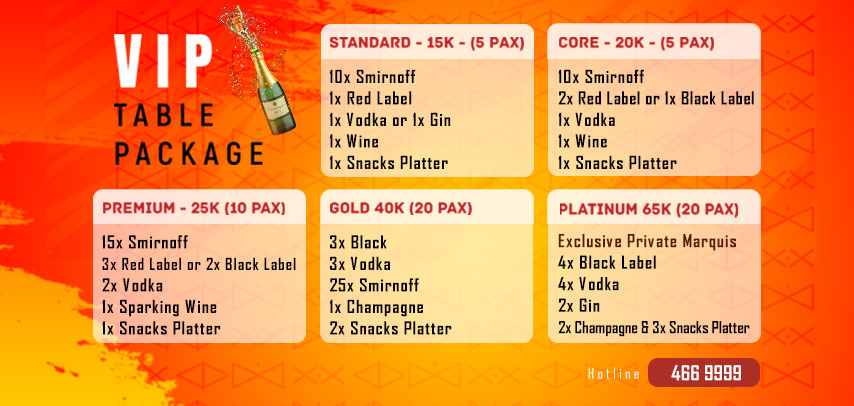 Here is the list of local artists who will light up the night :
Original Blakkayo
Jason Heerah & Otentik Groove
Justice Le Coq
The Prophecy
Bigg Frankii
Bomboclak
Tii Alexandre
Yohan
Natty Gong
Sky to Be
About the Artists
Original Blakkayo

He started out as a dancer in the 90s and was inevitably attracted to music and reggae in particular. Inspired by Kaya, the inventor of seggae, Blakkayo started writing his own music and went on to release his first solo album Tchek To Life in 2000 which got enormous success. The following year, the musician and his group, which later became known as Otentikk Street Brothers (OSB CREW) released an album Nou Kkila as a heartfelt tribute to Kaya.

Jason Heerah

Named "The best singing drummer in the world" by the 2014 Australian X Factor Judging panel, where he finished in the Top 6. His rendition of Pharrell Williams smash hit 'Happy' at the X-Factor Audition 2014 has had over 1 million views on Youtube. His Single 'Seggae Paradise' featuring Zulu released in Mauritius in 2015, has been nominated for song of the year.
Jason has shared the stage alongside various international artists and built up a rapport over the years as being one of the most regularly featured drummer or percussionist/vocalists for an array of concerts and music festivals.

Otentik Groove

Otentik Groove have played together for over 10 years and have had international touring success all over the world. Their biggest festival is SUMMERJAM (Germany). The band is a constant staple to the modern Mauritian Sega and Seggae sound on radio in their country. They've played on countless albums for artists in Mauritius, Reunion and Seychelles. They have even backed popular French artists Pier Pol Jack, Jean Baptist Guegan & Tonton David to add to this band's versatility.

Justice Le Coq

The singer with a unique voice is now quietly approaching a new chapter in his life. Under the guidance of Jason Heerah, a series of musical projects are flowing in for him. Out of his hits, Closer to me is a love reggae draped in a catchy melody that gets stuck in your mind from the very first listen. This song and four others were released in the first chapter of his E.P. The Greatest Romance under the Jason Heerah JHRecords label and were a huge success.sous le label Jason Heerah JHRecords et a connu un immense succès.

The Prophecy

Murvin Clelie discovered music at a young age, and together with his lifelong friend, Olivier Dauphine, they worked hard to compose several songs and eventually create 'The Prophecy' in 2009. The band is now a team of several members.
In 2015, the band released its first album titled '21st Century'. It was immediately a great success, conquered the hearts of many and even won the 'Backstage music band' award. The band held concert after concert, each more successful than the previous and affirmed their status as one of the hottest bands of Mauritius.

Bigg Frankii

A very prolific singer, Bigg Frankii has millions of views on the platforms where his songs and videos are offered to his fans. This Roche Bois singer enjoys a star status with the new generation where Picoti Picota, Tic Tac, My one in a million are essential hits.génération où 'Picoti Picota', 'Tic Tac', ou encore, 'My one in a million', sont des incontournables.

Natty Gong

Benoît Girodeau, better known as Natty Gong was influenced very early by Seggae Music as well as the discovery of Bob Marley and a lot of Jamaican Dancehall singers. Natty Gong's Welkom dan Moris and Latet, were greatly appreciated by those in the reggae and dancehall world, and he has gone on to conquer the local stages by playing at popular music festivals and events.

Sky to Be

Jean Patrice Kevin Dina, commonly known as Sky to Be, released his first album titled Circonstances lavie in 2018 whereby the song Dodo baba became an instant hit in Mauritius. The music video has garnered over 8 million views on Youtube and placed second on the 2018 record charts of several radio stations. Dodo baba is a local favourite and is still played at every party in Mauritius, with Sky To Be being one of the most loved artists of Mauritians.
Additional Info
COVID-19 MEASURES
We take the situation seriously and follow the rules and regulations prescribed by the Tourism Authority to comply with international requirements.
You will be required to wear a mask in all public places and your hands will be sanitized.
LIMITED tickets due to sanitary measures
ADMISSION
Due to the limited number of passes, we will work on a first come, first served basis and on a waiting list.
FESTIVAL LAMIZIK reserves the right of admission.