Hype by Cinco
---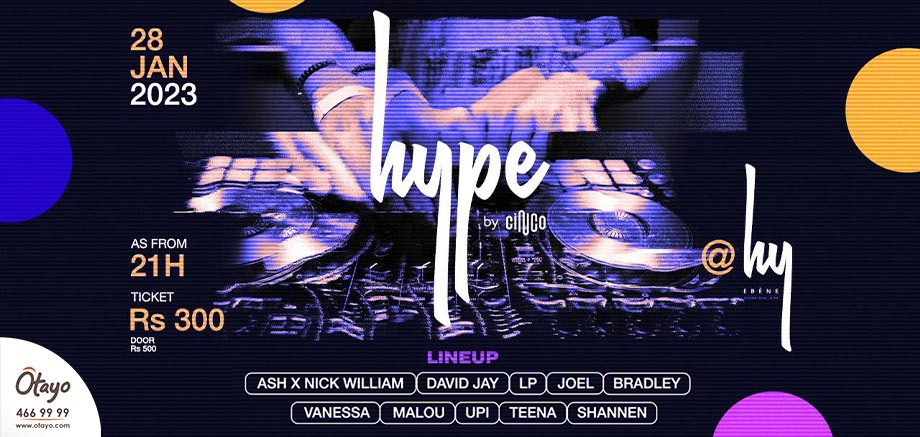 HY Ebene
Saturday 28 January 2023
21h00 - 04h00
Event
---
About the Event: Hype by Cinco
Your next urban nightlife rendez-vous is at HY Ebene!
If clubbing has become too mainstream, try making your Saturday night out special with this innovative event at HY Ebene. On 28 January 2023, a whole new concept will be presented to you for the first time in Mauritius! As from 21h00, you'll be swaying to the catchiest beats of numerous DJs on the decks whilst the event is broadcasted via live screening!
Hype by Cinco is not your regular clubbing event; it's a curation of sensations, non-stop music and a fresh take on partying. It transmits the wild energy of a state-of-the-art set to an audience watching online.
On 28 January 2023, the Hy sky lounge bar will be transformed into the ultimate nightlife destination for the event Hype by Cinco. There will be 2 Floor Areas: Main Hype, ft. Commercial DJs such as Ash x Nick William, David Jay & LP among others; and Dark Hype, focusing more on the Techno side.
Forget about Happy Hour, you'll get to enjoy Happy Minutes at Hy Ebene. Since Hype by Cinco is all about innovations, the Happy Minutes will be presented to you for the first time ever. The joker drinks will be in the DJ's hand and during each set, the DJ will activate a happy minutes. Lasting for 10 minutes, you can benefit from BUY 1 GET 1 FREE on shots!
Overlooking the busy Ebene cityscape, Hy Ebene is the place to be on Saturday January 28th. Gather your party squad and let the night take you hy-er at the Hype by Cinco event!
What to Expect?
Live DJ Set Experience
2 Floor Areas ( Main Hype - Commercial | Dark Hype - Techno)
Non-stop Music
Happy Minutes - for the first time the joker drinks will be in the DJ's hand; during each set the DJ will activate a happy minutes (duration - 10 mins)
BUY 1 GET 1 FREE on shots during the Happy Minutes
Fire in the Centre of the island/ no need to go far
Live Screening
Artist Lineup:
Main Hype:
Ash x Nick William
David Jay
LP
Joel
Bradley
Dark Hype:
Vanessa
Malou
Upi
Teena
Shannen
About the artists :
LP
He is known as DJ LP to his audience but his real name is Laurent Pierre Richard. He has been a DJ for a very long time now. A DJ who has mixed house music in all its forms. After playing in many prestigious venues in Mauritius, he then joined Lakaz Cascavelle as a resident DJ from 2014 to 2020. He also founded Juicy Box from 2015 until today. He has his own signature music.
Vanessa
Vanessa is one of the few female artists on the Mauritian electronic scene. She was soon noticed by local event organisers for her particular style of techno music. She is always present when big international bands perform in Mauritius and she has been able to learn a lot of things that would be helpful in her career. She can easily adapt to any party and any audience as she masters several styles, namely deep and groovy music as well as dark techno. She is one of the most popular DJs on the island.
Additional Info
By participating in this event, you accept to be filmed and photographed.