Le Dîner des Canotiers
---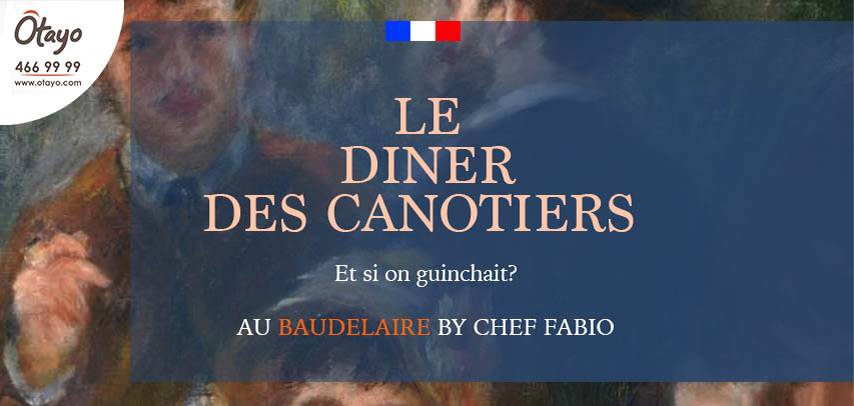 Le Baudelaire by Chef Fabio, IFM
Wednesday 13 July 2022
18h30 - 23h00
Gala Dinner
About the Event: Le Dîner des Canotiers
A festive evening of music with the participation of Eric Triton, a wine tasting with the Nicolas cellar. French songs and a performance inspired by Auguste Renoir's painting "Le déjeuner des canotiers"... Wednesday July 13th, bring your straw hats and your canotiers to the "Baudelaire by Chef Fabio" for a French gala night.
Painted by the French impressionist Pierre Auguste Renoir, Le déjeuner des Canotiers translates to "Luncheon of the Boating Party", representing a group dining on a balcony at the Maison Fournaise, perched on the Seine, near Paris. Let the melodious French tunes transport you to the Parisian suburbs as you dine on a heavenly meal.
Come taste the exclusive creations of the highly skilled Chef Fabio and allow your tastebuds to take you on an epicurean voyage to a world of exquisite flavours, divine aromas and a top class presentation to charm you away. Take delight in a lovely starter before moving on to the main course featuring sumptuous dishes and end this French inspired dinner with a digestif (see the full menu in the Additional Info section). Pair your meal with a selection of fine wines brought to you by the Nicolas Cellar - a French franchise dealing with over 500 wine boutiques worldwide.
Your entire evening will be accompanied by a mesmerising musical performance, featuring the famed Mauritian musician, Eric Triton. Sway to the French songs inspired by Auguste Renoir's painting and enjoy a wonderful evening.
The setting is just perfect for an out-of-the-ordinary romantic date with your soulmate, but also makes for the ideal spot to experience French culture with your friends and family.
Be there at the IFM on Wednesday, 13 July from 6:30 pm to share this convivial moment.
Conditions
Guests need to be fully vaccinated as defined by the Government Regulations
Sanitary Restrictions apply as per the Authorities
About the Restaurant - Baudelaire by Chef Fabio
With years of culinary experience at La Table du Château, Chef Fabio has opened the doors of his new restaurant "Baudelaire by Chef Fabio" at the IFM in Rose Hill. The cuisine is simple yet the tastiest you'll ever have, and once again, local products are given pride of place.
At Le Baudelaire, fine dining is taken to a whole new level.
Menu – Dinner for July 13, 2022
Canapés
Croutons with hot camembert cheese
Tuna rillettes on toast
Quail egg with red wine and Bearnaise sauce
Starter
Venison terrine with grapes on red cabbage and apple confit
Main Course
Traditional seafood bouillabaisse with rouille and cheese croutons
Cheeses from France
Dessert
Vanilla mille-feuille with local red fruit coulis
Vegetarian Menu
Starter
Sweet potato soup, garlic crouton and saffron Espuma
Main course
Spinach ravioli with goat cheese and mushroom cream
Dessert
Roasted pineapple with caramel and vanilla ice cream