Léa Churros Family Day at O'Beach
---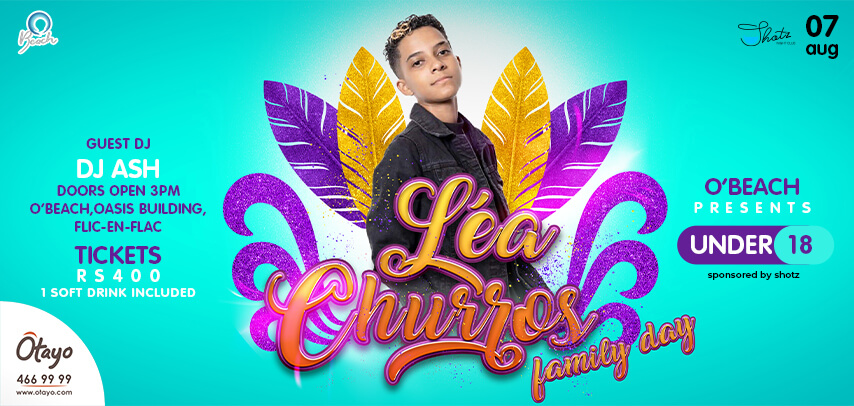 O'Beach, Flic En Flac
Sunday 07 August 2022
15h00 - 23h00
Concert
---
About the Event: Léa Churros Family Day at O'Beach
We can't get enough of Léa Churros! After an exciting concert last weekend, she will be on stage once again this weekend 7 August 2022 at O'Beach with DJ Ash as guest DJ. A family-friendly event starting at 3pm, you definitely do not want to miss this!
Last weekend Léa Churros was live at Shotz heating up the night with her vibrant energy and catchy songs. If you've missed it or if you want more, be sure to grab your tickets for Léa Churros Family Day at O'Beach. This family-friendly event is perfect for a day out with the whole family while enjoying some chill music.
Laisse toi aller… Let yourself go and indulge in this fun musical event with exciting vibes led by the new phenomenon, Léa Churros! Expect a wonderful evening full of massive hits and catchy beats that will keep the party going. There will also be a local guest DJ to take things to the next level - expect DJ ASH who will have you grooving to his epic mixes till late night.
Save the date for 7 August 2022 for Léa Churros Family Day at O'Beach in Flic en Flac ! What are you waiting for? Book your tickets now, exclusively on Otayo!
About the Artists
Léa Churros
Just 20 years old, Léa is the new rising star and a real phenomenon in the local music scene. Currently savouring her success in Reunion Island, she hopes to enjoy the same popularity in France very soon.
The story begins some 6 months ago when Léa released her first song "Bébé" in collaboration with the singer Varaine Ben. The song quickly rose in popularity and gained over 2 million views on Youtube.
Back in the studio, Léa recorded "Laisse-toi aller", her new song written with her producer RMN PRODUCTION
DJ ASH
Ashay Boodooa aka ASH is unparalleled in popularity with the young generation fond of rhythmic music like moombahton, Ashay's favorite style. A DJ and self-taught producer, Ashay has made his way through a world where competition is fierce. Deejaying has now become his livelihood. At 18, ASH was already "on the deck" with the biggest clubs on the island. He was noticed by Jimmy Gassel, who offered him to join his Label, Dj Bing Prod.