Mash Up Di Place x MMA Music Awards
---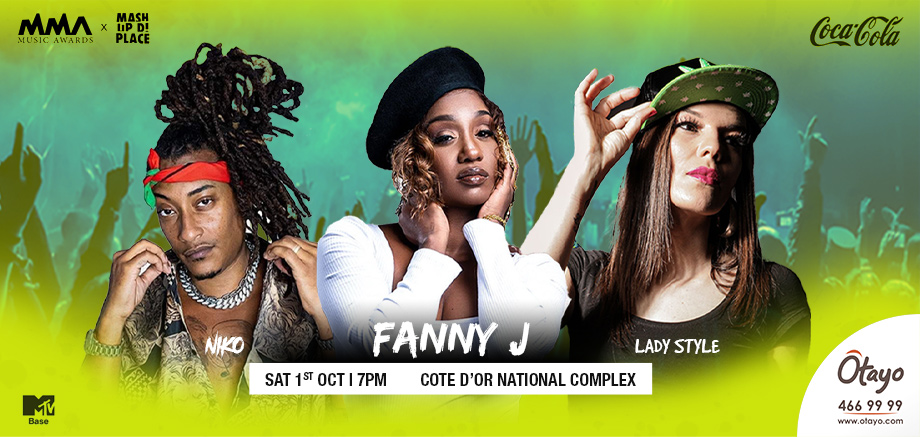 Cote d'Or National Sports Complex
Saturday 01 October 2022
19h00 - 03h00
Festival
---
About the Event : Mash Up Di Place x MMA Music Awards
Early Sales Offer Exclusively on Otayo!
It's time for a revival! Save the date for one of the biggest events at Cote D'Or Stadium on October 1st, bringing together an exciting lineup of brilliant artists from Africa and the best local talents for the MMA Awards 2022! The glamorous event starts at 19h00 and goes on all night till the next morning!
Brought to you by Elysium Events, one of Mauritius' best events organisations with 10+ years of experience in the music industry, MASH UP DI PLACE X MMA AWARDS promises to be absolutely lit! The concept for the Mauritius Music Awards (MMA) was established in 2020, in order to give artists visibility and reward them for their talent, creativity, and contribution to the music industry.
As you wait for the nomination release, you'll get to embark on a tantalising party trip with the greatest Dancehall, Afrobeat, RnB, Hip Hop, Reggaeton sounds and current hits. The excitement will build up through the night, while you anticipate the announcement of the winner from each award category!
One of the top 5 sports stadiums in Africa, Cote d'Or National Sports Complex, will be transformed into a haven of pure entertainment as the crazy vibes and the tempting beats of the super talented artists, notably Niko, Fanny J & Lady Style amongst others, resonate all you
This electrifying event aims to unite people through the power of music, so be sure to bring nothing but love. See you MASH UP DI PLACE on October 1st at Cote d'Or National Sports Complex! Tickets Available Exclusively on Otayo.
Artist Lineup
Niko
Fanny J
Lady Style
More TBA
Table Packages
The following Table Packages are available at MASH UP DI PLACE X MMA AWARDS:
SILVER PACKAGE: Rs 25,000
GOLD VIP LOUNGE PACKAGE: Rs 50,000
They include:
VIP Lounge Tickets
Reserved Lounge
A Selection of Drinks & Snack Platter
Table Service
Meet & Greet with the Artists
VIP Parking Area
And much more…
Should you have any queries, or wish to book a table, please call us on 4669999.
Tickets Available Exclusively on Otayo.
About the Artists
Fanny J
Fanny J, whose real name is Fanny Jacques-André-Coquin Tablon, is a contemporary zouk and R'n'B singer of Guyanese origin. It was the hit "Ancrée à ton port" that really launched the singer's career in 2007. Fanny J's voice and the song's simple chorus were exported beyond the Caribbean.
In 2013, she performed a new version of the famous song Maldòn by Zouk Machine alongside Louisy Joseph and Lynnsha, taken from the Tropical Family compilation. She also duetted on the track La vie en blues from Warren's fourth album Musikotherapy.
Lady Style
Lady Style is an international DJ from Paris, France. She followed her heart and now, she's having the time of her life touring festivals and clubs around the world! In the last 13 years, Lady Style has performed in over 50 countries!
Her technique behind the turntables, and most importantly, her passion for the mix, have gathered thousands of people who follow her on social networks and paved the way for exciting collaborations with many artists.
However, it's on stage, leading the crowd that she is in her element…