Médérice fête ses 10 ans de carrière
---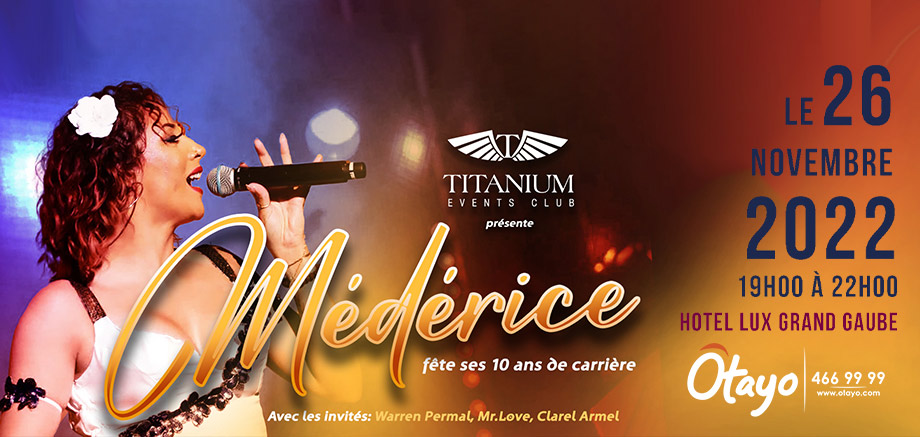 Lux Grand Gaube
Saturday 26 November 2022
19h00 - 22h00
Concert
---
About the event - Médérice fête ses 10 ans de carrière
Oté Maurice, Médérice is coming!
To celebrate her 10 years of career, the stunning singer from Reunion invites you to dance your heart out during a live concert, accompanied by our very own local talents. Scheduled on Saturday, November 26, 2022 at the Hotel LUX* Grand Gaube, 'Médérice celebrates its 10 years of career' is an event not to be missed!
If you're looking for a way to have a great time with family and friends, don't look any further. It's a Saturday night that promises to be thrilling to the rhythm of Mauritian and Reunionese sega in a sumptuous setting. Even children are welcome!
After the big buzz that stirred up controversy on social media, the Reunionese singer is coming to Mauritius to treat her fans to an unforgettable experience. Expect an exciting night, with catchy tracks and rhythms, a sound and light show, that will make you dance like never before.
During the first part of the event (19:00 to 20:00), the DJ will help you warm up for the night; you will be entertained by catchy and tempting beats that will get you grooving. And that's not all: the star of the evening, Mederice, will be accompanied by the legendary Warren Permal. After an alleged love at first sight that announced an explosive duet, the two artists will be pleased to interpret their outstanding collaboration of the song "Gaté".
Asterla tro tard... pu ki nu retourne en arriere weweeeee... And yes, Mr. Love will also be present for this unforgettable evening at the LUX* Grand Gaube Hotel. Throughout his career, he has conquered his fans with his iconic hits and his latest hit with the coveted singer, Médérice Payet, is also a massive hit.
The living legend of sega, Clarel Armel, who needs no introduction, will also be at the concert. The singer-songwriter, known for his songs such as "Tififi" and his Medley, is sure to delight his fans.
What are you waiting for? Book your tickets for this exceptional concert with Médérice and renowned artists on November 26, 2022!
Artists Lineup
Médérice Payet
Warren Permal
Mr Love
Clarel Armel
About the Artist
Médérice
The wonderful Médérice, originally from Rivière Saint-Louis of Reunion Island, began her career as a chorister with the group "Retro Passion", renamed "Ambiance Rétro. The singer interprets standards of the French song and segas. The ravanne being known as the favourite instrument of the artist, she is particularly fond of the Mauritian sound. She is a successful artist and mother who has gained millions of views on YouTube with her sensational titles.