Mucho Loco Beach Party
---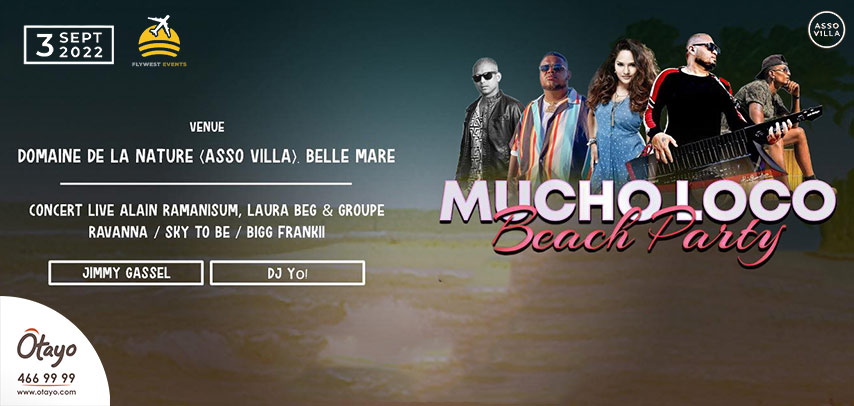 Domaine de la Nature (Asso Villa), Belle Mare
Saturday 03 September 2022
20h00 - 03h00
Beach Party
Choose your tickets
Selected tickets have been added to cart
View Cart
---
About the Event: Mucho Loco Beach Party
Get ready for a spectacular beach party on the 03rd of September at Domaine de la Nature where top local artists and DJs will light up the night for 7 long hours. Catch Alain Ramanisum, Laura Beg & Groupe Ravanna and Sky to Be followed by a showcase with Bigg Frankii who will be accompanied by DJ Jimmy Gassel & DJ Yo!
If the cold winter is getting to you, this beach party is all you need as it promises to fire up the night with top local artists and DJs during 7 long hours! Save the date for Saturday 3 September 2022 the best way to spend Saturday night! The live concert will take place at the stunning Domaine de la Nature (Asso Villa) in Belle Mare so gather the whole squad and head East for a night of fun and music!
Ready to feel the music pounding and your heart racing in excitement? An
amazing lineup of local artists
will be performing at
Mucho Loco Beach Party
to keep you dancing all night long. Expect a live concert by
Alain Ramanisum, Laura Beg & Groupe Ravanna
and
Sky to Be
followed by a showcase with Bigg Frankii who will be accompanied by
DJ Jimmy Gassel
&
DJ Yo!
The electrifying music will make you forget all about your long and tiring week so come party a little and say goodbye to bad vibes.
VIP tickets are sold in bundles (minimum 5 people and maximum 8 people) and VIP Ticket Holders will get extra perks such as a table per group and a dedicated waiter so if you want to fully enjoy the experience, the VIP way is the way to go! And to help you keep your energy levels up, fear not, for there are multiple food corners available.
Be there at Mucho Loco Beach Party on Saturday 3 September 2022 for an exciting night of fun and good music - cheers to all good vibes.
About the Artists
Alain Ramanisum
Ola hé, Li tourné, La Réunion lé la, Lévé dansé… Who hasn't swayed to one of Alain Ramanisum's key titles, his songs which he himself describes as "a sentimental sega with a cool atmosphere". Alain Ramanisum is one of the three founding members of the group Cassiya. As a pianist, musical arranger, songwriter and solo singer over his 25-year career, he has given new life to sega. From Mauritius to Reunion Island, but also in Europe, Australia and Canada, he has made the Mauritian sega known throughout the world.
Laura Beg
Passionate about music, it was at the age of 16 that the beautiful Laura Beg, from Port Louis, started singing in pubs around Grand Bay. That's how she met the artist Alain, and decided to work with him. Thus, she became a chorister for the artist Cassiya, then for Alain. A versatile singer, she offers a varied musical universe ranging from modern sega, seggae, reggae, zouk and others. This will lead Laura to perform in Europe, Australia, Reunion Island, for public or private shows.
Sky to Be
Jean Patrice Kevin Dina, commonly known as Sky to Be, released his first album titled Circonstances lavie in 2018 whereby the song Dodo baba became an instant hit in Mauritius. The music video has garnered over 8 million views on Youtube and placed second on the 2018 record charts of several radio stations. Dodo baba is a local favourite and is still played at every party in Mauritius, with Sky To Be being one of the most loved artists of Mauritians.
Bigg Frankii
A very prolific singer, Bigg Frankii has millions of views on the platforms where his songs and videos are offered to his fans. This Roche Bois singer enjoys a star status with the new generation where Picoti Picota, Tic Tac, My one in a million are essential hits.
DJ Jimmy Gassel
Jimmy Gassel est un artiste aux multiples talents (Animateur, DJ, Musicien) qui voyage à travers le monde avec des spectacles parfaitement orchestrés. Après avoir signé le label de BIG ALI, Madison Music, Jimmy sort son premier single "Travel the World" et part à la conquête du monde de la musique.
DJ Yo!
DJ Yo ! a produit le remix de "Love Nwantiti (feat. DJ Yo ! & AX'EL) [Remix]" du Nigérian Ckay (#67 sur le Top 100 des artistes de Spotify), l'un des remix les plus populaires de tous les temps. Son remix a redynamisé le single de CKay lorsque la version de Dj Yo ! est devenue virale sur Tik Tok.