NLM #001 : Sayaa
---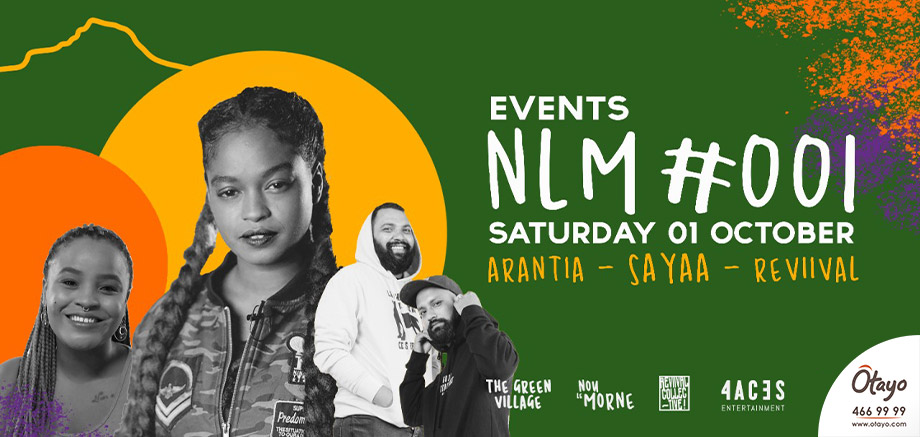 The Green Village, Le Morne
Saturday 01 October 2022
19h00 - 00h00
Festival
---
About the Event : NLM #001 : Sayaa
Come discover the essence of our island at this epic festival, NLM #001 : Sayaa, kicking off at 19:00 with our very own local artist, Sayaa ft. other local talents, irresistible food corners and full on entertainment in the exceptional natural setting at The Green Village!
Presenting you the 1st edition of NLM, a series of small events that will take place at The Green Village all throughout the year. Following the huge success of Nou le Morne festival and endless requests from you guys, the NLM event series has been created. And now, you'll have the chance to attend the cultural event multiple times a year on the Brabant stage at The Green Village.
More than just a festival, NLM #001: Sayaa promises to be a wonderful beginning to an even more amazing series, which highlights our shared love for music, food and entertainment. It is an invitation to indulge yourself in a world where you're swayed by local rhythms, tantalised by incredible aromas, and the chance to pitch your own tent in the camping zone!
Encounter the talented Sayaa, supported by the mesmerising voice of Arantia Eleonore and the catchy beats of DJ & music producer Reviival Collective. Bring along your friends & family, the kids and elderly, and dance your hearts out like there's no tomorrow!
If you need to refuel, head to the food & beverages corner and grab yourself refreshing drinks to quench your thirst, and choose from the wide variety of dishes to satiate your hunger. Whether you are craving a delicious wood fired pizza, deer hot dogs or a juicy beef burger, you'll find it at one of the stalls! And don't worry, there'll also be multiple options for the vegans!
Be there on Saturday, October 1st for the first ever edition of NLM events- a unique opportunity to reconnect with our roots at The Green Village! To keep the fun going, you can access the official after party at L'Embrasure! Benefit from a whopping 50% discount on entrance at the door with your NLM #001 wristband!
Tickets are limited to offer you better service and avoid overcrowding! Don't wait until the last minute to buy your tickets - available exclusively on Otayo!
About the Artist
Sayaa
Sayaa has always been passionate about singing, and she made a career out of it – she followed her heart and today, she can proudly say that she made it! She has had the chance to participate in international events, and is in high demand in Mauritius.
She has passed on her special genes to her 8 year-old daughter Jaymie, who recently shared the stage with her at N'Joy. A moment she will cherish for life.
Some of her biggest hits are "Sant pou la mizer", co-composed with Jaymie, and "Ask dem".
Additional Info
Non-refundable event
It is possible to pitch your own tent