Phac Africa
---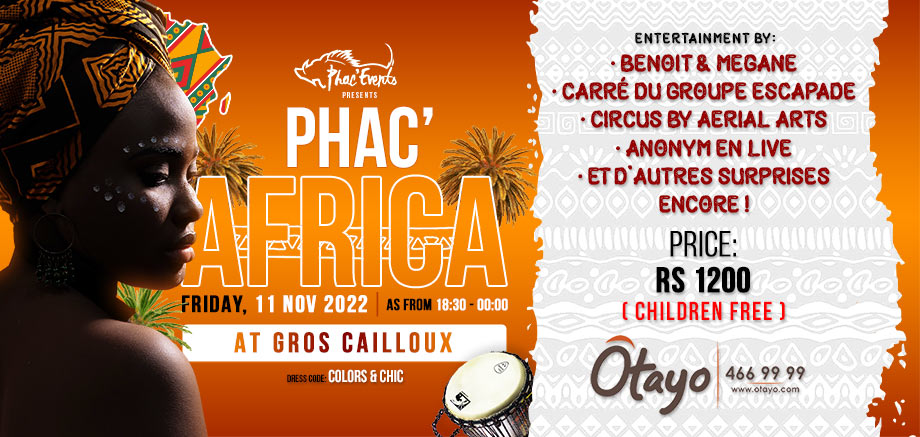 Le Tekoma Restaurant - Gros Cailloux
Friday 11 November 2022
18h30 - 00h00
Event
---
About the Event : Phac' Africa
Are you ready for Phac' Africa? Phac' Events by MANPACE is organising a spectacular event. Remarkable artists await you on November 11, 2022, at Le Tekoma Restaurant in Gros Cailloux, for an event full of surprises.
Do you want to have a great time with your family or friends? Well, Phac' Africa is just what you need! The evening begins on a delicious note with a refreshing welcome cocktail and a selection of flavour-filled samosas.
Afterwards, Benoît and Mégane Carré from the group Escapade will amaze you with the intensity and harmony of their voices. Mégane, who was crowned Miss Creole in 2015, has inherited her father's talent. This exceptional father-daughter duo will share their passion on stage at Phac' Africa.
And to remain in the theme of music, the group Anonym will be performing live. They will delight you with their songs, each more sensational than the other, during this chic and colourful event.
Phac' Africa has also thought about circus fans. Yes! The famed Aerial Arts circus will also be present. What better than a circus featuring extraordinary talents to entertain you? Composed of acrobats, actors, and dancers among many other professional artists, this group will dazzle you with their talents.
Live music, super talented artists, a circus show, and free admission for children under 15 years old - Phac' Africa has all the ingredients for a successful event.
Come and live this unique experience with your loved ones; the evening will be dedicated to the little ones as well as the elderly.
Dresscode: Chic & colourful
About the Artists
Mégane Carré
This sublime young woman with multiple talents was titled Miss Creole 2015. Her outgoing, outspoken and impulsive nature makes her an atypical character. She studied at BPS and wanted to make a career in the tourism sector. Yet, she pursued her passion for singing in her spare time by accompanying her father to host parties. This father-and-daughter duo has a complicity that can be felt on stage. In addition to her passion for music, she is a kickboxing enthusiast.
Anonym
Previously known as the "Inkonus", Anonym is a group of young people renowned on the local scene. Their story is made up of love and friendship; a love for music shared by nine friends. These outstanding musicians convey an atmosphere of camaraderie to the public. This group has overcome all obstacles and has become a reference in Mauritius.
Aerial Arts
They are Manhattan's first aerial arts and circus training centre. Their instructors are professional artists who are not only dedicated to their profession but also have a passion for sharing their art. They are aerialists, acrobats, dancers, actors, musicians and professional artists who are constantly trying to explore and develop what is possible in the circus arts. They have performed on Broadway and in shows around the world, as well as in corporate and international events.