Sekwe Moris
---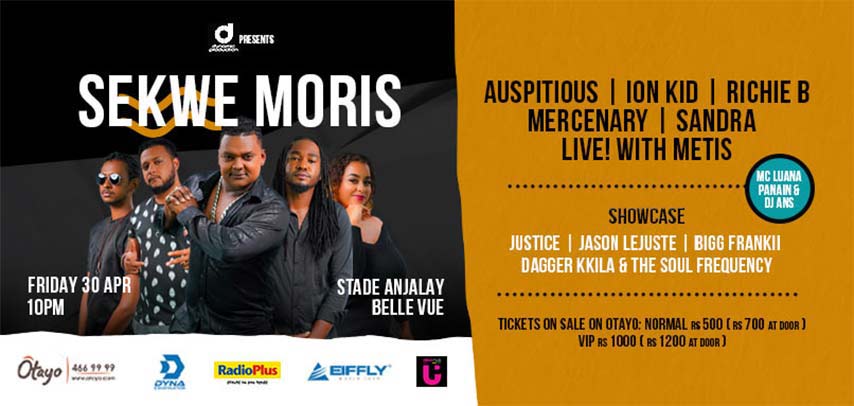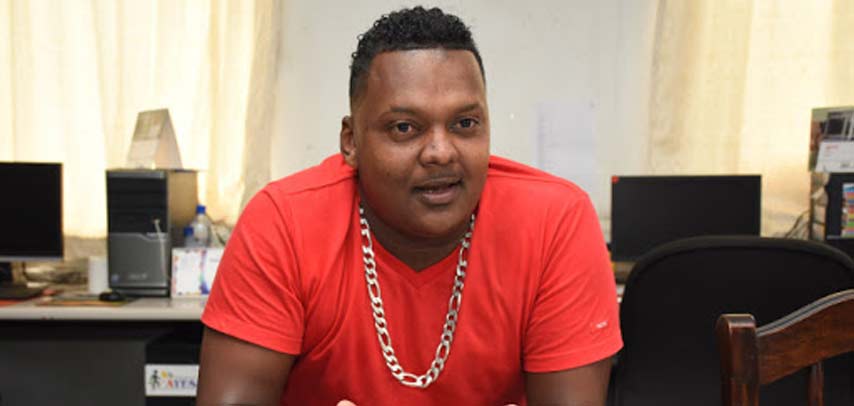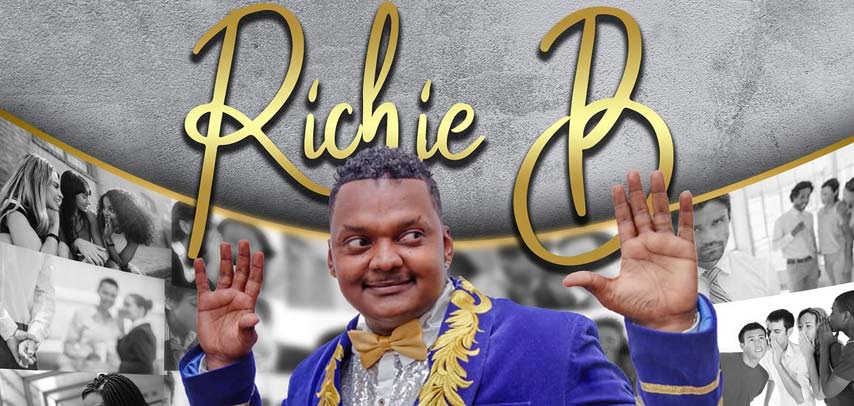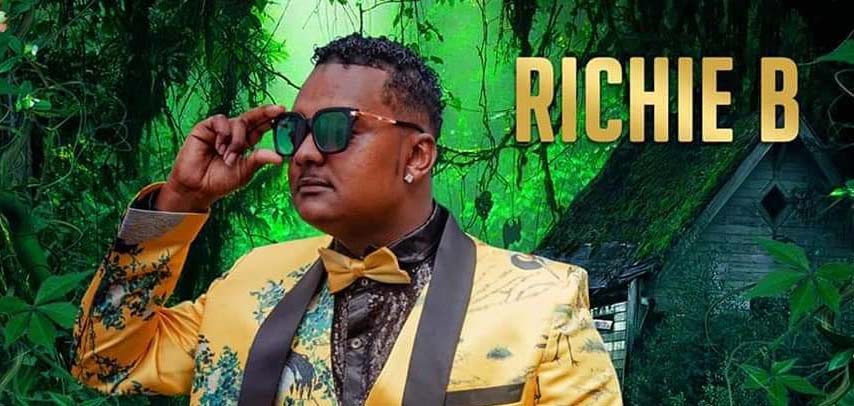 Stade Anjalay
Friday 30 April 2021
22h00
Concert, Show
About the Event : Sekwe Moris
Save the date for 30 April for a one-of-a-kind concert at Stade Anjalay featuring top local artists from Mauritius and Seychelles including the viral singer of "Dimoun I Koz Ou".
If you already have plans for Friday 30th April 2021, you may want to reschedule.
Dynamic Production Seychelles & Mauritius brings you an exciting music show at Stade Anjalay which will feature live performance from Seychelles' number one band "Metis" backing some of Seychelles' top artists such as Auspitious, Sandra, Mercenary, Ion Kid with some their biggest hits and of course Richie B will perform several hit songs including "Dimoun I Koz Ou" live for the first time in Mauritius.
Before the main show will be several popular Mauritian artists such as Justice Lecoq, Jason Lejuste, Bigg Frankii and Dagger Kkila will perform live with his band The Soul Frequency.
Book your tickets now, because this will be a show you do NOT want to miss!
About the Artists
Metis
METIS is a group of talented and professional Seychellois musicians who have been in music for many years; Tony Julie (Group Leader, bass player, vocal), Mervin Nibourette (drums, vocal), Alain Bacco (keys), Brandon Agrippine (lead guitar), Belinda Moncherry (vocal, percussions, violin).
The group was formed in 2011, and has participated in several concerts nationally and internationally. METIS specializes in different genres of music; jazz, reggae, pop, world music, traditional music of Seychelles, just to name a few.
They have also performed in many countries such as Mauritius, Rodrigues, Reunion, South Africa, Madagascar, Côte D'ivoire, France, Portugal, Tanzania amongst others.
Auspitious
Auspitious started his music career in 2016. His contribution on the music platform is driven and inspired by the wide community of reggae artists around the world. In 2018, his hit song "Mon Kontan Ou" received a lot of attention and won him two awards as Best New Artist.
With the success in 2018, the artist went on to release his 20-track debut album "Demontre Sa Ki Ou Merite" in November 2019. It became widely popular for its unique reggae themes and inspiration.
In 2020 Auspitious grew from studio recording artist to performing artist. Despite the impacts brought by Covid 19, he managed to form his own music band called "The Conquerors". He also got to work with one of Seychelles' top successful artists; Ion Kid, on the popular hit song "Baba Dou". The song was topped at number one for 8 weeks on the chart show which aired on the main local radio station (Paradise FM). The song also holds the highest record from public votes to this day.
Sandra
Sandra is by far Seychelles' number one female artist. She rose to fame in 2005 when the hit song 'San Ou' also known as 'La Riviere', which she performed with a group of 3 other friends called 'Dezil'. The song topped Seychelles' top radio station Paradise FM for 13 weeks and it was during that time that the group got recognized by a representative of Sony BMG who signed them to their label the same year. This would be a first in the history of Seychelles music industry.
Sandra is currently at the peak of her incredible musical career. She has released countless hit singles and just to name a few 'Si mon les ale', 'En Lot Lannwit', 'Last Time', 'Les Li', 'Pa pe kapab arete', 'Sorti La Ale ft Richie B' 'Lanmitye Nou Zil ft Alain Ramanissum' and 'Dibwa Kwaze' which has now reached one million views on Youtube, a feat only ever done by a handful of other Seychellois artists. Sandra has released six solo albums so far.
Sandra has amassed many accolades during her career and some of the most notable ones are winning Seychelles Best Female Artist a record 6 times, 2013 Festival Kreol 1st Prize Winner, 2014 Artist of the Year – Voix De L'Ocean India La Reunion, 2015 Divas De L'Ocean India Rio Fm Paris.
Ion Kid
Ion Kid is one of the biggest male artist in Seychelles. He had a spectacular musical comeback in 2020 with hits "Sirviv", "Dyelelo" and the biggest hit of his career "Babadou", which has been awarded the best song of 2020 in Seychelles. He also owns his own music recording studio and is the co-owner of One Stop Studio, considered to be the biggest recording studio and rehearsal studio in Seychelles.
Ion kid has also produced many local artists over the years and has helped record numerous hit songs in Seychelles. He is currently finalising his incredible, number one chart bound, new album which will be released soon in Mauritius and Seychelles. So watch out!
Mercenary
A legendary status artist in Seychelles, Mercenary needs little introduction. A reggae-dancehall artist with influences from other genres such as hip-hop and RnB with over 20 years in the music industry, he has released 10 albums and numerous hit singles during his career. His music compositions have captured the hearts of many and have truly transcended generations. Mercenary believes that music is life, and life is music.
Mercenary has performed in the UK, Rodrigues, many nightclubs in Mauritius and in festivals such as 'Reggae Donn Sa 5' 'Sanmenm Sa Festival' and 'Creole Festival'. He has participated in the Mauritian Festival in the UK in 2010, in an art festival in New Delhi etc. He has shared the stage with many international artists such as Yaniss Odua, Demarco, Charly Black, Morgan Heritage, Turbulance, Konshens, Yannick Noah and many others over the years.
Mercenary is currently working on his next album to be released this year.
Richie B
Richie B is a multi-talented artist, song writer, comedian, actor and master of ceremony (MC). He started off doing mostly comedy acting and MC work at various private and corporate functions. Over the years, he has become a very highly sought after MC and he probably does MC work for most of the events organised in Seychelles.
He released the hit song 'Dimoun I Koz Ou' in 2020 as a single which went on to conquer the radio airwaves in Seychelles, Mauritius, Rodrigues, Reunion and even in Europe. The YouTube video of the song has so far gained 1 Million views. A remarkable feat for the talented young Seychellois, bearing in mind the video showed only the album art with the song playing and not an actual filmed music video.
Richie B is currently working on the official music video to 'Dimoun I Koz Ou'.
Bigg Frankii
A very prolific singer, Bigg Frankii has millions of views on the platforms where his songs and videos are offered to his fans. This Roche Bois singer enjoys a star status with the new generation where Picoti Picota, Tic Tac, My one in a million are essential hits.
Justice Lecoq
The singer with a unique voice is now quietly approaching a new chapter in his life. Under the guidance of Jason Heerah, a series of musical projects are flowing in for him. Out of his hits, Closer to me is a love reggae draped in a catchy melody that gets stuck in your mind from the very first listen. This song and four others were released in the first chapter of his E.P. The Greatest Romance under the Jason Heerah JHRecords label and were a huge success.