Summer Island Festival (Special University Party)
---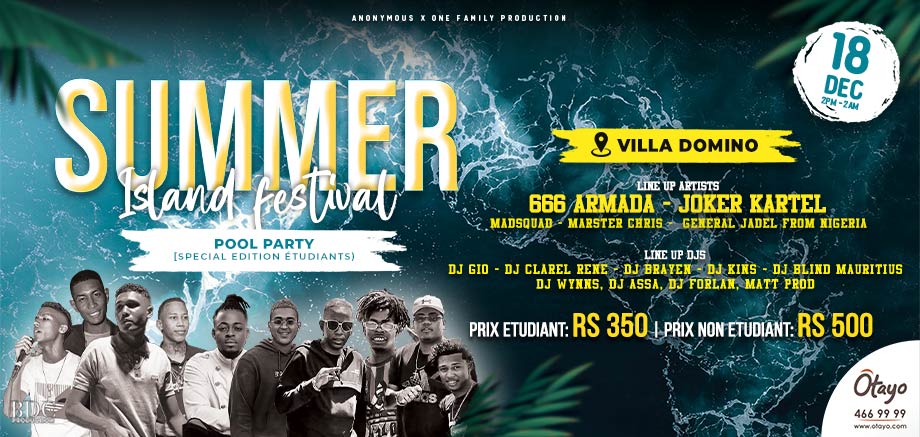 Villa domino, Pointe-aux-Sables
Sunday 18 December 2022
14h00 - 02h00
Pool Party
Selected tickets have been added to cart
View Cart
---
About the event : Summer Island Festival (special edition étudiants)
What better than a pool party to celebrate summer! On December 18, 2022, we invite you to unleash your inner party animal at the sumptuous Villa Domino, Pointe aux Sables. Come party from 14:00 until the next morning - the Summer Island Festival (Special Student Edition) is going to be hot!
Looking for the best parties to attend, but still unsure where to go? Whether you're a student or not, Anonymous, in collaboration with One Family Production and Otayo, is pleased to bring you a crazy Summer Festival.
Make the most out of your holidays at the Summer Island Festival - a university party not to be missed. Bring your whole gang for a night amidst bubbles and foam. And get ready to dance on your all-time party songs along with a massive crowd!
Villa Domino awaits you with 12 hours of non-stop music, as well as an incredible line up of trendy local artists and DJs that have been specially selected for an unforgettable night! 666 Armada, Joker Kartel, Madsquad, Marster Chris and General Jadel from Nigeria will ensure you have a blast!
Talented DJs will also be present: Dj Gio, DJ Clarel Rene, DJ Brayen, Dj Kins, Dj Blind Mauritius, Dj Wynns, Dj Assa, Dj Forlan, Matt Prod. Expect our local DJs to keep the party going and set the atmosphere on fire.
Don't forget; if you're not a student, that's okay! Grab your swimsuit and head to Villa Domino, December 18th 2022! What are you waiting for? Book your tickets now on Otayo!
Important : Students must present their university ID at the door if they have paid for student tickets.
List of artists:
666 Armada
Joker Kartel
Madsquad
Marster Chris
General Jadel (de Nigeria)
List of DJs:
Dj Gio
DJ Clarel René
DJ Brayen
Dj Kins
Dj Blind Mauritius
Dj Wynns
Dj Assa
Dj Forlan
Matt Prod
About the Artists
666 Armada
Whether in parties, cars, especially on the platform Tiktok, their music echoes throughout the day. This group, composed of Swankipakitoke, Zantakuan, Killabone and Evander, has seen an unprecedented success with their style of music that does not go unnoticed.
Joker Kartel
Recently awarded by the public votes at the Mauritius Music Awards 2022, this group encountered a dazzling success with the young and the elderly. It is currently one of the most in-demand groups in Mauritius.