TEDxPlainesWilhems
---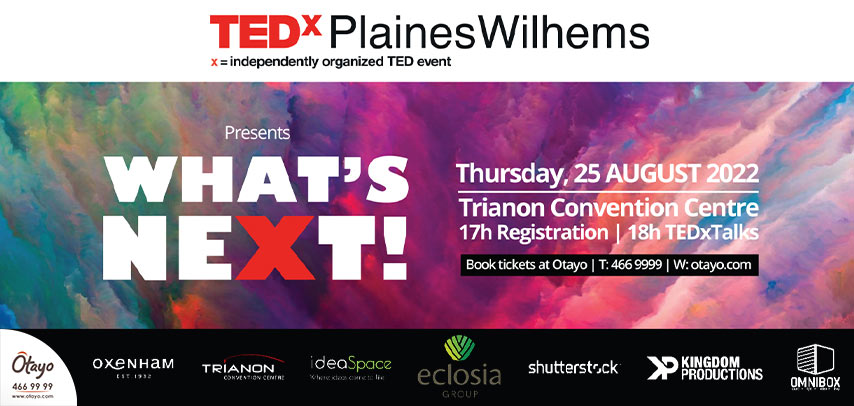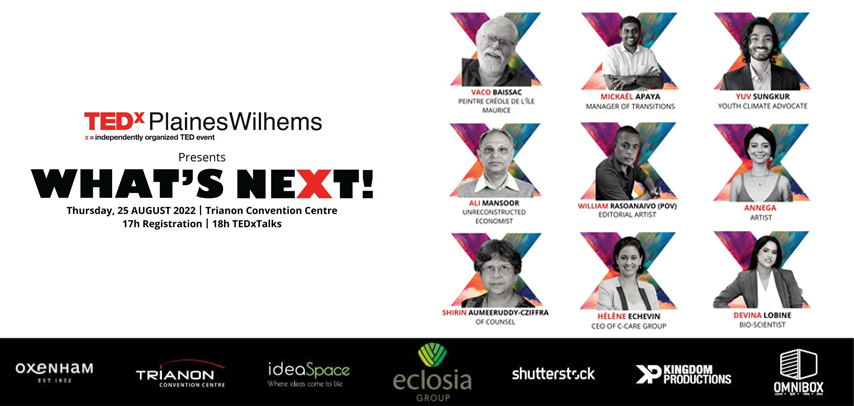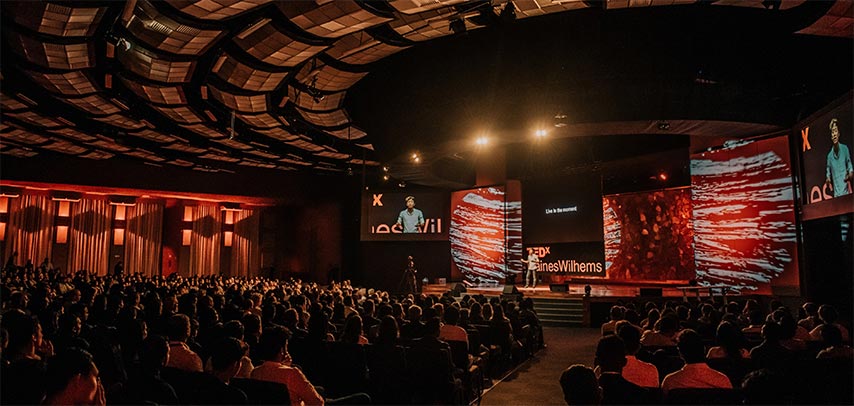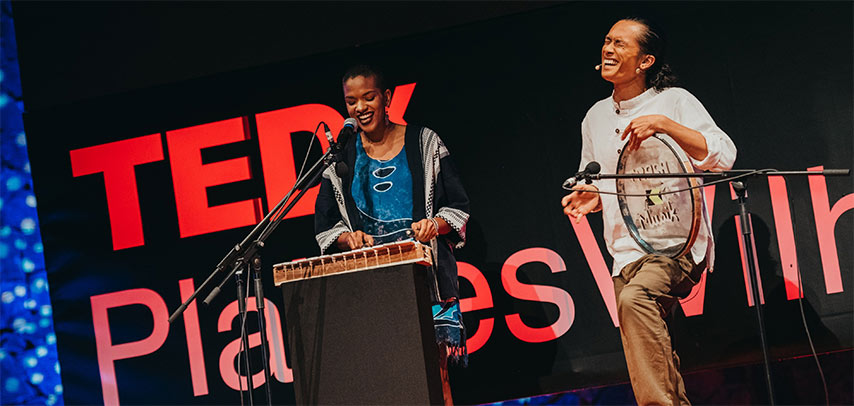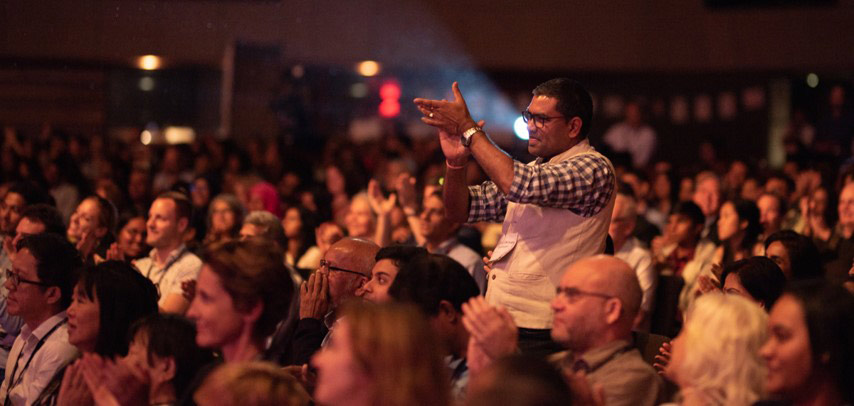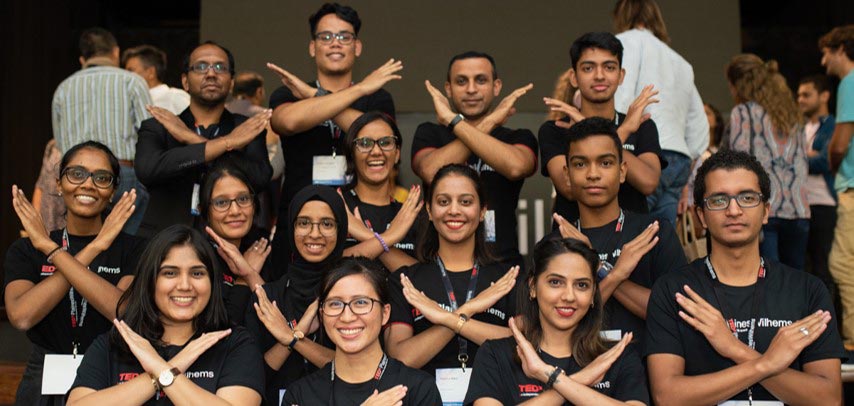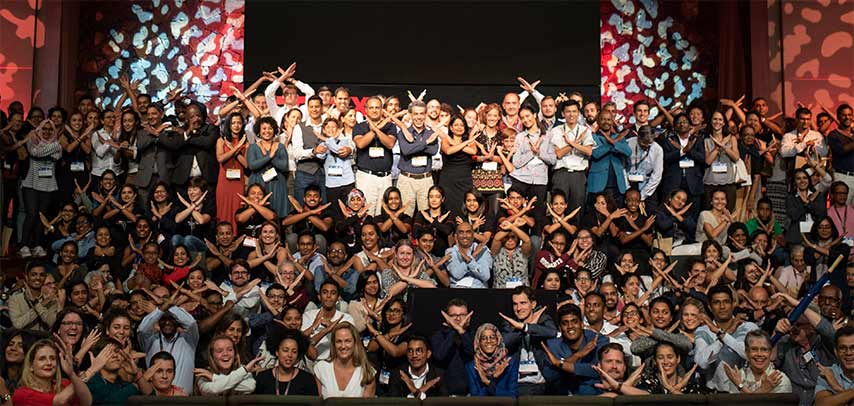 Trianon Convention Centre
Thursday 25 August 2022
17h00 - 21h00
Conference
Choose your tickets
Selected tickets have been added to cart
View Cart
---
About the Event : TEDxPlainesWilhems
TEDxPlainesWilhems is thrilled to be back with their 7th edition of ideas worth spreading on Thursday, 25 August at the Trianon Convention Centre. They would be delighted to welcome you for 2 hours of enriching talks by speakers on a wide range of subjects, followed by a social moment with the speakers and attendees.
The non-profit ideas event TEDxPlainesWilhems, is an independently organised TED event, under license from TED. The aim is to bring together bright minds to give talks that are idea-focused and on a wide range of subjects, to foster learning, inspiration and wonder, and provoke conversations that matter.
As we come together after two challenging years of COVID-19 restrictions, we ask ourselves 'What's Next!' which is the theme for this edition. To offer some insight will be the following speakers: To offer some insight will be the following speakers: Vaco Baissac (Artist), Ali Mansoor (Unreconstructed Economist), Shirin Aumeeruddy-Cziffra (of counsel), POV (Editorial Cartoonist), Hélène Echevin (CEO of C-Care group), Mickaël Apaya (Manager of Transitions), Yuv Sungkur (Youth Climate Advocate), Devina Lobine (Bio Scientist) and ANNEGA (Artist). You can learn more about each speaker in the About the Speakers section.
*Patron ticket holders will receive a limited edition TEDxPlainesWilhems exclusive souvenir bag. Student ticket holders will be full time students (not in employment) and must bring their student ID card on the day of the event.
Event schedule:
Registration: 17h – 17h50
TEDxTalks: 18h – 20h
After Event: 20h – 21h (Group photo, meet the speakers, social moment)
After the TEDxTalks, there will be a group photograph, followed by a meet the speaker moment where attendees will get to interact with the speakers and with each other. Light refreshments will also be served.
See you at the Trianon Convention Centre on Thursday, 25 August 2022 for the 7th edition of TEDxPlainesWilhems!
NOTE: TEDxPlainesWilhems is a recorded and photographed in-person event with a live audience and to attend this event, you must be 13 years and above. Please see all additional information in the Terms and Conditions section.
About the Speakers
Vaco Baissac, Peintre Créole de l'île Maurice
Vaco is the illustrious and legendary Mauritian Creole painter who conquered the world with his unique brush strokes and bright colours. He believes that we are blessed in Mauritius to have this wonderful blend of multitude of cultures and defines his art style as Creole. The bright colours reflect our wonderful, privileged life with sunshine over the azure rich sea and our horizons of green pastures of sugarcane.
Born in Mauritius in 1940, renowned Mauritian artist Vaco Baissac had his first exhibition at the young age of 18 and by 20 years he had his first international exhibition at Reunion Island. His initial years were under the tutelage of Serge Constantin and Siegfried Sammer. After studying art in Brussels and Paris, Vaco moved to Africa for 20 years returning finally to his native isle to pursue his passion. Vaco opened a studio to share his passion of art with adults and children. He has been commissioned to paint large paintings and murals for the islands principle establishments as well as exhibiting his own work along with his students. Vaco has represented Mauritius at important international exhibitions with his aesthetic metaphors of islands, sun and light and continues to work on many large art projects for the private and public sector locally as well as internationally.
Ali Mansoor, Unreconstructed Economist
Ali is one of Mauritius' brilliant economists who has had a great career and held influential positions in the global financial organisations such as the IMF and the World Bank. He has been in a unique position to be exposed to countries economic strategies and this has given him the chance to reflect on the dynamics and drivers that make countries successful. He will share his view on where Mauritius is today and what it will take to drive the country out of the current economic storm.
Ali Mansoor is an Adviser to the Deputy Prime Minister of Mauritius and Chairman of the RMCE. He has been an Assistant Director at the IMF, Financial Secretary in Mauritius, Chair of the Global Forum for Migration and Development, CEO of the COMESA Clearing House, Lead Economist at the World Bank and worked at the IMF Independent Evaluation Office and the EU Directorate for Development. He has written on resilience to natural disasters, regional integration, privatization, migration, fiscal decentralization, and capacity development.
Shirin Aumeeruddy-Cziffra, Of Counsel
Shirin is a well respected barrister and has held many important positions related to women and child welfare both locally and internationally. She is deeply committed in the struggle to promote, protect and defend Human Rights and will share with us her take on individual rights vs community rights.
For four decades, Shirin Aumeeruddy-Cziffra has been deeply committed in the struggle to promote, protect and defend Human Rights. She was the first African and first woman who, along with 19 other women, sent in 1977 a communication to the United Nations Human Rights Committee (UNHRC) against her own country when discriminatory laws had been passed curbing the rights of women citizens to live with a foreign husband in their natal country. The UNHRC gave its positive views in 1981. She has now international recognition for all her human rights activities especially in favour of women's and children's rights. Shirin will be touching on individual rights versus, community rights.
POV, Editorial Artist
William, well known as 'Pov' is the famous cartoonist behind the images which make us smile and think on a daily basis in the local press. He expresses and shares with us his universe and how he pushes the frontier of mental acceptances as he teases sensitive subjects. He also expresses the power and the might of the drawing pen to project the message of the mass to the elite and enable a more balanced society with a smile.
William Rasoanaivo, famously known as Pov, was born in Antananarivo, Madagascar, on January 12, 1975. A self-taught cartoonist, he perfected his craft by copying comic books and reading satirical cartoons. He began his professional career in 1997 in the daily Midi Madagasikara. Journalism training in Berlin and Cardiff shaped his way of drawing in the press. In 2006, he settled in Mauritius where his drawings were published in the local press, mainly in the daily newspaper l'Express but also internationally (Madagascar, Jeune Afrique, Le Monde). His press cartoons have earned him international prizes and recognition, including the RFI/RSF Prize, a World Press Cartoon Award, among others. Also, a comic artist, he regularly publishes graphic novels.
Hélène Echevin, CEO of C-Care group
Hélène Echevin is a pioneer in progressing medical care in Mauritius and increasingly parts of Africa. She will talk about the challenges and the future of healthcare.
Hélène Echevin is the CEO of C-Care group, and the Executive Chairperson of C-Care (Mauritius) Ltd. She has played a key role in developing the healthcare sector and leading the operational excellence journey. She has extensive experience in operations and project management at the corporate level working for Eclosia Group and Harel Mallac Group for 22 years. She was the first lady President of Mauritius Chamber of Commerce and Industry. She holds a degree in Engineering from Polytech Engineering School, Montpellier, France and followed a Management Executive Program at INSEAD. She has directorships in Public Interest Entities: SUN Limited and CIEL Textile Limited.
Mickaël Apaya, Manager of Transitions
Mickaël is a circular economy and sustainability strategist with more than 10 years of experience. He considers himself an agent of transition, but this was not always the case while he was growing up. He will share with us the transitions of climate change through his own experience and through an equation.
Mickaël Apaya is recently the officer in charge for Low Carbon & Circular Economy strategies at Cap Business Indian Ocean, the private regional organisation regrouping chambers of commerce and industry as well as professional organisations. Over the past 10 years, he was the Head of Sustainability and Inclusive Growth cluster of Business Mauritius. He has developed the Programme National d'Efficacité Energétique, the SUNREF Mauritius III credit line and the SigneNatir pledge. He holds a Master of Sciences in Energy and Environment from EPF Engineers School (Sceaux, France) and a Baccalauréat in Engineering Sciences (Saint-Denis, La Réunion).
Yuv Sungkur, Climate Youth Activist
Yuv Sungur is a young and energetic activist who believes that the world needs a rethink and a different decision influencing perspective. There is today a generational gap on how fast the world needs to be repaired and saved from the climate crisis and he believes that the passion & skills of the youth hold the key to bridging this difference.
Yuv Sungkur is a 23-year-old Mauritian youth climate advocate. He is passionate about climate change issues and fighting its impact on Small Islands Developing States. In parallel to his master's degree in Global Environmental Governance, Yuv spoke and participated in various international summits and conferences, such as the 16th United Nations Climate Change Conference of Youth (COY16), held in Glasgow, and the Transforming Education Pre-Summit in Paris. He is also the president and co-founder of a youth-led local humanitarian NGO: Food Water Hygiene (FWH) Mauritius. His NGO seeks to support the population in need by providing them with basic necessities.
Devina Lobine,Bio Scientist
Devina is a bright researcher who started in university research with high hopes and great initial research results. She has a passion for traditional medicine and shares with us her research experience and what it would take to unlock its potential.
Devina Lobine is an enthusiastic bio-scientist. Her research interest is centered on ethno-pharmacology, drug discovery and development on non-communicable diseases. She holds a degree in Agricultural Biotechnology and PhD in the field of Natural Products. Devina has several years of practical and applied experience in various fields of life sciences and has authored/co-authored over 60 publications. She was awarded the 2020 Sub-Saharan Africa Young Talents-L'Oreal-UNESCO for Women in Science prize for her research work. As Science leader, Devina is passionately engaged on numerous projects and activities related to STEM agenda.
ANNEGA, Artist
Anne-Gaëlle, the island girl, is an emerging artist who owes her success to a unique, refreshing and out-going personality. Named "The Mauritian Pop Star" she conquered the hearts of many with her debut single 'REMEMBER ME' which won 'Hit of the Year 2019'. ANNEGA tells you a story – hers – on a pop-rock rhythm, which we can easily connect to, making her songs ever more special. Always on the move, with a colourful outlook on life, breathing positivity with an oozing compelling energy!
Terms & Conditions
Age Restrictions: 13 years and above
Tickets are non-refundable
You can transfer your ticket to another
You consent to appear in photos and/or video material recorded at the venue during the events duration. These photos and/or videos will be shared on various on and offline channels.
By filling out a ticket order, you provide us with data which we will treat confidentially at any given time and will not pass on to third parties outside of TED and TEDxPlainesWilhems (exceptions COVID-19 Terms)
You agree to be added to the TEDxPlainesWilhems mailing list to send you important information about the event. We will also send you information regarding next events or general information about TEDxPlainesWilhems afterwards.
With buying a ticket and attending the event, you agree that we can pass on your email address to TED. TED will only use your address to send you one email to get your feedback about our event. For us, it is important for our next licence that TED gets this feedback, but even more, this feedback is important for us to be able to improve our event in the next year. We hope you will participate in this survey and help us to keep improving TEDxPlainesWilhems
TEDxPlainesWilhems reserves the right to change advertised programs and their respective content, dates and times, prices, venues, seating arrangements and audience capacities without notice
Speakers at TEDxPlainesWilhems events may be changed or cancelled without notice, even if such Speakers have been advertised prior to purchase.
If you feel sick, have been tested positive for COVID-19, are awaiting a test result, or have been in contact with a person tested positive for COVID-19, you are not allowed to attend the event. In this case, please contact Otayo at +230 466 9999
All Sanitary Protocols like wearing of face masks and use of hand sanitisers are to be followed to prevent the spread of COVID-19.