Telfairian's Tune
---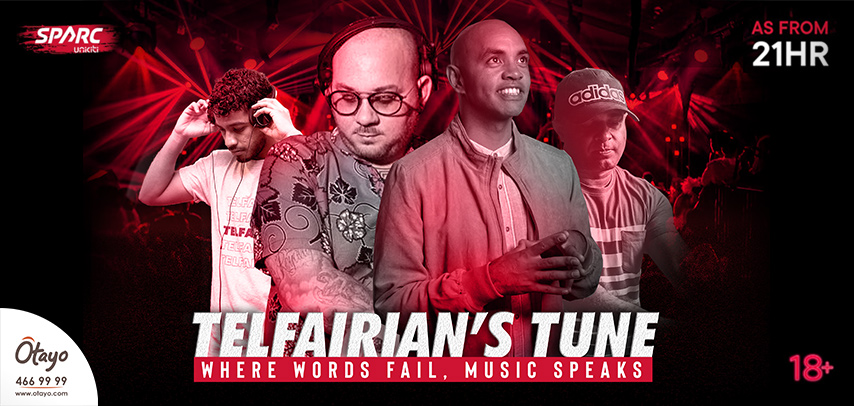 SPARC Restaurant Cascavelle
Friday 24 June 2022
21h00 - 02h00
About the Event: Telfairian's Tune
Where words fail, music speaks. Telfairian Events brings you the latest and hottest music event with the best local DJs at Cascavelle. See you on 24 June 2022 for Telfairian's Tune at SPARC restaurant Cascavelle for a night of music and fun.
No tickets will be sold at the door
If you've been to the past editions of Telfairian events, you already know how crazy and exciting they are! And if you haven't been to one yet, then you are missing out BIG TIME! Save the date for Friday 24 June 2022 at Cascavelle, the best way to start the weekend right!
Ready to feel the music pounding and your heart racing in excitement? An amazing lineup of local artists will be performing at Telfairian's Tune to keep you dancing all night long. Expect the best and hottest local DJs such as DJ LP, David Jay, Vishal XVI and ABS to rock the night with their upbeat sets. The electrifying music will make you forget all about your long and tiring week so come party a little and say goodbye to bad vibes.
This event is strictly Adults-only (18+) so you can have fun with the whole squad and spend Friday night the right way. To make the night even better, One Free Beer is included in your ticket so forget your worries, enjoy a drink with your mates, unleash your wild side on the dance floor and create unforgettable memories.
Be there at Telfairian's Tune on 24 June for an exciting night of fun and good music - cheers to all good vibes.
About the Artists
DJ LP
Taking in influences from all corners, Lp's passion is DJing in all its forms. Lp's set covers all genres from deep, sexy, latin, afro, funky and soulful flavours, to create a signature sound that has seen him take on all the major clubs and bars in Australia & Mauritius.
David Jay
David Jay has cultivated his passion for house music for several years now. His talent is undeniable and he is able to set the dance floor on fire with tracks ranging from deep house to electro house, funk and soul. He has notably performed alongside renowned artists such as David Guetta, Tiesto, Paul Oakenfold, Dave Seaman, Nick Warren, David Vendetta, Global Deejays, Nick Bridges, Martin Solveig, Mastiksoul and Oxia, among others.
Vishal XVI
Vishal XVI started from the bottom and slowly but surely made his way to the top to be recognised as one of the top upcoming DJs in Mauritius. He gained a large following and conquered the hearts of the Mauritian public with his funky mixes, DJing for the hottest events on the island including the Tomorrow Island editions.
DJ ABS
ABS (Julian.D.A) was born in 2000. His passion for music can be seen just by hearing him on stage. His interest in Electronic music started at a very young age and he is now developing his own style of music.
In 2017, he transformed his admiration into a real life hobby which has been recognised by several agencies. The following three years have been constructive for him and he was able to learn more and to grow differently while improving his own style. ABS plays various styles which vary from melodic, minimal tech to underground and he had the chance to perform at The Irish Pub at Trianon with DJ JAYAN, DJ BEN and CHRIS WATERS, who helped him improve for his future sets.
Conditions
Gate of the venue will be open from 21h00 till 02h00 which means you have to be at SPARC by latest 21h00.
Temperature check at the entrance.
Sanitary measures to be respected.
By attending this event, you agree to be filmed and photographed for promotional purposes.
Bar Staff and Waiters will be wearing masks and gloves to ensure that we follow sanitary measures.
Sanitisers will be provided at the entrance.
ID Card might be required at the door.
You cannot bring your own food and beverages. Bags might be checked
The management reserves the right of admission.
Limited tickets due to sanitary measures. We respect all sanitary procedures which means tickets are extremely limited. Everyone will have their own table.