The Aqualand Foam Party
---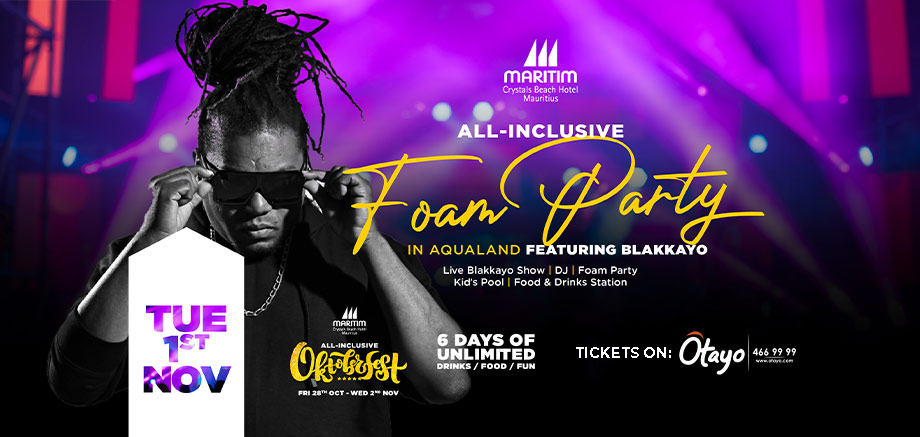 Maritim Crystals Beach Hotel, Belle Mare
Tuesday 01 November 2022
17h00 - 00h00
Festival
---
About the Event: The Aqualand Foam Party
Save the date for November 1st, 2022; a once-in-a-lifetime Foam Party awaits you at Aqualand, animated by top local artists! Come celebrate summer with your whole squad in the midst of foam and bubbles, whilst the sound of your favourite party songs and aroma of delish food fills the air…
Tuesday 01 November 2022, you'll be having the time of your life playing, dancing, and partying in fluffy foam, exclusively at Aqualand! Expect nothing less than delicious food, drinks, unlimited entertainment & fun; this party is about to raise the bar for upcoming ones!
The Aqualand Foam Party is all about having crazy fun with friends and families at one of the most sought-after resorts of the East Coast. Starting at 17h00, the party goes on till midnight, and you won't need to worry about feeling tired the next day since it'll be a public holiday- which means you'll have ample time to rest!
Not only will you get to sing and dance to your heart's content in a joyful atmosphere amidst bubbles, but the event also brings you a range of food and beverages so you can recharge your batteries to party harder!
And to lead you through the night, the Mauritian star Blakkayo and DJ's Emran & Jordan Nallan will be performing live at Aqualand. The dream team will entertain you with the most tempting beats, that will have everyone swaying to the rhythm!
This unparalleled Foam Party is sure to create memories that last a lifetime and it's an event not to be missed! Make sure to bring along your friends & family on November 1st as happiness is only doubled by sharing!
Book your overnight stay now to live an amazing experience through 6 different themed parties! Book now
The festivities start on Friday 28th Oct 2022 and end on Wednesday 2nd Nov 2022 - Six joyful days of memorable celebrations with families and friends, themed parties, live local artists, unlimited entertainment and more! This Oktoberfest has everything you need!
See below for the Daily Themes:
Friday 28th Oct 2022 ǀ Arabian Fusion Night [21h00-00h00] ft Arabic Show, DJ Ash Mastermind, DJ Promix
Saturday 29th Oct 2022 ǀ Top FM Mega Bollywood Zigile Night [17h00-00h00] ft Live Band, DJ's Krish Smartine, Spiky V & Neil K
Sunday 30th Oct 2022 ǀ The Grand Oktoberfest Party [10h00 - 23h00] ft Resident DJ's
Monday 31st Nov 2022 ǀ Beach Halloween Party [21h00 - 00h00] ft DJ's
Tuesday 1st Nov 2022 ǀ The Aqualand Foam Party [17h00-00h00] ft Blakkayo & DJ's Emran & Jordan Nallan
Wednesday 2nd Nov 2022 ǀ Lunchtime Pool Barbecue Party [12h00- 14h00] ft Resident DJ's
Rendez-vous at the luxurious All-Inclusive 4-Star Maritim Crystals Beach Hotel for Oktoberfest 2022 from Friday 28th Oct to Wednesday 2nd Nov 2022!
About Maritim Crystals Beach Hotel
The 4 star Maritim Crystals Beach hotel, situated at Belle Mare, provides you with an excellent destination to relax, and to enjoy the numerous watersports, swimming pools (1 heated), kids club and dining options on offer. This luxurious hotel, part of Maritim Hotels, is located on the East coast of Mauritius in the attractive setting of Belle Mare along one of the most beautiful stretches of the island, a soft and fine white sandy beach.