Une Nuit à Palawan Festival
---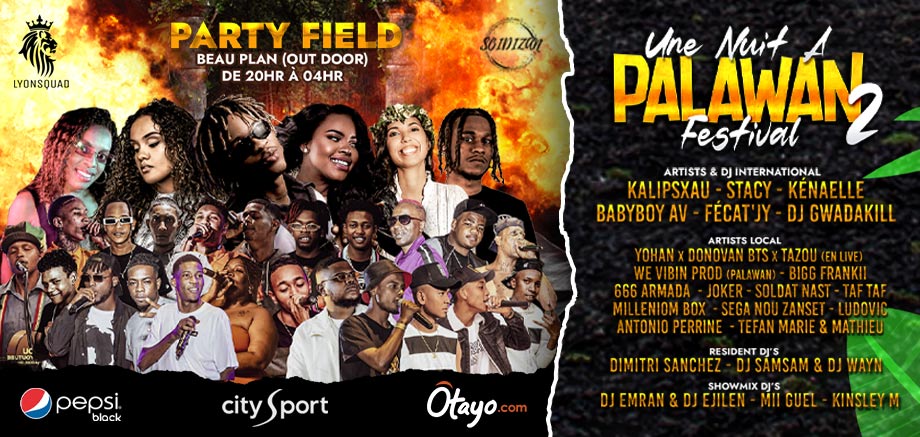 Party Field, Beau Plan
Saturday 03 December 2022
20h00 - 04h00
Concert
---
About the event : Une Nuit à Palawan Festival
Make way for PALAWAN - the event is back for an explosive edition, this time in festival mode ft. 25 + artists including the beautiful Reunionese, Kalipsxau! On the 3rd of December 2022, gather your crew, put on your party outfits and head to the wonderful Party Field in Beau Plan - the perfect setting for summer!
If you attended the sold out PALAWAN concert in September, you already know how successful it was. And if you weren't there, now's your chance! Une Nuit à PALAWAN 2 is bringing you a breathtaking open-air festival. With this amazing outdoor festival setup, you'll definitely get some perfect clicks for Instagram.
Saturday, December 3 promises to be a mind-blowing event with international artists and DJs including Kalipsxau, Stacy, Fécat'Jy to name a few. On the local side: We Vibin Prod (Palawan), Bigg Frankii, 666 Armada, Joker Kartel, Yohan x Donovan BTS x Tazou (live) and DJ Emran & DJ Ejilen amongst others!
Kalipsxau, the sublime singer returns to Mauritius after her dazzling success at her previous concert. Once again, this rising star will make the crowd dance and you can be sure to have a great time with your friends at the Une Nuit à PALAWAN Festival!
And the festival gets even more spectacular with the performance of other artists who are causing a sensation on social networks, including the charming Fécat'Jy. This talented artist has been the buzz for weeks with her famous song "San bikini, san monokini", the chorus of which lingers in our heads.
Vibrant energy, catchy songs and upbeat beats, all in a beautiful outdoor setting - you won't be able to stop dancing!
A night at PALAWAN Festival; an event you don't want to miss - so make sure you get your tickets before they sell out!
About the artists
Kalipsxau
In July 2020, we discovered the beautiful voice of Kalipsxau on a cover of the title of the singer Toulou "Oh Maria" in an acoustic version. This cover is a beautiful presentation of the artist, as the clip has been seen more than 800k so far.
Crowned with the success of "Corps à corps" (15 million views on YouTube) and "Solo" (11 million views on YouTube) and "Dis-moi je t'aime" (7.5 million views on YouTube), this young artist comes straight from the heights of St-Leu (Reunion Island).
Babyboy AV
This very talented young artist became involved in music at a very young age. In 2019, he made a splash with his single entitled "Hustle".
Babyboy AV's style is characterised by groovy Afrobeat mixed with dancehall and a touch of the trap trend. He has an outstanding way of connecting with his fans through his lyrics and melody to the point of allowing some younger ones to relate to his sounds.
Bigg Frankii
A very prolific singer, Bigg Frankii, whose real name is Franco Georgin, accumulates millions of views on platforms, where his songs and videos are offered to his fans. This singer from Roche Bois enjoys a star status with this new generation where "My one in a million", "Roul Matak", or "Molo Molo", are essential.
Bigg Frankii has a lot of hits among the collection of songs and videos he has recorded and posted online during his career. Franco Georgin is a workaholic and a joyful musical prodigy who takes pleasure in creating.