Unleashed at Shotz
---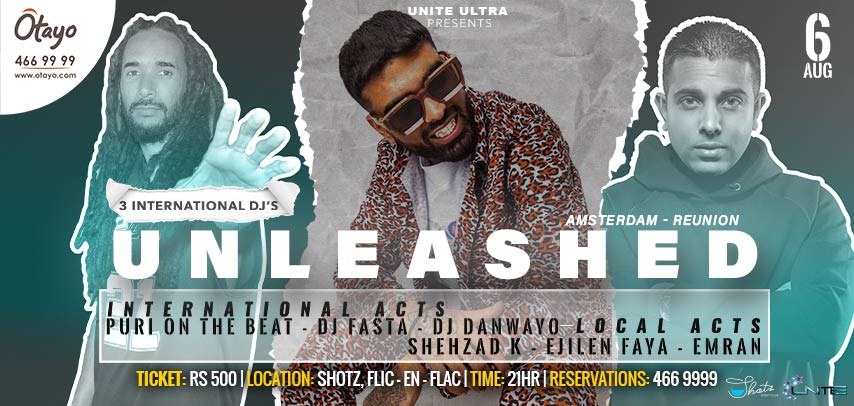 Shotz, Flic En Flac
Saturday 06 August 2022
21h00 - 05h00
Clubbing
About the Event : Unleashed at Shotz
Party a little harder on Saturday 06 August 2022 with international DJs from Amsterdam and Reunion Island as well as top local DJs, only at Shotz in Flic en Flac.
Got any plans for Saturday night? We've got you covered! Save the date for Saturday 06 August 2022 for a fun night of partying with your friends at one of the hottest clubs of the island, Shotz in Flic en Flac.
Get ready for not one, not two but 3 international DJs! Yes, you read that right! 3 international DJs at the same event. DJ Puri on the beat is coming all the way from Amsterdam to make you have a good time. DJ Fasta from The Netherlands will also be present as well as DJ Dan Wayo from Reunion Island so you can rest assured that it's gonna be lit! Our own top local artists such as Shehzad K, Ejilen Faya and Emran will also be there to light up the night with their own distinct sounds and mixes.
An event not to be missed! See you on 06 August 2022 at Shotz for an unforgettable night of partying!
Note: This is an adults-only event (18+).
About the Artists
Puri on the beat
Whenever you hear Puri´s famous producer tag "PURI ON THE BEAT", you can rest assured that a banger is about to raise the roof. Since the tremendous success of his global hit "Coño", Puri's song is playing at clubs and festivals all over the world.
Puri grew up in The Netherlands, but the hit producer has Indian origin. The 26-year-old already has scored three major hits, with the songs 'Coño', 'HUTS' and 'Naagin'. All songs combined have generated over half a billion streams/views worldwide.
The unique and infectious vibe of Puri's music will make you want to dance instantly. Puri's style has elements of club, pop, dancehall, moombahton and trap. Whether it is a pop-song or a club-banger, Puri's sound stays recognizable.
DJ Fasta
Vinod Khargi alias Dj Fasta was born in Rotterdam (The Netherlands). The name Fasta, is a combination of two words, "Fast" because of his energetic mixing-style, and the letter "A", because anything can happen when he hits the decks, both together makes it Fasta.
His passion for music makes sure that he is able to rock all kinds of crowds anytime and anywhere. If there are five words to describe his sounds, these will be energetic, crowd-moving, retro, funky and spicy to heat up the place.
DJ Dan Wayo
DJ Dan Wayo is from Reunion Island. His talents got noticed when he participated in a major international competition: the "DMC World DJ championships 2021" which took place remotely. Although he didn't win first place, DJ Dan was able to put his skills out there and got much love from the public and has since been showcasing his deejaying talent at different events.
Shehzad K
Shehzad K started his career as a disc jockey and eventually rose to perform alongside major, internationally acclaimed DJs. He has had the great privilege of playing his music alongside Martin Garrix at White Sensation 2014 and other DJs such as Darude, Global Deejays, and Otto Knows, amongst others at the Social Buzz Music Festival. He was also featured along with Dimitri Vegas and Like Mike in the Euphoria 2015 music festival and White Sensation 2015 along with Dash Berlin.
Ejilen Faya
DJ Ejilen Faya, whose real name is Ejilen Chellapen, released his first single in 2018, titled "Bam Bam" with Big Frankii and STNB as featuring. Ejilen discovered the world of deejaying at the age of fifteen through friends. He had the opportunity to perform at local events and festivals and he later started producing and made a name for himself as one of the best Mauritian artists.