Urban Love
---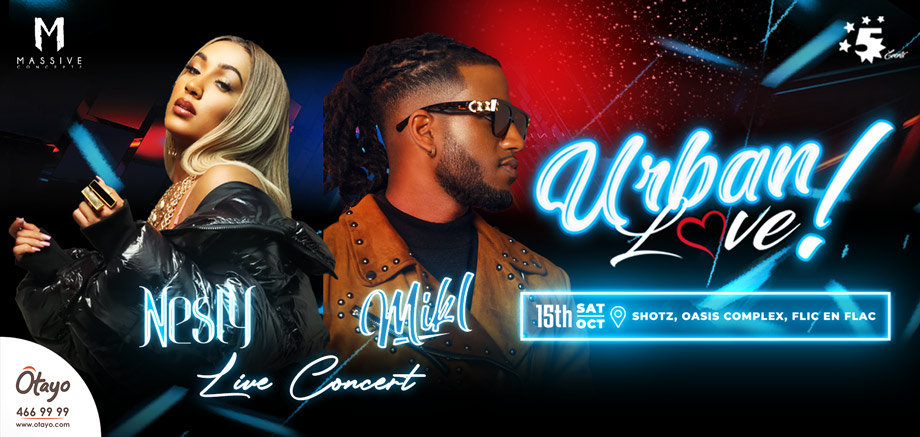 Shotz, Flic En Flac
Saturday 15 October 2022
21h00 - 05h00
Festival
Selected tickets have been added to cart
View Cart
---
About the Event: URBAN LOVE
Calling all Zouk lovers! Come and groove to the hit songs of the Queen of Zouk, Nesly, during the sensational URBAN LOVE on 15th of Oct 2022 at Shotz Night Club, Flic En Flac !
Fans of Nesly are in for a real treat! After 3 years, the Queen of Zouk Love, Nesly is coming back for an exclusive Live Concert in our beautiful island! Get ready for a breathtaking show in the iconic setting of the mythical Shotz Night Club at Flic En Flac where the hottest events take place. So gather the squad and get ready for 8 hours of dancing to zouk music!
And there's more - Nesly is not coming back alone! The rising star Mikl will be her special guest! These two talented artists have collaborated in the past and you will get to witness the spectacular performances of their collaborations "Prends moi la main" and "Encore une fois".
The full lineup will be announced soon so stay tuned for more surprises!
Save the date for 15th of October for the 1st Edition of Urban Love Music Festival at Shotz Night Club, Flic En Flac!
About the Artist
Nesly
Nesly is originally from Martinique and Guyana and music has always played an important role in her life since her childhood. Influenced by her West Indian origins, of which she is very proud, she listened to Jocelyn Beroard or Tanya Saint Valas well as the big names of soul and Rnb. These eclectic tastes allow Nesly to develop a mixed musicality and give her the desire to express herself through songs.
A real talent never stays in the shadows and Nesly is quickly noticed by the producers of Nouvelle Donne, who do not hesitate to offer her the chance to become an artist.
During the summer of 2010, she released her first tracks on the two most anticipated compilations "Essayons d'oublier" which appears in the compilation "PASSION ZOUK 2010" then "Mon Ange" featuring Kamnouze in "I LIKE HITS ZOUK". A few weeks later, she released the title "Allez", a clever mix between zouk, r&b and Latin music… This song will be for her a revealing title! It ranks very quickly as number 1 in the charts in the Caribbean and Africa and propels Nesly on the front of the Afro-Caribbean scene and onto a magical musical journey.
Mikl
A gem of the current musical scene, Mikl has met a crazy success. He knows how to transmit his authenticitý through his melancholic universe composed of various styles, just like his mixed race.
At 11 years old, Milk was the winner of the Reunion TV "Ti bout de star", and made his first tours. His first single "Mon frère", which he released the following year on a compilation of the group Mirage, allowed him to reach his goal of captivating an audience of all ages.
As he grew up he turned to more popular music and in 2014 released his single "Alice", which allowed him to become known. He works hard to achieve his dream which is to live from his passion. He contacts the Nirvana studio with which he releases, in 2016, his first opus "Magical love". His title "A la folie" which reached 13 million views on Youtube, propels him to the rank of confirmed artist. He received the recognized Hit Local Awards as the best male Zouk artist and two years in a row, tours in Metropolitan France, the Caribbean and the Indian Ocean, in addition to numerous concerts in Reunion.
Equally at ease on Sega, Zouk or Dancehall, Mikl makes music his language and intends to make the world discover it.