White Winter Sensation
---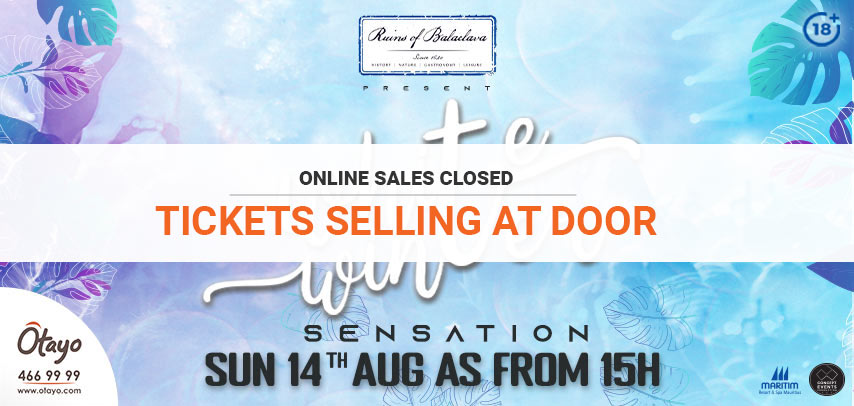 Ruins of Balaclava
Sunday 14 August 2022
15h00 - 00h00
Party
---
About the Event: White Winter Sensation
Maritim Resort & Spa Mauritius presents to you for the first time in the Ruins of Balaclava the WHITE WINTER SENSATION. See you there on Sunday 14th of August 2022 for a night of partying with the best local artists & DJs and more surprises!
Celebrate the return to normalcy and beat the cold winter with this unmissable hot event! WHITE WINTER SENSATION has exciting surprises planned for you on Sunday 14th August 2022 at the iconic Ruins of Balaclava, known to be the best venue where the hottest parties take place.
An amazing lineup of the best local artists are awaiting you with the hottest DJs and artists featuring their own local productions! Expect music styles such as Sega, Shatta, Ragga & Dance Hall Martinique. Get ready to dance the night away to the crazy mixes of DJ WAYN, DJ AVI S, DJ EJILEN FAYA, DJ ASH and DJ MII GUEL and you can groove to the hit songs of LYON SQUAD, DENZEL, TIANA, TI DAMS, MADII MADII and SKY TO BE. There will also be a fantastic light show, a giant screen and many more surprises to make the evening even more special.
The party starts at 15h00 and will go on for 9 hours! That's 9 full hours of non stop music and partying so you can bet you will have the time of your life. Don't worry about going hungry, there will be plenty of food and beverage corners where you can help yourselves to the special menus and keep partying till late night, and once the clock strikes midnight, you can head home cinderella-style - but please don't leave your shoe behind!
VIP ticket holders will have a dedicated zone with lounge corners under a covered area as well as their own food & beverage corner. They will also have the possibility to meet the artists so if your favourite artists are coming, you definitely don't want to miss this!
See you at Ruins of Balaclava on Sunday 14th of August 2022 for 9 fun hours of partying!
Note: This is an Adults only event (18+).
Maritim Resort & Spa Mauritius
The One Stop Shop Resort offers you the biggest event area in Mauritius with the possibility to stay over, use the hotel facilities and try out its different restaurants.
Immerse yourself in this five-star beach and spa resort, part of 'Maritim Hotels', located in a picturesque private estate along the protected marine park of 'Turtle Bay'.
Enjoy its long beach and infinity pool along with a 62 acre historical estate, awarded 'Most Beautiful Garden of Mauritius'. The Maritim estate offers many exclusive sights such as the 'Historical Ruins of Balaclava', a national monument dating from the 18th century, the 'Citron' river waterfalls and estuary… for a memorable and peaceful stroll.
The resort boasts 272 rooms, suites and one villa, all sea or river facing and elegantly designed. Enjoy culinary delights in an exceptional selection of seven exquisite restaurants and six bars, ranging from 'feet in the sand' beach restaurants to Asian fusion, and a brasserie style restaurant to the exclusive fine dining restaurant 'Château Mon Désir'.
Enjoy an exceptional array of facilities and experiences combined with the highest standards of service, delivered with genuine Mauritian hospitality… Quintessentially Mauritius.