Festival de l'été
---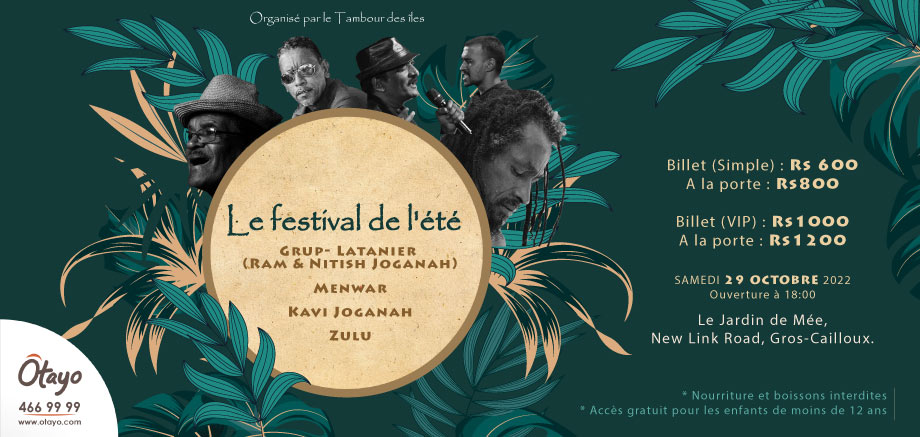 Jardin de Mée, Gros-Cailloux
Saturday 29 October 2022
18h00 - 01h30
Festival
Selected tickets have been added to cart
View Cart
---
About the Event : Festival de l'été
Welcome summer with the Festival de l'été ! Head to the Jardin de Mée in Gros Cailloux on Saturday, October 29 for an incredible concert featuring 5 talented local artists. It's going to be lit!
'Tambour des Iles' has the pleasure to invite you to a music concert, "Festival de l'Été", on Saturday, October 29, 2022 at Jardin de Mée in Gros Cailloux. The festival will start from 6:00 pm on Saturday, October 29 and will end at 01:30 am on Sunday, October 9, 2022. Expect a warm, bright and cheerful atmosphere to welcome summer, greatly anticipated by music lovers. The event will be held under a transparent canopy in the middle of a garden - a perfect summer setting for a summer festival.
At the event, five wildly talented local artists will perform, accompanied by their bands: Menwar, Kavi Joganah, Zulu ek so tribu and Grup Latanier (Ram & Nitish). There will also be a DJ accompanying the public till the end of the festival. Come with your friends to spend a fantastic evening in an extraordinary setting in a beautiful garden.
For those who choose the standard ticket, you will get access to a big common dance floor, a common garden area and a common bar. VIP ticket holders will be placed in a lounge, with the advantage of being close to the artists on the podium. They will also get a free drink the entrance and will have access to a VIP garden and a bar.
If you wish to take advantage of the garden area of the venue, we recommend you to bring your own cushions or garden mats so that you can enjoy the event while being cosily settled in. However, please note that it is forbidden to bring food and drinks.
An event not to be missed! See you on Saturday, October 29, 2022 at Jardin de Mée for an unforgettable music concert!
Free access for children under 12 years old.
About the Artists
Menwar
Menwar is one of those legendary Mauritian artists who have marked the musical scene for more than 45 years. Four decades of music evolution. A rich journey of authentic sound, with several performances overseas. He started his magical journey in the 70's. Many of his compositions evoked social realities of that period. Join him on the 29th of October for a historical live moment.
Kavi Joganah
Being exposed to the world of cultural music since his childhood, Kavi Joganah also found his vocation as an author, composer and interpreter with his original sound. He's mostly inspired with his own living experience with humanity while bringing to life his personal music style and astonishing texts. Kavi Joganah, in his 30's now, is grateful to share his story with you on a live stage at Jardin de Mée, Gros-Cailloux.
Zulu ek so tribu
His stage name is Zulu. He needs no introduction. From his beloved village of Mahébourg, he has brought us amazing energies through his songs and melodies with his unique and emotional voice. He was passionate about music from a very young age and reached for in his career and collaborated with famous artists. Meet Zulu for an exceptional live show with other mythical artists.
Grup Latanier (Ram & Nitish)
Grup Latanier saw light in the 1970's. A cultural group created by Ram and Nitish Joganah; two brothers deeply passionate about the wellbeing of our society. Both author, composer and interpreter, they are among the first Mauritian artists to sing about social injustice. 45 years of career and still standing strong to express their deep concern through the art of music. You will have the pleasure to enjoy their best at the "Festival de l'Été".
Additional Info
For those who wish to take advantage of the garden area of the premises, it is advisable to bring your cushions or garden mats.
It is forbidden to bring your own food and drinks.