SOIRÉE FAMILIALE – Vini nou amize
---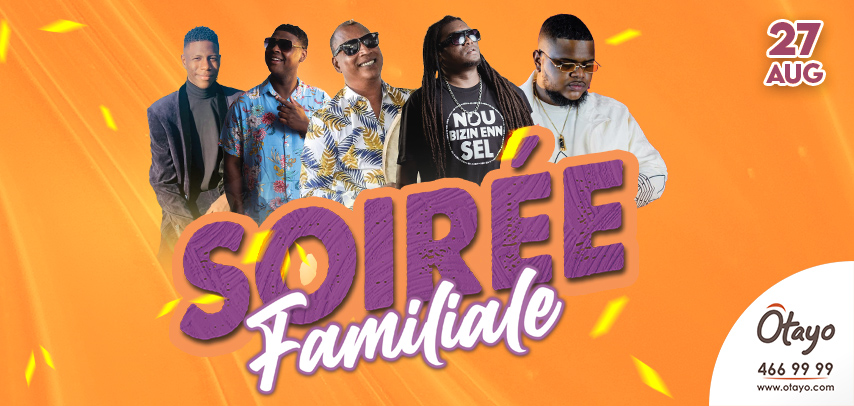 Domaine Laventure
Saturday 27 August 2022
19h30 - 03h00
Festival
---
About the Event: SOIRÉE FAMILIALE - Vini nou amize
Party a little harder on Saturday 27 August 2022 with top local artists such as Clarel Armelle, Blakkayo, Jason Lejuste, Bigg Frankii and Denzel. See you at Domaine Laventure for 8 hours of partying!
Got any plans for Saturday 27 August 2022? We've got you covered! Save the date for an exciting night of music and partying with your friends at Domaine Laventure. The concert starts at 20h00 and ends at 03h00 in the morning - that's 8 hours of non-stop fun all night long!
Get ready for not one, not two but 5 top local artists! Yes, you read that right! 5 of the hottest Mauritian artists will be present to set the stage on fire. Denzel will start the concert with his outstanding performances and Jason Lejuste will continue the show with his hit songs followed by Bigg Frankii and Blakkayo. The concert will end with glorious performances by Clarel Armelle, the renowned artist of the sega world, and there will even be a big surprise for those who will be there.
Come with your family or friends to enjoy this exciting concert of 8 hours! Food corners will be available where you can relish special menus such as seafood dishes and more, so you do not have to worry about going hungry. You will even have the chance to take pictures with your favourite artists, pictures to be cherished for life!
An event not to be missed! See you on 27 August 2022 at Domaine Laventure for an unforgettable night of music and partying! Vini nou amize!
Free for Kids under 10 years old.
About the Artists
Clarel Armelle
A legendary artist of the Mauritian sega, Clarel Armelle is a renowned singer-songwriter on the local scene. The artist has an unforgettable discography with over 25 years of presence in the music industry. He made his debut as a member of the group "Ravanne sans frontière" with the song Linité, which opened his path to more opportunities.
He would go on to perform everywhere, especially in hotels and eventually he went beyond the local scene and performed in Europe, Canada, China and even Australia. Some of his well-known albums are Ti poket, To gété mem, Nuvo Kuler and Vitamin Lamor. Throughout his career as an artist, he has stood out with his voice which was made for the sega ravanne.
Blakkayo
He started out as a dancer in the 90s and was inevitably attracted to music and reggae in particular. Inspired by Kaya, the inventor of seggae, Blakkayo started writing his own music and went on to release his first solo album Tchek To Life in 2000 which got enormous success. The following year, the musician and his group, which later became known as Otentikk Street Brothers (OSB CREW) released an album Nou Kkila as a heartfelt tribute to Kaya.
Jason Lejuste
Jason Lejuste gained recognition on the local scene by winning the Star TV competition in 2014 with the song Tro zen pou mo marye. Driven by his inspirations, good vibes from the audience and his love for music, Jason Lejuste is moving full speed ahead towards his goals. He has made a name for himself on the local scene with a series of ambient segas – lyrics sprinkled with humour that reflect both life experiences and reality.
He got the opportunity to perform at the Festival Kreol. The young man will also have the opportunity to collaborate on a few compilations, including Rougaille séga, Eruption sega, among others before experiencing unexpected success with his opus Kol Kole.
Bigg Frankii
A very prolific singer, Bigg Frankii, whose real name is Franco Georgin, has millions of views on the platforms where his songs and videos are offered to his fans. This Roche Bois singer enjoys a star status with the new generation where My one in a million, Roul Matak or Molo Molo are essential hits.
Bigg Frankii has a lot of hits among the collection of songs and videos that he has recorded and put online over the past years. Franco Georgin is a workaholic and a joyful musician who takes pleasure in creating.
Denzel
At 17 years old, this young artist from Roche Bois wants to make a career in music in Mauritius and internationally. Denzel Milazare made the buzz with his song Allé when it was posted on Tiktok before its official release. The song became an instant hit with the youth and gained a lot of attention, which brought recognition to Denzel.