Telfairian – Party Hardy Ft. Hato
---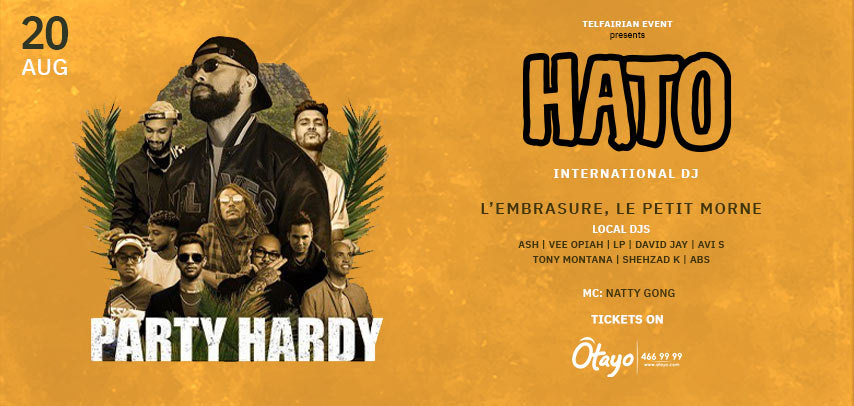 L'embrasure, Le Petit Morne
Saturday 20 August 2022
19h00 - 05h00
Party
Choose your tickets
Selected tickets have been added to cart
View Cart
---
About the Event: TELFAIRIAN - Party Hardy ft. HATO
TELFAIRIAN EVENT is BACK. Last time they went Big, this time they are going BIGGER. They are going the TELFAIRIAN way. Come and party with International DJ Hato and several local DJs on 20th August 2022 at L'Embrasure.
Ladies and gentlemen, the time has finally come. Two years ago during the pandemic they had said that they will be back, two years ago they had promised you something extraordinary, two years ago they made you dream !!! Now they can proudly say that they are back stronger, bigger and better than ever before, the TELFAIRIAN WAY.
Who doesn't know Hato who entertained most of us during the lockdown? The amazing DJ HATO with an extraordinary humour is coming from Amsterdam to Mauritius to make you party harder than ever! Top local DJs such as ASH, ABS, Vee Opiah, Lp, David Jay, Avi S, Tony Montana and Shehzad K will also be there for to light up the night with their upbeat sets.
To awaken the crowd and lead you through the night with the craziest performance, Natty Gong, the one behind multiple mega hits like "Pié Dan Lo" and "Bat Dan La Tet" , will be your MC ! You can't help but sing out loud and let the epic vibrations take full control over your body...
VIP ticket holders will not only get their own VIP corner, dedicated bar and services and priority access amongst other perks, but they will also get the exclusive chance to take pictures with DJ HATO!
Due to the high demand of Hato, tickets will be extremely limited. So don't wait too long to buy your tickets! Once again, the Telfairian Event is back, ready for an unforgettable adventure.
What to expect
LED Decoration
Fire breather
Fire works
Chill lounge
Food and Bar corner
Organic Decoration and amazing set-up
Photobooth available
Adults only event (18+). Please see Additional Info section for all conditions.
About the Artists
DJ HATO
With contagious energy for days, DJ HATO is here to make you have a great time. In April 2014, he attended a DJ'ing workshop and he was immediately hooked. A week later he had his first gig and from that moment things started rolling fast. He already has clubs like Air, Jimmy Woo, Paradiso, Rex and Melkweg on his CV and also DJ-ed at a number of beach parties in Bloemendaal and performed at the sold-out Vunzige Deuntjes festival.
His style is eclectic, but within this style Hato lets his roots come back: Curacao. From R&B to UK Funky, nothing is too crazy. With an attentive eye for the audience, this versatile topper mixes the best records together and parties along just as hard.
Not only has he made it as far as he can behind the turntables, but his own music is also very well received. Several of his productions have already reached 40,000 plays and were played at festivals such as Latin Village, Mysteryland and Encore Festival.
ASH
Ashay Boodooa aka ASH is unparalleled in popularity with the young generation fond of rhythmic music like moombahton, Ashay's favorite style. A DJ and self-taught producer, Ashay has made his way through a world where competition is fierce. Deejaying has now become his livelihood. At 18, ASH was already "on the deck" with the biggest clubs on the island. He was noticed by Jimmy Gassel, who offered him to join his Label, Dj Bing Prod.
ABS
ABS (Julian.D.A) was born in 2000. His passion for music can be seen just by hearing him on stage. His interest in Electronic music started at a very young age and he is now developing his own style of music.
In 2017, he transformed his admiration into a real life hobby which has been recognised by several agencies. The following three years have been constructive for him and he was able to learn more and to grow differently while improving his own style. ABS plays various styles which vary from melodic, minimal tech to underground and he had the chance to perform at The Irish Pub at Trianon with DJ JAYAN, DJ BEN and CHRIS WATERS, who helped him improve for his future sets.
Vee Opiah
His specialty is deep house and trance music. He lives his passion to the fullest and transmits it to his audience during his parties. Vee Opiah, better known in the night world as DJ Vee, is a music freak who, as he says so well, swears by music. For many years now, DJ Vee has been living to the rhythm of the mixes, to his great joy and that of those whom he makes dance.
Lp
Taking in influences from all corners, Lp's passion is DJing in all its forms. Lp's set covers all genres from deep, sexy, latin, afro, funky and soulful flavours, to create a signature sound that has seen him take on all the major clubs and bars in Australia & Mauritius.
David Jay
David Jay has cultivated his passion for house music for several years now. His talent is undeniable and he is able to set the dance floor on fire with tracks ranging from deep house to electro house, funk and soul. He has notably performed alongside renowned artists such as David Guetta, Tiesto, Paul Oakenfold, Dave Seaman, Nick Warren, David Vendetta, Global Deejays, Nick Bridges, Martin Solveig, Mastiksoul and Oxia, among others.
Avi S
DJ Avi-S, the favorite DJ of Mauritians, promises a good atmosphere. Known for his distinct sounds and original mixes, DJ Avi-S will ensure an electric night and great music.
Tony Montana
DJ Tony Montana is a respected & dedicated DJ. A true professional with a reputation for pace & style, carving out sets of incredible music spanning the last 50 years. With a particular penchant for House Music, Tony loves capturing that 'feeling' that is often associated with this genre. For Tony, music & feel are very important. Ritualistic even.
Tony can be found at all the best night clubs and beach clubs across the world. His taste and experience makes him an obvious choice for anyone in search of the very best. Tony Montana is a master of music bringing delight to any crowd.
Shehzad K.
Shehzad K started his career as a disc jockey and eventually rose to perform alongside major, internationally acclaimed DJs. He has had the great privilege of playing his music alongside Martin Garrix at White Sensation 2014 and other DJs such as Darude, Global Deejays, and Otto Knows, amongst others at the Social Buzz Music Festival. He was also featured along with Dimitri Vegas and Like Mike in the Euphoria 2015 music festival and White Sensation 2015 along with Dash Berlin.
Natty Gong
Benoît Girodeau, better known as Natty Gong was influenced very early by Seggae Music as well as the discovery of Bob Marley and a lot of Jamaican Dancehall singers. Natty Gong's Welkom dan Moris and Latet, were greatly appreciated by those in the reggae and dancehall world, and he has gone on to conquer the local stages by playing at popular music festivals and events.
Conditions
Tickets are Non Refundable.
The gate of the arena will be open from 19h00. You have to be at L'Embrasure by latest 21h00
By attending this event, you agree to be filmed and photographed for promotional purposes.
Minors are not allowed. ID Card might be required at the door.
You cannot bring your own food and beverages. Bags might be checked
The management reserves the right of admission.