Afrolistic
---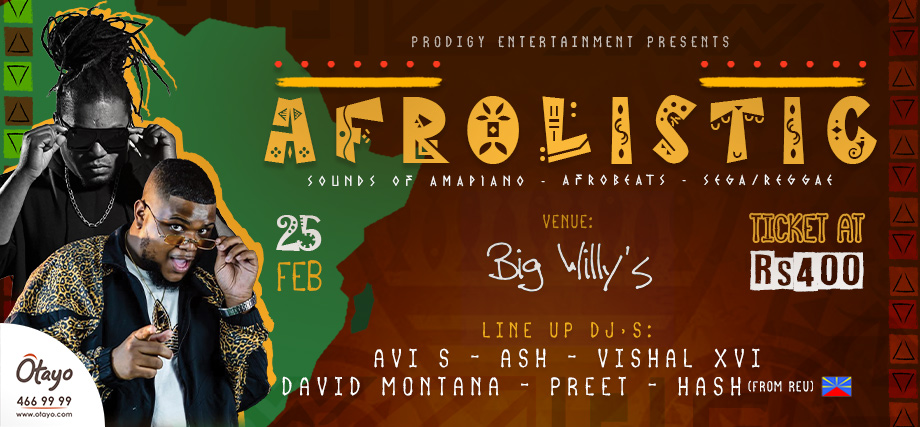 Big Willy's, Tamarin
Saturday 25 February 2023
22h00
Clubbing
---
About the event : Afrolistic
It's time to party at Big Willy's!
If you love Afro music and want to have fun, look no further - Afrolistic has got you covered!The rendez-vous is on 25 February 2023 at Big Willy's, Tamarin at 10pm. Local artists and DJs as well as a DJ from Reunion Island will be there to thrill you all night long!
Afrolistic will bring together some of the most outstanding artists to grace the stage at Big Willy's. Let the music of your favourite local artists, such as Blakkayo and Bigg Frankii, take over. Music lovers will also be able to find some of the most sought-after local DJs - Avi S, Ash, Vishal XVI, David Montana and Preet.
And that's not all! Coming straight from the sister island, Hash, a DJ from Reunion, known for his talent on the decks, will have you swaying to his crazy mixes.
Afrobeats, Sega/Reggae and Amapiano; a hybrid of deep house, jazz and lounge music - Afrolistic has it all to offer you a crazy night in a fiery atmosphere, filled with intoxicating musical sensations!
Head to Tamarin for the Afrolistic party at Big Willy's on Saturday 25 February 2023. Not to be missed under any circumstances.
Note: The event is for 18+ only
Artists Lineup
Local artists:
DJs:
Avi S
Ash
Vishal XVI
David Montana
Preet
Hash (de la Réunion)
About the Artists
Blakkayo
Blakkayo is a local artist and a well-known activist. Since he was young, music has been his passion. He performed with his friends on stage in the 90s. He was then encouraged by Bruno Raya to join the OSB crew, which became a trend and very popular for many years. On his first day on stage he gave an outstanding performance that made him love live shows and also the stage where he feels more alive.
Bigg Frankii
A very prolific singer, Bigg Frankii, whose real name is Franco Georgin, has millions of views on platforms where his songs and videos are available to his fans. This singer from Roche Bois is a star among this new generation, whose "My one in a million", "Roul Matak", or "Molo Molo", are mega hits.
Bigg Frankii has a lot of hits in the collection of songs and videos he has recorded and uploaded. Franco Georgin is a workaholic and a joyful musical convict who takes pleasure in creating.
Avi S
Aveelesh Seenarain, more commonly known as Avi S by Mauritians, is one of the best DJs in Mauritius. His passion for music started at a very young age. He is most active in sub-genres such as Latin House, Afro House, Moombathon. He has also collaborated with DJ Latu, Bigg Frankii and SISH for their song 'So Sweet'.