Afrozik Festival 2022
---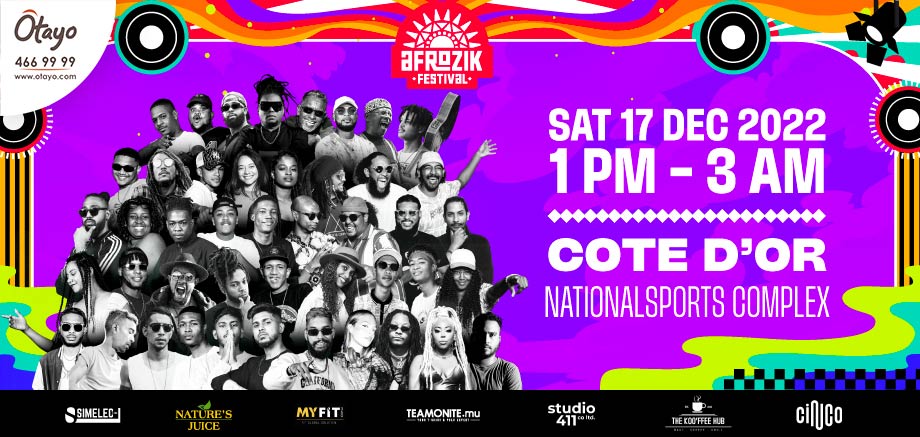 Selected tickets have been added to cart
View Cart
---
About the Event: Afrozik Festival 2022
Where words fail, music speaks. CINCO invites you for a spectacular event. See you on December 17th, 2022 for the Afrozik Festival 2022, at Côte D'Or, for a festival like no other.
Afrozik Festival 2022 aims at highlighting the richness of Mauritius' music, its cultural diversity and its multiple facets, thus, this first event is dedicated to our local soldiers who have never given up in the past few years and have always known how to make us thrill in spite of everything!
Never seen before! One of the biggest line-ups with more than 25 local artists bringing together the old and new generations of singers has been carefully selected for you. Artists such as Blakkayo, Mr Love, Natty Gong, The Prophecy, Ash, Avi S among others, will be present to make you vibrate during more than 10 hours of non-stop music.
And that's not all! In addition to the musical aspect of the event, there will be many surprises for everyone to enjoy: a dedicated food area, a game zone, a World Cup fan zone, a kids zone, a local craft market, among others.
No excuses! No matter your generation, come and experience a thrilling night of singing and dancing to the biggest local hits of all time. The date is set for December 17th, 2022, at Côte D'Or!
The list of artists that will light up the night:
Mr Love
Abel
Natty Gong
Cassie Deborah
Zulu
Blakkayo
Antonio Perrine
Annega
Oeson
Sayaa
Loul
Zanlou
Hans Nayna
New Bwoy Family
General Love x Hempress Lionne
Madii Madii
Badkash
Bigg Frankii
Lyonsquad
Solda Nast
The Prophecy
Justice
Anonym
DJs:
Ash x Nick William
Helix Dynasty
So Fresh
Avi S
Emmanuel Savannah
Vanina
About the Artists
Natty Gong
You probably haven't forgotten the famous song "Latet So" that caused a buzz in 2010. On the local scene, we know him as Natty Gong with his famous songs "Latet so" and "Welkom dan Moris". He is known as a polyvalent artist, as he is not only a singer, but also an art and graphic design teacher.
Zulu
Louis Michel Bavajee, alias Zulu, participated in the creation of the group Blackmen Bluz. Their title "Gabriella" made the group stand out in a striking way. Zulu's simplicity, sincerity, voice and lyrics are captivating. His songs are very popular and are streamed on radio, as well as on social media platforms. Thanks to his reputation, he is solicited for many concerts and shares the stage with local artists, who are just as famous. He continues to write new songs and get along with new musicians, looking for new opportunities and inspiration.
Mr Love
Since his solo debut, Mr Love has become one of the most recognizable names in Mauritius, performing all over Mauritius and also in "big" venues such as J&J Auditorium and the International Kreol Festival. Following this big success, he started to make a name for himself internationally, notably in France, England, Switzerland, Italy, Reunion, Seychelles, Australia, Belgium, Holland, Ireland, Canada, etc. His unique style allows him to adapt to various styles of music, including RnB, Soul, Reggae, Dancehall, Slow, Seggae, Blues, Kizomba, Zouk, Reggaeton and of course Sega.
Blakkayo
Blakkayo is a local artist. Music has been his passion since he was young. He performed with his friends on stage in the 90s. He was then encouraged by Bruno Raya to join the OSB crew, which became a trend and very popular for many years. From his first day on stage, he made an outstanding performance that made him love live shows and also the stage where he feels more alive
Big Frankii
A very successful singer, Bigg Frankii, whose real name is Franco Georgin, accumulates millions of views on the platforms where his songs and videos are available to his fans. This singer from Roche Bois enjoys a star status with the new generation where "My one in a million", "Roul Matak", or "Molo Molo", are major hits.