TomorrowISLAND – The Revival
---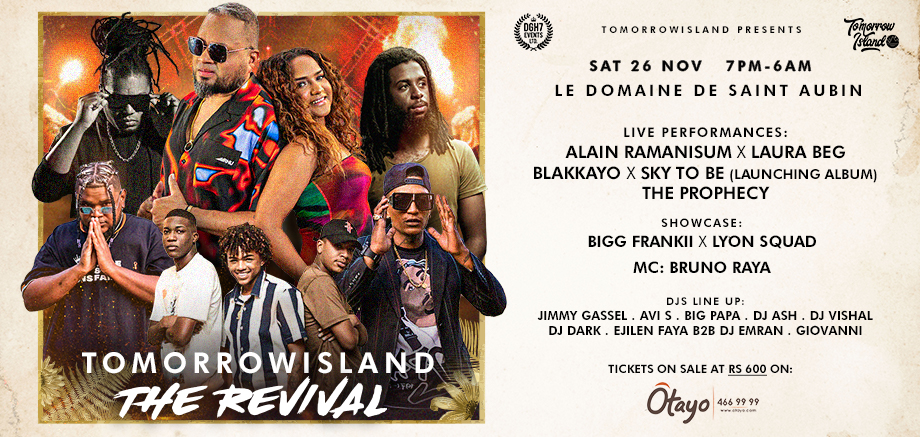 Le Domaine de Saint Aubin
Saturday 26 November 2022
19h00 - 06h00
Festival
---
About the Event: TomorrowISLAND - The Revival
Save the date - November 26, 2022 at Domaine St Aubin, for TomorrowISLAND - The Revival, a mega music festival featuring the leading Mauritian artists!
It's time to celebrate ! get ready to sing, dance and vibrate. TomorrowISLAND is back even stronger this year, with a host of artists.
Alain Ramanisum & Laura Beg, Blakkayo, Sky To Be, The Prophecy, Lyon Squad, Bigg Frankii, Joker Kartel and Natty Gong will put on a "Big Faya" at TomorrowISLAND - The Revival, on 26 November 2022 at Domaine de St Aubin.
A number of DJs will also be performing namely, Avi S, ASH, Big Papa, DJ Dark, Ejilen Faya B2B DJ Emran, Giovanni, Jimmy Gassel and Vishal. And as master of ceremony, Bruno Raya! In short, a great line-up to set the stage ablaze.
The event promises to be spectacular with the presence of fire breathers and dancers in LED costumes. A big fireworks display is also planned. Also on the menu, restaurant & bar corners, as well as a shisha corner. All the ingredients are there for you to have a memorable evening!
For the record, TomorrowISLAND is back after a long absence. Following the huge success of The Last Call After Party in February 2021, Mauritius went into lockdown and the event industry was confronted with restrictions. But now the green light is on! DGH7 Events Ltd is back to host the 5th edition of TomorrowISLAND & the theme of this massive event is "The Revival".
Nestled in the wilderness in the south of Mauritius, the beautiful Domaine de Saint Aubin is the perfect venue for this spectacular musical event. Sega, ragga, dancehall, shatta, Afrobeat! Some of the tunes are certainly already playing in your head. We'll leave you on that note!
What to expect?
11 hours Non-Stop Musical Experience
5 Live & 2 Showcase Performance
9 Commercial DJs
Massive open-air location
One Giant Stage
Fireworks
Fire Breathers & Robot Dancers
Food & bar corners
Shisha corner
Toilet availability
Parking availability opposite the venue
See you on November 26th 2022 at Domaine de St Aubin, for the long awaited TomorrowISLAND - The Revival! A colourful musical festival not to be missed!
About the Artists
Live:
Alain Ramanisum & Laura Beg
One of his biggest hits is without a doubt "Li Tourner". With several albums to his credit and hits such as "Elle" and "Soufrans Lamour", Alain Ramanisum is definitely a key figure in Mauritian sega, as is Laura Beg.
Blakkayo
He is one of the favourite artists of the youth. His stage presence, his lyrics, his groove and his music leave no one unimpressed. "Solo", "Mové Por" and "L'apparence", among others, send out some great vibes! Blakkayo is truly a living legend in Mauritius.
Sky To Be (Lancement d'album)
He is a "bébet séga" & he recently released a new album entitled "sega ar poids". A talented author, composer and performer, Sky To Be and his hit songs, such as "Dodo Baba" and "Billet 2 000", commands respect. With Sky To Be, it's hard not to dance.
The Prophecy
The Prophecy is a major seggae and reggae band in Mauritius. Led by the voice of Murvin Clelie, The Prophecy has two albums: '21st Century' and 'Where we Belong'. Both of these albums have earned the band various awards on the local scene. In fact, "Laglwar", the lead track from The Prophecy's second album, was crowned as the local record of the year in 2018.
Showcase Performance:
MC:
Bruno Raya
Joker Kartel
Natty Gong
DJs:
DJs
ASH
AVI S
Big Papa
DJ Dark
Ejilen Faya B2B DJ Emran
Giovanni
Jimmy Gassel
Vishal
Additional info:
The management of DGH7 Events Ltd reserves the right of admission.
By attending this event you are agreeing to be filmed & photographed.